Turquoise, teal, aqua. In any shade or depth, a shot of turquoise is always welcome at my place.
I am particularly fond of aqua in the summer months and love to pair it with yellow, hot pink and white. It can either look modern (say with stripes) or bohemian and playful (say in a floral or spots). In winter, I like to use the more intense, jewel tones of turquoise and teal to pair with greens, creams and coffee shades.
In fact, I have plenty of turquoise in my home, from ceramic and resin vases and velvet cushions to a vintage style metal stool. It is such a statement colour and looks great in a variety of different house 'styles'. I also wear a lot of this gorgeous colour across the seasons, and I will be featuring some great women's clothes and accessories in another post shortly.
In the home, lighter shades of aqua can suggest coastal cool, modern or vintage style, depending on the shape, style and texture of the product and what it is paired with.
For example, above, the wicker chair, 'hello' sign and wire magazine file all have a retro sensibility and would look great in a fun home office/study nook or a beach shack.
The deer cushion, glass, dining set and "to do" list are more modern takes on this versatile colour and you can picture them in anything from a pared back Scandinavian style space to a modern family home.
The shelving unit and oven mitt would look great with most interiors and provide a bit of interest with an unexpected accent. I am so happy that the Expedit shelving unit now comes in turquoise. Is anyone else?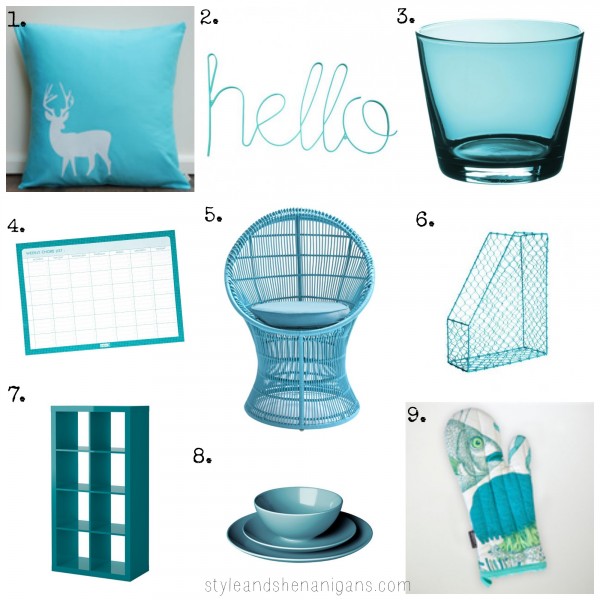 1. Cushion – Cushion Cover, white small stag, from Agnes & You, $29.95 from Down that Little Lane
2. Sign – Big Hello Sign in Mint, $180 from Lark Store
3. Glass – Diod Glass, $3.99 from IKEA
4. To do list – Weekly Chore Pad, $12.95  from Kikki-K
5. Chair – Moloko Occasional Chair in Teal (with teal cushion), Introductory price is $249 or $299 from 15 October 2013 from Freedom
6. Magazine File – Wire Magazine File, $29.95 from Lark Store
7. Shelving Unit – Expedit shelving unit in high gloss turquoise, $169 from IKEA 

8. Dining Set – Fargrik 18 piece service in turquoise, $39.99 from IKEA
9. Oven Mitt- Oven Mitt in Tropicalia Sea, $16.95 Mozi 
So, what is your pick? Are you a fan of turquoise? Which piece of turquoise loveliness takes your fancy?