My name is Vanessa and I'm addicted to cushions.
I lovingly stroke them in stores, look at them on line and happily mix and match them from room to room.
I have winter cushions and summer cushions; favourite cushions and sentimental cushions; inexpensive cushions and special, one off cushions; cushions with my boys' names on them and cushions of varying shapes, sizes and textures.
I'm a cushion tragic.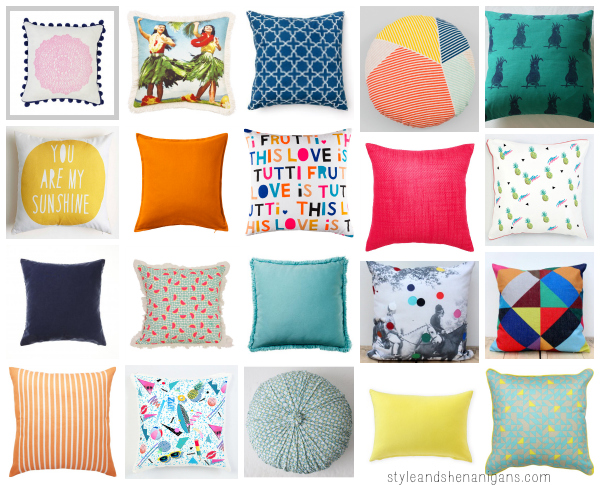 We currently have five on our bed, at least eight on the sofa and a few other favourites are scattered around the house on various chairs. Even the boys have a couple on each of their beds along with their European pillows and name cushions.
So it wasn't a difficult task to research today's post. In fact, it was a pleasure.
As with fashion, the changing of season always sees a new batch of cushions hitting the stores. Below, I've curated twenty fab new season cushions, beginning at $5.
1. Summer Vibes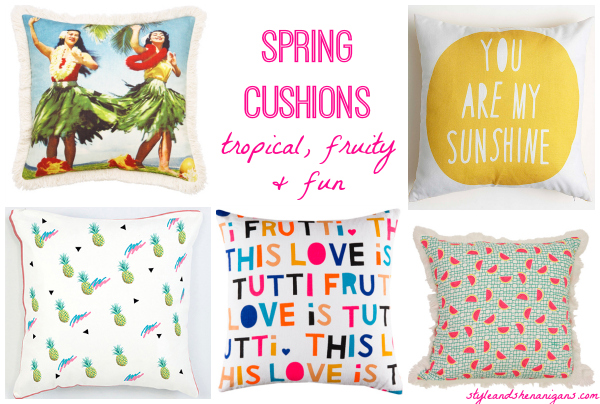 CLOCKWISE: Hula Cushion, $34.95 from Freedom; You are My Sunshine Cushion, $15 from Target; Pineapple Cushion, $40 from The Club of Odd Volumes; Tutti Frutti Linen Cushion Cover (cover only), $79 from Castle & Things; Watermelon Green Vine (cover only), $15 (on sale) from Brown Trading Co.
2. Geo/Stripes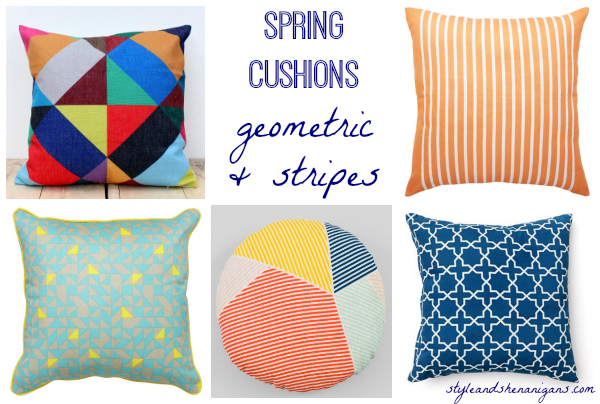 CLOCKWISE FROM TOP LEFT: Rainbow Geometric Cushion, $40 from The Super Cool; Bandit Floor Cushion in Mango, $69.95 from Freedom; Vida Cushion in Teal, $19.95 from Freedom; Louie Cushion #3, $85 from The Super Cool; Moroccan Tile Print Cushion, $10 each, Kmart.
3. Block Colour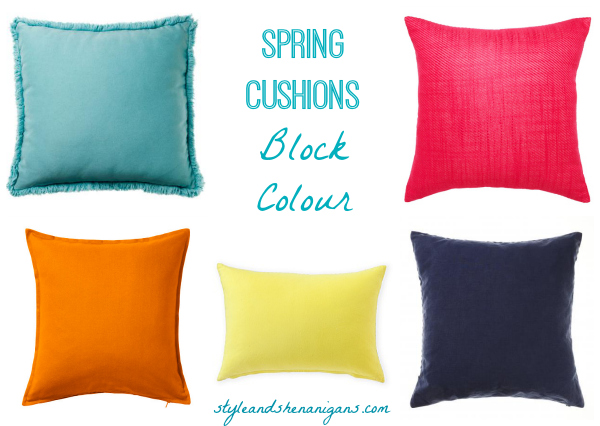 CLOCKWISE FROM TOP LEFT: Mint Boutique Vintage Wash cushion, $59.95 from Adairs; Carter Cushion in Fuschia; $39.95 from Freedom; Gurli cushion cover, $5 from IKEA; Aesa Cushion, $49 from Country Road; Vintage Washed Indigo Linen, $59.95 from Adairs.
4. Statement Prints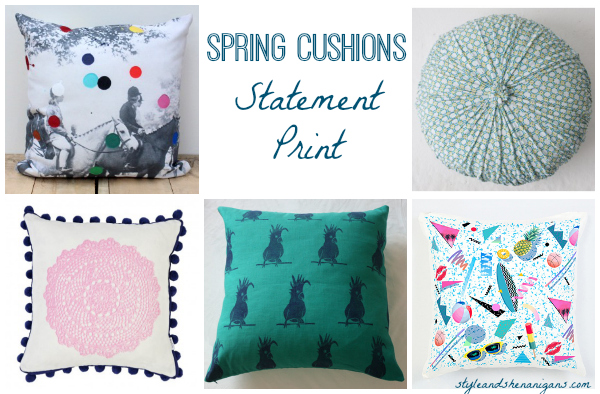 CLOCKWISE FROM TOP: Equestrian Cushion, $60 from The Super Cool; Rosette Cushion in Lemon Tree, $59.95 from Lazybones; Indigo Pom Pom Cushion, $145 Lumiere Art + Co; Cockatoo Cushion, $50 from Down That Little Lane; 80s Pattern cushion, $40 from The Club of Odd Volumes.
As you can see from the selection above, you can find a range of affordable, on trend cushions at IKEA, Kmart and Target. The Brown Trading Co. also has terrific sales and you can find bargains at the end of the season.
I can never leave Adairs without a cushion or three and I always find a unique offering from the Lumiere Art + Co, Castle & Things, The Club of Odd Volumes and The Super Cool.
Other places to find great cushions include Dan 300, Down That Little Lane and Hard to Find.
Are you a cushion tragic? How many cushions are on your sofa? What's your fave cushion/look of those above?