My cushion loving ways are no secret around these parts.
As I revealed in this post, I'm a cushion addict/tragic/lover from way back.
And, as the change of seasons brings new key looks and trends in fashion, the same can be said for home wares and interiors generally, including the my very favourite soft furnishing, the cushion.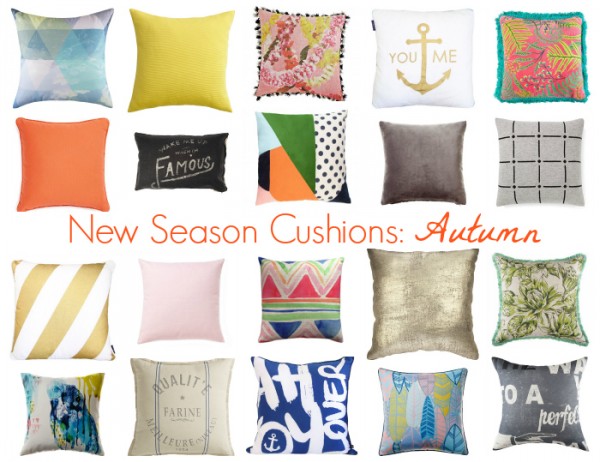 What's in store now is bit lighter and brighter than usual, with soft pastels and metallics featuring and being carried over from Summer. Usually, Autumn ranges see a gradual introduction of heavier, darker tones and textural elements.
There's certainly plenty on offer in the monochrome department across all stores too, and I've included a few pieces in the selection above.
Below, I've broken down the trends I've seen in stores into four general categories: Inspired by Nature, Geometric Prints and Patterns, Block Colour and Textured and cushions with Typographic prints.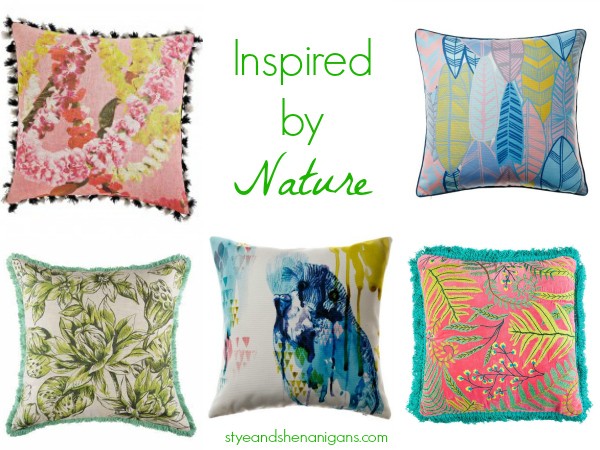 Top Row, L – R: Floral Garland in Pink, $155 from Bonnie and Neil; Dream Catcher in Feathers, $49.95 from Adairs; Bottom Row, L- R: Mallee Cushion in Green, $39.95 from Freedom; Modern Jungle Barry, $49.95 from Adairs; Greenhouse Cushion in Pink, $99 from Gorman.
Geometric Patterns and Prints aren't going anywhere anytime soon and can be a fun or sophisticated way to add interest to your couch or bed, depending on the colour palette and texture. Stripes are a good classic option too while dots and triangles tend to be more playful and can suit family/informal living areas.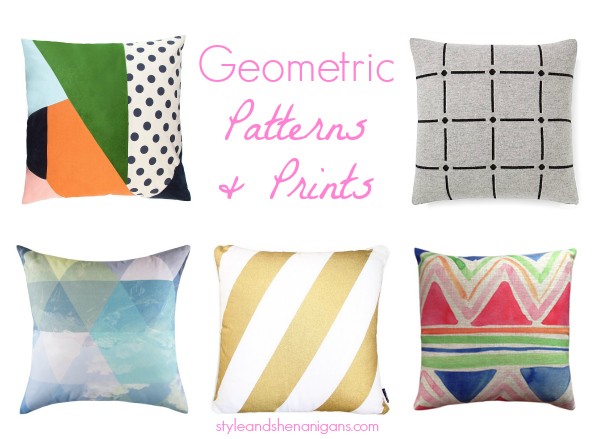 Top Row, L – R: Jigsaw Cushion, $69 from Gorman; Alik Cushion, $59.95 from Country Road; Bottom Row, L – R: Beyond Cushion, $39.95 from Freedom; Classic Gold Striped Cushion, $60 from The Super Cool; Watercolour Wander Cushion Cover, $24.95 from I Love Linen.
Block coloured cushions are an easy way to introduce colour or to complement printed or statement cushions. Many of the options available have a textural element this Autumn as well to add interest. For example, the pale pink Country Road cushion below has a basket weave texture and the charcoal Adairs cushion is velvet – perfect for a cosy chillaxing in the cooler months.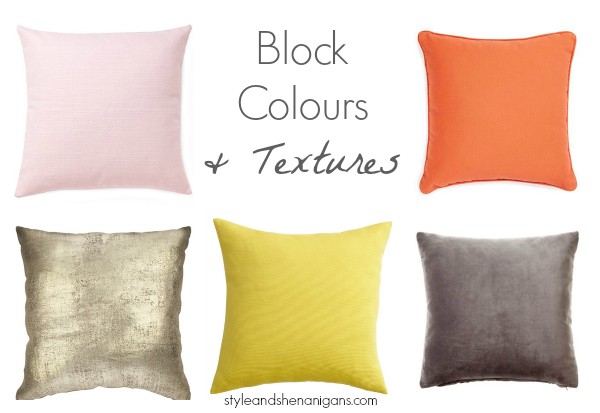 Top Row, L – R: Hosk Solid Cushion in Pale Pink, $39.95 from Country Road; Homemaker Hudson Cushion in Burnt Orange, $5 from Kmart; Bottom Row, L – R: Gilt Limited Edition Cushion in Gold, $39.95 from Freedom; Plain Rib Cushion in Yellow, $10 from Target; Amber Velvet Cushion in Platinum, $49.95 from Adairs.
Typographic cushions are fun and a modern way to personalise your sofa – just choose a sentiment that reflects you or your home and away you go.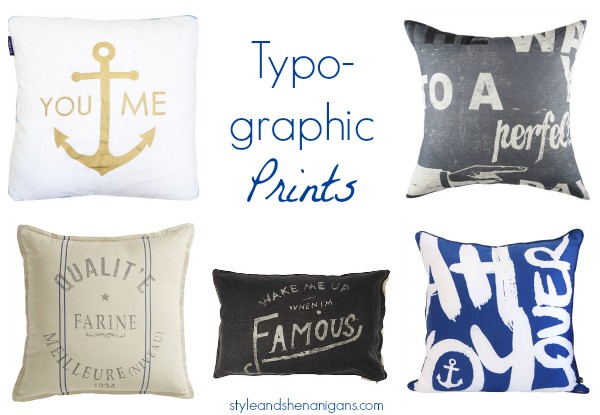 Top Row, L – R: You Anchor Me cushion, $75 from The Super Cool; Perfect Day cushion, $39.95 from Freedom; Bottom Row, L – R: Farine Cushion, $25 from Target; I'm Famous Cushion, $109 from Pony Rider; Ahoy Lover in Navy, $29.95 (on sale) from Brown Trading Co.
Are you a cushion tragic? What style of cushion do you normally go for? What, of the above, would look right at home on your sofa?