I love bed linen. A lot. I love bed linen almost as much as I love cushions. Almost. And that is saying something.
Every new season brings with it great new styles and prints in bed linen. Instead of the match-y match look of years gone by, today's bedroom looks are a mix of colour, texture and prints. Remember when the fashion was sheets, quilt covers, pillow cases and valances all in the same print? I can't believe I was ever able to sleep in all that Sheridan floral! (On that note, I am working on a post showcasing children's bed linen – stay tuned!).
Going a step further, by using what you have along with a couple of new items, or sourcing  your bed linen and cushions from different places, you can create a more layered, interesting and individual look.
A few weeks ago, I posted a photo on SnS's Facebook page of my new Spring bedroom look: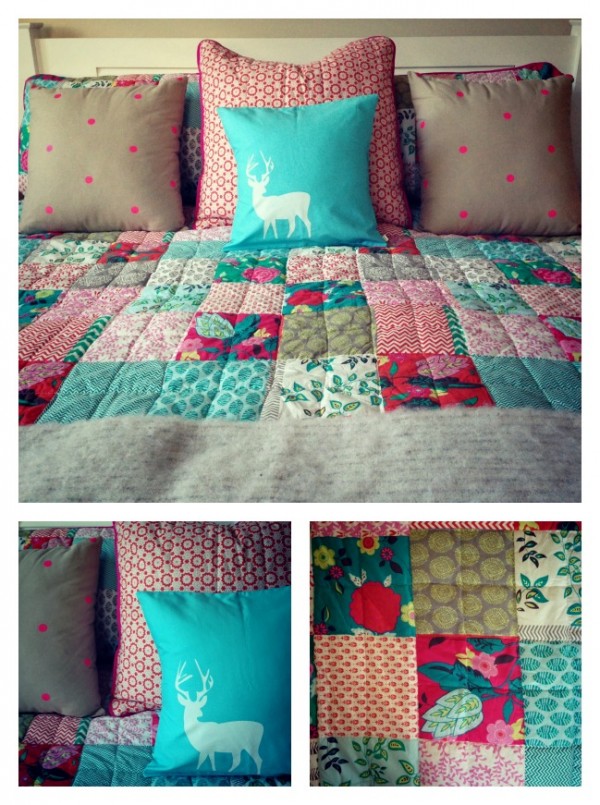 To recreate this or a similar look, it's all about mixing and matching.
I paired an Adairs patchwork style quilt cover set with co-ordinating European Pillow Cover (now sold out, sorry but this is along the same lines) with two fluoro pink scatter cushions from Freedom and an Agnes and Me stag feature cushion, previously featured here. The finishing textural touch was a lovely Mercer & Reid Mohair rug from Adairs.
Mixing and matching is not as difficult as it might sound. Each season has its "colours" which are featured across various stores and ranges. If your quilt cover is plain, you can go to town with patterned European cushions or scatter cushions. Given my quilt cover is busy, I stuck to cushions with a simple spot and a block colour with a simple motif.
Below is a lovely selection of bed linen that could be mixed and matched to produce a great Spring look. In the bottom right photo, you can see how in this range, all the mixing and matching has been done already – two prints and a bright cobalt blue European pillow case and a contrasting jade green throw are all within the same range. This is an easy way to create a layered look.
How fabulous is this Hello Possum pillowcase?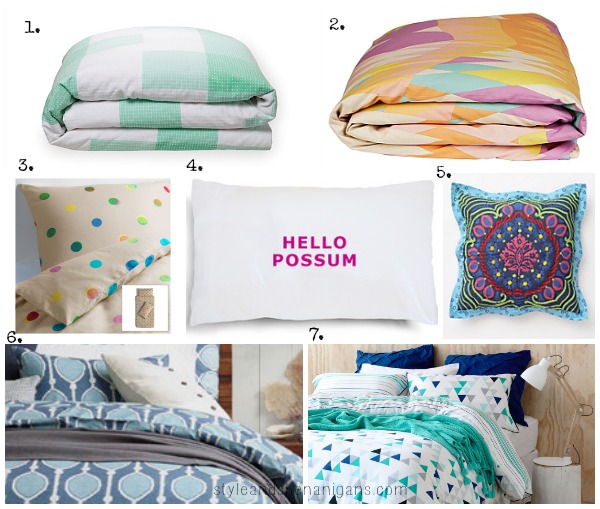 1. Taite Quilt Cover, from $179 from Country Road;
2. Croc (Pastel) Quilt Cover, from $209 from Kip and Co;
3. IKEA PS 2012 Quilt Cover, from $49.99 from IKEA;
4. Pair of Iconic Hello Pillowcases, $55 from Make Me Iconic;
5. Wildfield Euro Sham, $58 from Anthropologie;
6. Organic Bead Print Ikat Quilt Cover in Ming Blue, from $95 (on sale) from West Elm;
7. Alpine Quilt Cover by Home Republic, from $169.95 from Adairs.

Do you like creating a new bedroom look? What colours or style of bed linen appeal to you? Where do you like to buy bed linen? What of the above appeals to you and why?