When my two eldest boys reached the end of their toddlerhood, ditched the nappies and started looking enormous in their cots, it was time to move them in to their "big boy beds". Whilst the prospect of an un-contained child during rest/sleep times and over night can create it's own challenges, the process of finding the "perfect" bed and some new bed linen is something I revel in.
I have loved creating and decorating my boys' bedrooms and I am always on the look out for great bed linen that is affordable, looks great and works with their window furnishings (roman blinds with red ticking stripes). Having had seasons of transitioning from night nappies to undies overnight and a few unforgettable bouts of gastro, I have also realised the importance of having a back up or two at hand.
If you are in the market for children's bed linen, there are lots of places to look. It is a bonus if you can find a design or print that reflects their interests but that also passes your taste test! Over the years, I have bought great bedlinen from IKEA, Myer (for Sheridan and Hiccups) and Adairs Kids.
My two most favourite sets for my boys are the Soccer and Cowboy duvet sets from Cath Kidston, one of which I loved so much I bought it before I even found out the sex of my first child (must have had an inkling of what was to come!) and the other being a gift from Grandma.
Below is a selection of some current offerings, for boys and girls.
The Boys
Now my biggest boy is heading towards eight, he is slowly growing out of some of his more boyish quilt covers and at some point, we will need to think about a bigger bed (he is very tall and beginning to grow out of his single bed already) and therefore new bed linen.  The simple stripes (6) and stars (2 and 3) in the quilt cover sets below are appropriate and fun for his age and younger but would also hopefully see him through to high school.
I love this MCG inspired pillowcase (4) and expect that it would be well received by any AFL or cricket loving young man. If your little guy has some English connections, he might also be happy to have this Union Jack cushion (5) on his bed.
If your child has a trundle for an occasional sleep over or you need a back up, inexpensive but good looking sets like the Target quilt cover (6) or IKEA set (1) are great stand bys but also perfectly fine for every day use.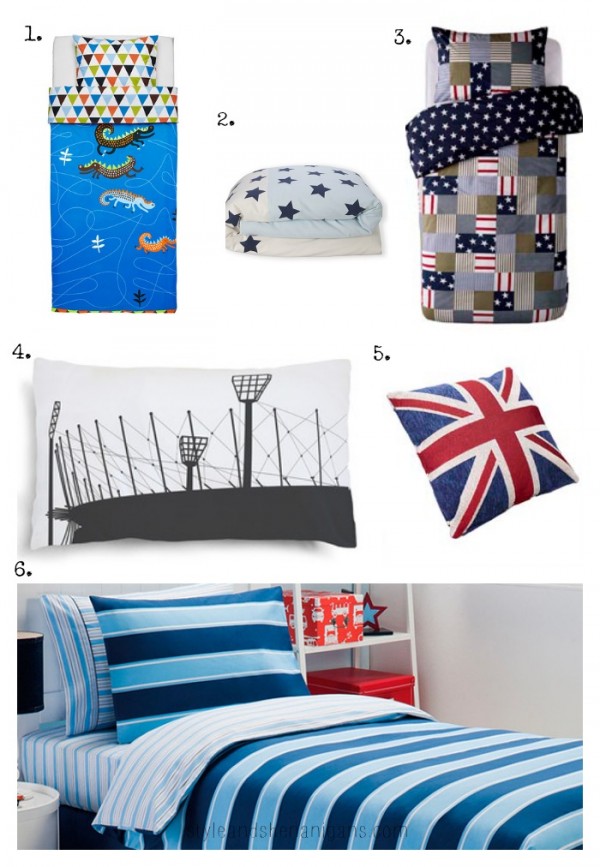 1. Drakdjur Quilt Cover Set, $24.99 from IKEA; 2. Archie Quilt Cover, from $149 from Country Road; 3. Military Quilt Cover Set by Lakeland Design, from $109.95 from Parenthood; 4. Iconic Stadium Pillowcases, $55 (per pair) from Make Me Iconic; 5. Union Jack Cushion $27.99 from Parenthood; 6. Callum Stripe Quilt Cover Set, $20 (on sale) from Target.
The Girls
A survey of what is available in girls bed linen showcases plenty of pink. Not having girls, I am not sure if this is because most girls want pink or manufacturers think most girls like pink!
As you know, I too am a huge fan of pink, particularly the neon variety, and I am loving this simple, stylish pillowcase (6) from the divine Castle and Things.
Any collection of girls' bedlinen had to feature this gorgeous fairy bread inspired pillowcase (1). It is fun and would look lovely either with more yellow, like this Lazybones set (2) or against a block colour/simple patterned cover.
I have also long admired this Lakeland set (3) as I love spots not to mention a shot of aqua and green with pink.
I must thank my friend Amelia for putting me on to this absolutely gorgeous Jacob & Bonomi duvet set (4). With its whimsical depictions of "village life" this is an adorable set for a young girl. You had me at the green bicycle!
For style at a great price, you can't go past this pink spot set from Target (5). At $20, it is unbelievable value.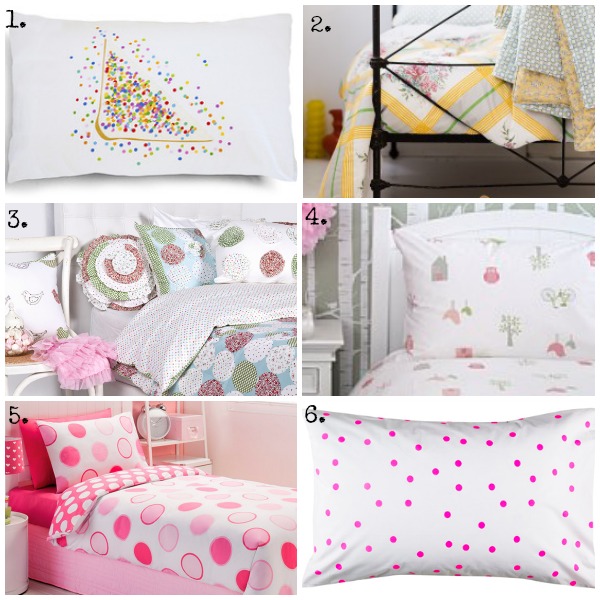 1. Iconic Treat pillowcase, $55 (per pair) from Make Me Iconic; 2. Garden Party Duvet Cover, from $90 from Lazybones; 3. Vintage Polly Doona Set from $109.95 by Lakeland Design from Parenthood; 4. Village Life Duvet set, from $119.95 from Jacob & Bonomi; 5. Carly Spot Quilt Cover Set, $20 (on sale) from Target; 6. Fluro Pink Spot Pillowcase, $49 from Castle and Things.
What do you look for in children's bed linen? Style? Price? If someone was beginning to look for their first child, where would you recommend they start?