So it's no secret around these parts that I heart bed linen and other soft furnishings in a big way.
I've recently indulged my great love of cushions and last week, the focus was on tween boys' bedlinen.
As promised, this week's home wares post is covering new season tween girls' bedlinen.
The tween years can be tricky with little people who are no longer, well, little people but who are not quite grown up. Finding clothes and other bits and bobs can be a challenge, as you navigate between more junior styles and motifs (owls and princesses anyone?) and more adult or teenage offerings.
That's not to say that prints aren't cool. They are and there are still plenty to be found in girls' bedlinen. Below, I've put together a selection based on two of Spring hottest trends: geometric patterns and modern botanical prints, either of which will refresh a room.
1. Geometric Patterns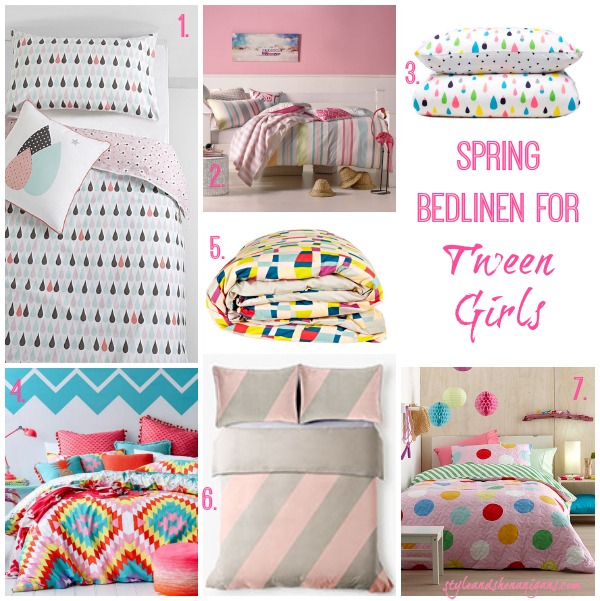 1. Violet Single Quilt Cover, from Country Road from $149; 2. Festival Stripe in Pink Quilt Cover, $65.97 from Linen House;  3. Sunshower quilt cover from Cotton On Kids, from $49.95; 4. Zizi quilt cover set from Adairs Kids, from $79.95; 5. Checkerboard Quilt Cover from $149 from Kip and Co; 6. Big Stripe Quilt Cover in Pastel Pink, from AURA Home from $149;  7. Belle quilted cover set from Target, from $40.
As in other rooms, even a change in colour palette (even by just introducing another color), can lift a room and breathe new life into it. As you can see above and below, shades of peach and apricot are making a comeback this Spring and from brights through to muted hues, there really is something for everyone.
2. Botanical Prints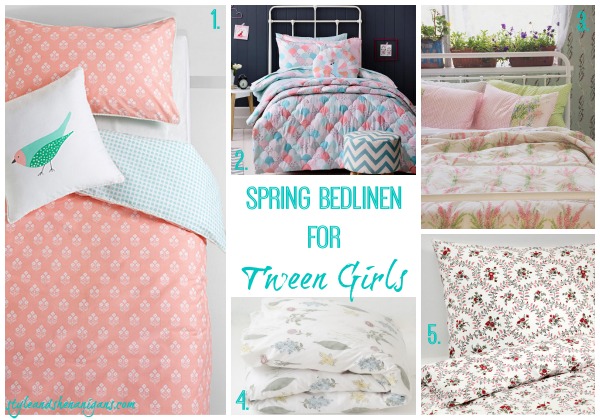 1. Layla quilt cover from Country Road, from $149; 2. Peacock quilt cover set from Adairs Kids from $79.95; 3.  Euphemia Quilt, from Lazybones, $245 from Lark; 4. Duvet Cover in Botanical, from $90 from Lazybones;  5. Hallrot quilt cover from $19.99 from IKEA.
So how to update a tween girls bedroom with bedlinen?
If you want to update your tween's bedlinen and already have a more "traditional" colour themed room (with plenty of pink), introduce some fresh bed linen with a more "mature" print that also has a pop of pink. Several of these options here (2, 3, 4 or 7) will work with your existing scheme.
If your daughter's bedroom has more of a neutral base, you can incorporate any of this seasons' new looks: pastels or primary colours.
Geometric prints are of course more contemporary and suit modern furniture and window furnishings. If your daughter prefers a more vintage look, perhaps opt for a modern floral print, spots or stripes.
Are you on the look out for tween girls' bedlinen? Do you find it tricky to find what you are looking for? What do you think of Spring's offerings?