If you're a regular around these parts you'll know it's not just new season fashion that I love about the changing of seasons.
I love seeing the fresh new looks in interiors and home wares coming through.
For me, there's something about a fresh new look that makes me feel optimistic, energised and even a bit wistful about the coming season.
This Spring is no exception, with so many trends right up my alley including those featuring strongly in bedlinen: muted pastel tones and feminine detailing; geometric patterns; fun statement prints and bold colour. There's nairy a neutral in sight, with colours to match your summer fruit bowl.
And it all just looks so fresh and inviting after a long, cold Winter.
Below, is my edit of some of my favourite new season bed linen. I've grouped them in complimentary colour and print groups so you can see how different products and prints across retailers might be mixed and matched to create your own look in the bedroom this Spring. Spots, stripes, florals and geometric prints in similar tones can work together beautifully to create your own look. (For more ideas and inspo for mixing up prints and colour in the bed room, check out my How to Style Your Bed post).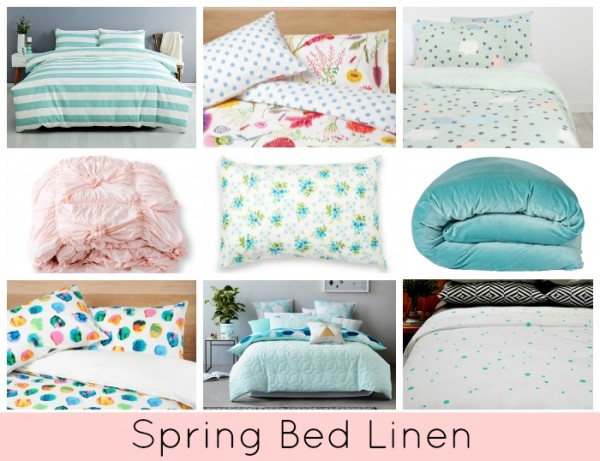 Top Row: Essentials Stripe Quilt Cover Set in Aqua, from $14 from Target;Garden Bed Queen Set, $249 from Gorman; Cloud Bloom Queen Doona Cover, $159 from Arro Home;
Middle Row: Rosette Quilt from Lazybones (coming soon); Avonlea Pillowcase Set, $45 from Lazybones; Ocean Velvet Quilt Cover, from $229 from Kip and Co;
Bottom Row: Chromatic Queen Set, $249 from Gorman; Rebecca Judd Loves Home Republic Iceberg Quilt Cover from Adairs, from $129.95 (introductory price); King Confetti in Bright Mint (King) $180 from I Love Linen.
As you can see, this Spring a couple of celebs are getting in on the bed linen act too with Rebecca Judd launching her first collection with Adairs (Rebecca Judd Loves Home Republic + Adairs Kids ranges) which includes home wares and a children's range, characterised by colour and geometric prints.
Megan Gale collaboration with Target's draws on her international travels with ranges inspired by London, New York, Corfu, Santorini and Paris.
I'm loving Gorman's new SS16 range which is full of fun, statement prints which are carried across bed linen, napery and soft furnishings. For some reason, their quilt covers only come in Queen size but pillowcases are sold separately so it's possible to mix and match, as I've done below. I've also heard on the grapevine that this home collection may be their last, so if there's something you like, don't delay.
Kip and Co's new range Summer Storm is also full of colour, bold prints and texture with their popular velvet quilt covers, pillow cases and bean bags back in a range of vibrant colours from lilac and denim through to sea green.
AURA Home is back with it's signature modern geometric prints with bold pops of citrus. They have also introduced a complementary ceramics range which you can check out here.
If you prefer a monochrome look, you'll find some new season updates at Castle and Things, I Love Linen and Country Road.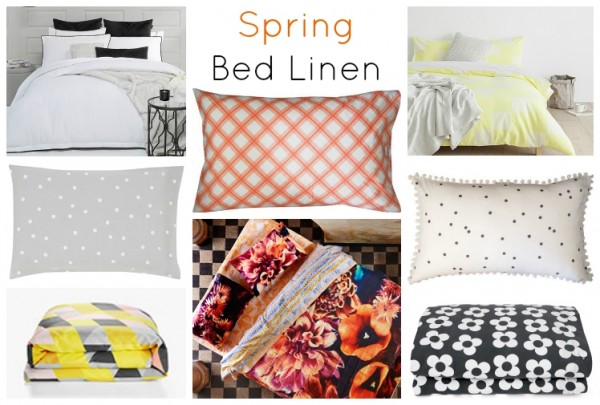 Top Row: Megan Gale London Quilt Cover Set, from $109 from Target; Skye Quilt Cover from $229 from Country Road.
Middle Row: Grey Linen Spot Pillow case, $59 from Castle & Things; Club Check in Sweet Peach pillow case, $24.95 from I Love Linen; Confetti in Charcoal print pillow case, $24.95 from I Love Linen.
Bottom Row: Nio Quilt Cover from $179.95 from AURA Home; Blaze Quilted Bedspread $279 from Kip and Co; Big Charcoal Flower Quilt Cover, from $135 from Castle and Things.
Remember, if you have neutral coloured walls and furniture, changing up your bed linen can be an easy but effective way to introduce a fresh look to your existing room.
With prices as low as $26 for a King Size set (for the Target set, above left), it can also be an affordable way to refresh your space.
Even the addition of a couple of statement pillowcases, like the spots and trellis prints above, can really create some impact against a well priced neutral set.
For more bed linen inspo and detailers of online retailers, check out my Where to Buy Bed Linen post.
What's your pick of new season bed linen? What's your "signature" style?