If you've been reading this blog for a while and following me over at Facebook and Instagram, you'll have seen me post a few pics of my bed on "clean sheet day".
I love clean sheet day. Not just for that freshly laundered new sheet scent but because it's also an opportunity to transform our bed into a new look.
Yes, that's right, I like transforming the look of our bed.
I can appreciate that for some people, their bed is a place to snooze not to style. That's totally fine of course and I'm not here to suggest you should change your approach.
If however, like me, you see your bed and bedroom as a space you'd like to style and inject a bit of your personality, then this post will hopefully give you some tips to help you on your way.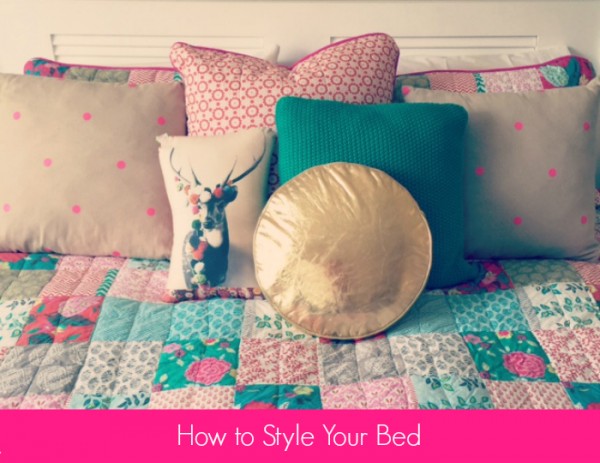 I've had a look back at some pics I've taken over on Instagram in preparation for this post and had a chuckle.
Why?
Well the way I dress my bed is not dissimilar to the way I dress myself – plenty of colour, patterns and prints and something a bit unexpected or fun. And hopefully, on a small scale, an expression on some level of my style and of me.
So where did this all start?
My style when it comes to bed dressing has been a bit of an evolution. I've gradually developed my style and now love to play and develop new looks. It actually began a couple of years ago when our bedroom walls were repainted a lovely neutral shade (Dulux's Hog Bristle). Before then, with Wedgewood blue walls, I felt limited with our bedlinen and alternated between two lovely but slightly predictable quilt cover sets with matching Europeans cushions and pillow cases.
With freshly painted neutral walls and our existing white timber bed, all of a sudden I felt like I had a blank slate – a canvas upon which almost anything would and could look fabulous.
So I began to experiment. And it was fun! Below, you'll find my tips for styling your bed by creating your own unique look. By all means look to Pinterest, home wares stores and bed linen brands for inspo and the like but feel confident that you too can create your own unique style.
So, how to style your bed and create your own look?
1. Mix and match different brands – As I would generally shy away from wearing the one clothing brand from head to toe, I rarely dress my bed in one brand. I like to mix up the brands to create my own individual look.
For example, below I've paired cushions from Adairs, Freedom and the Bangalow Market with a European cushion cover from Bed Bath n Table and a spotty linen quilt cover set from IKEA. There's a bit going on but somehow, I think it all works.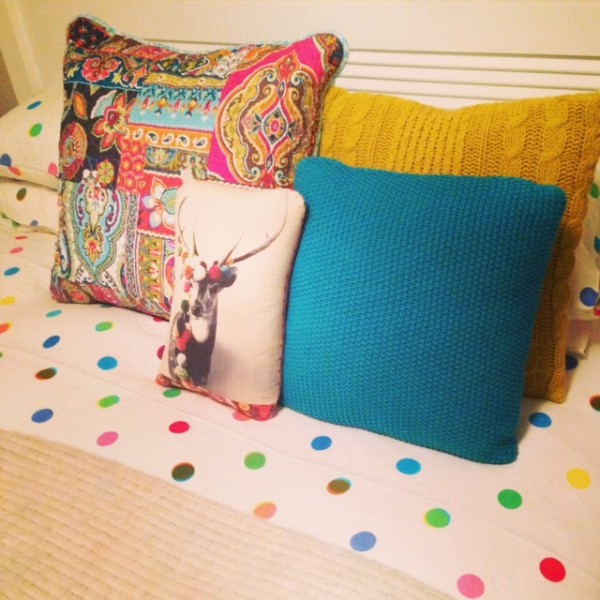 2. Mitch and match different prints – I'm a HUGE fan of mixing up prints on my bed – spots with stripes; paisleys with spots; florals with spots and so on. Provided you have an overall loose theme (such as colours/tones), the look can still look cohesive overall without being perfect.
Below, I've teamed neutral stripes and cushions with pops of neon pink and pattern to create a modern tribal look.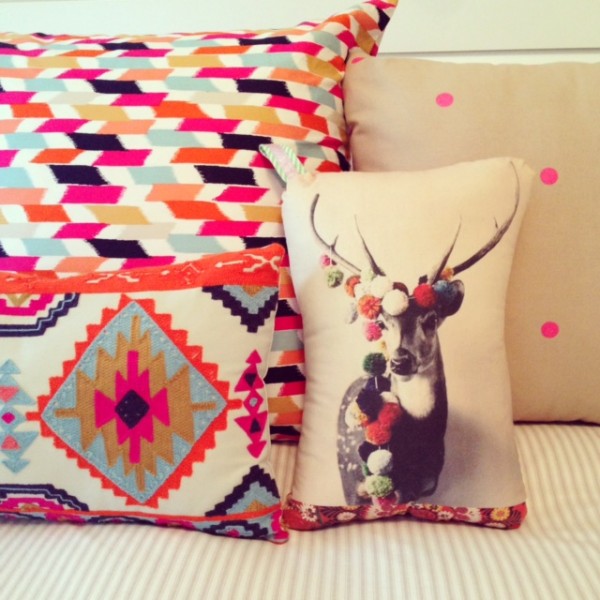 If you're not feeling overly confident about print clashing, some brands are now incorporating clashing prints within their bed linen range so that can be a good place to start.
3. Mix and match different textures – Playing with different textures can create interest and depth. I especially love to introduce a bit of texture in winter with mohair throws and knitted cushions for warmth and cosiness. Other textures you might like to introduce are leather, fur and silk.
Below, is a look I put together for Spring last year. The addition of a circular gold metallic leather cushion from Castle and Things with the loose knit of the green cushion is a gorgeous contrast and makes the whole look more interesting and inviting.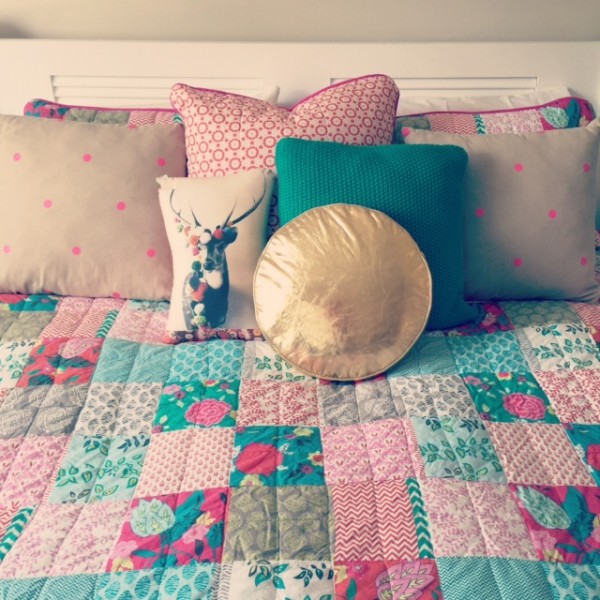 4. Mix and match different colours – If you aren't someone who feels confident wearing a lot of colour, experimenting with bed linen can be a fun substitute. It doesn't matter if a colour doesn't suit you, you can use it to your heart's content in the bedroom.
I generally begin with a neutral coloured duvet cover and then add pops of colour with the cushions and throw rugs. Or, I begin with a colourful quilt cover and use block or simple spotted cushions for pops of colour and contrast.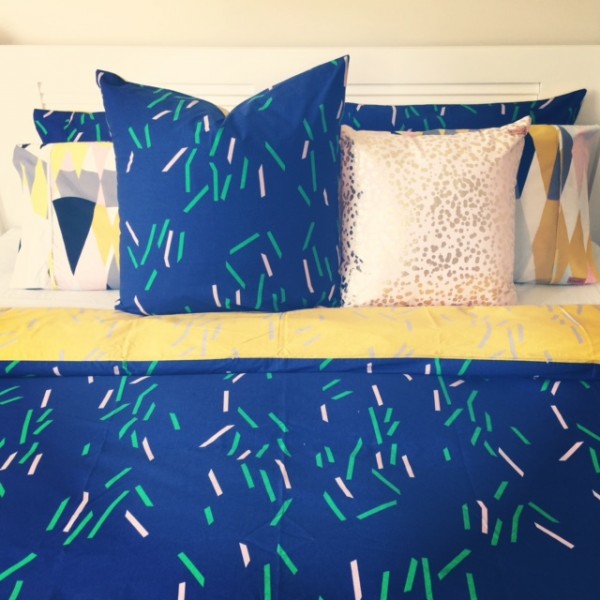 5. Mix and match from room to room – I change up my cushions and throw rugs regularly in both our bedroom and our two living areas. With neutral walls and similar tones, the same pieces can be used interchangeably in different rooms which increases the number of possible combinations and let's me unleash a bit of creativity.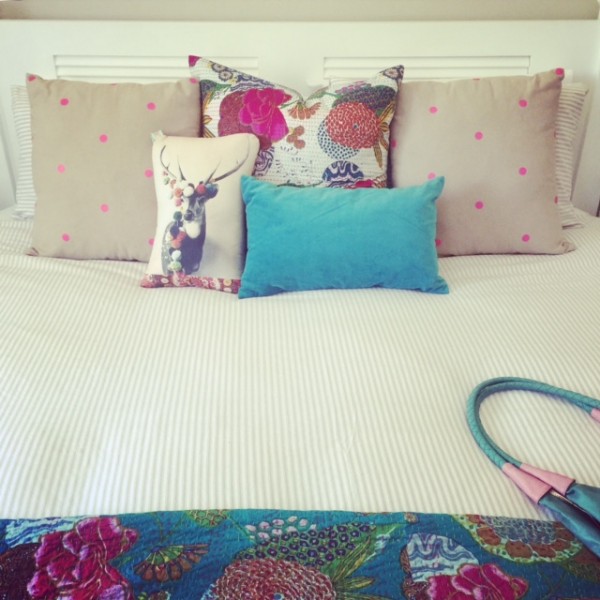 6. Be bold and have fun – like fashion, it's all a bit of fun but also an opportunity to experiment and have a play with different styles. There's no "right" way to style a bed and you should do what works for you. For inspiration, look at the way beds are styled in stores and think about what you have at home that could give your bed your own unique look.
If you'd like to style your bed, share it with others and see how others style their beds on Instagram, use the hashtag #snsinthebedroom and I'll find you.
In next week's post, I'll share some of my favourite places to buy bedlinen. Stay tuned!
In the meantime, how do you create your own look in the bedroom? How would you describe your style? Is there anything you'd like to do differently?