Country Road is one of Australia's most iconic fashion brands. Many of us might remember that twenty years ago, Country Road was really expensive and aspirational. As a teenager, the closest I got to wearing it was when my Mum gave in to my endless nagging and bought me a sky blue Men's crew neck jumper (what was I thinking?) in Year 10. Terrible!
The brand has gone through something of a reinvention since then. Now, while not exactly mid range price wise, Country Road is more accessible than ever. I think this is mainly due to its regular Spend & Save and other sale promotions which are part of it's loyalty programme. Given the frequency of these excellent sales, whereby you can generally save between 25 to 30% off new season stock, it is difficult to justify buying Country Road products at full price. As a result, I only ever buy Country Road products on sale.
I like the fact that when there is a promotion, because of the breadth of their product range, I can generally buy something for at least a couple of members of the family, a gift and something for home or a new pair of shoes.
Each season, I find plenty of great offerings at CR, so much so that I have earned VIP status in their loyalty program. This has provided me with access to fashion shows at the beginning of the season in the Styling Suite at my local Westfield, early access to Spend & Save promotions and multiple uses of the Spend & Save promotion. If you haven't joined the loyalty program, stop reading and join up right now!
In spring/summer, I make a bee-line for serving ware, seasonal gifts and a great dress for the festive season. I also buy a t-shirt and pair of shorts for each of my boys.
In autumn/winter, I add to my growing collection of CR woollen cardigans, skinny jeans, boots and leather bags. I buy the boys jeans and a colourful hoody or knit jumper.
Mr SnS likes their shirts, hoodies and slim fit cargo pants.
I also have several sets of their towels and have found them to be great quality and I love their bright colours in the children's bathroom. Their new children's range of bedding is fantastic as well, but pretty exy even with a promotion.
When I visited last week, at the beginning of the current Spend & Save promotion, there were some excellent offerings across the ranges.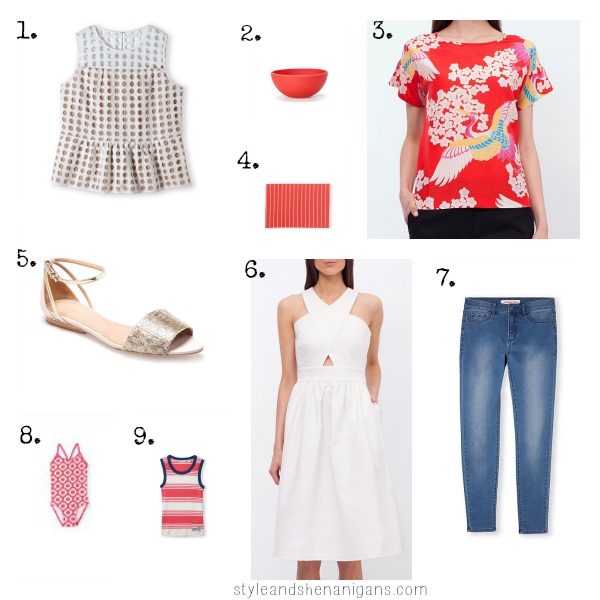 1. Broderie Shell Top, $129;  2. Holiday Small Bowl, $9.95; 3. Oriental Print Top, $129; 4. Marketto Placemat Pack of Four, $14.95;  5. Camille Mini Wedge, $139; 6. Textured Cross Over Dress, $149; 7. Mid Rise Skinny Crop Jean, $99.95; 8. Girls Floral Print Bathers, $39.95; 9. Boys' Tank: Boys Vintage Tank, $21.95.
I really could have put together multiple collages as there was so much great stock. Some of what I have included above is brand new but already low in stock so if you like something, get online or in store ASAP.
This white dress is a knockout, with its angular, sexy silhouette. It is also available in black.
The Kimono style print top has a great shape and print providing a gorgeous hit of colour. It would look great with skinny jeans or cigarette pants.
If you prefer neutrals, this broderie peplum top is simple but detailed and is a great little number.
The low wedges and cropped jeans are excellent basics and would work hard with pretty much everything from now until the end of Autumn.
Tomato red along with acid yellow are strong colours through the new home wares range. This holiday plate and set of placemats would do the job during the festive season and then all summer long.
I love the Country Road children's range. As well as classic styles and colours, they always include new season prints and plenty of stripes and spots. This boys singlet and these girls bathers are examples of this. At full price CR for kids is expensive, but more reasonable with the various discount promotions.
Do you shop at Country Road? What do you like the most? What do you think represents the best value or best style? Women's, Men's or Children's clothing and accessories? Home wares?