Have you been hanging out for a postcard from Country Road announcing the latest Spring Spend and Save?
I sure have. I've been popping in to my local store each week, loving all the new pastels and neutrals and mentally putting things on my shopping list.
Does anyone else do that?
Well, the good news is that the Spring Spend and Save launches this week and has already begun for VIPs.
Tomorrow, I've been invited to attend a VIP styling session to see the key pieces of the season and see how the professionals work the new range. I can't wait. Then we'll be hitting up the store to make some purchases.
Below, I've put together a few of my picks from the new womenswear and home ranges. In womenswear, the neutrals are soft greys and chambrays with colour pops in yellow, pink and green. The home range is full of scandi inspired shapes and textures with plenty of neutrals, metallics and pops of red, green, blue and pink.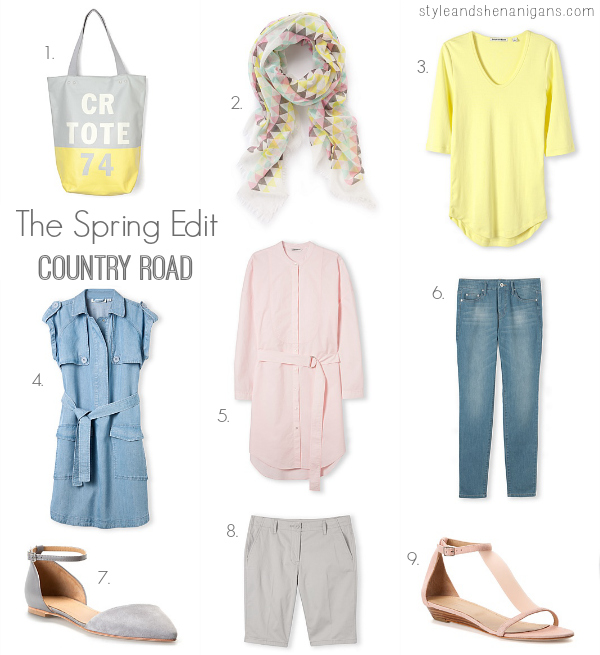 1. Logo Shopper, $59.95; 2. Triangle Print Scarf, $59.95;  3. Scoop Neck Tee, $39.95;  4. Chambray Trench dress, $179.00;   5. Bib Front Shirt dress, $149.95; 6. Mid Rise Crop Denim Jean, $119.00; 7. Jade Point Flat, $129.95; 8. Stretch Short, $79.95; 9. Kendra sandal, $129.95.
If, like me, you get a little overwhelmed by a Spend and Save, I've also put together a few tips to help you get the most out of your offer.
1. Do a little preparation. It might sound a little methodical and hard core, but looking through the full range on line before you head in store can help you think strategically and rationally about what you want/need and avoid impulsive purchases. Are you after things for yourself, the kids, your partner or the house? Do you need some basics (such as jeans for you or the kids), an investment piece (like a jacket/suit), some colourful casual pieces or a gift?
2. If you can only use your Spend and Save once, you want to maximise your bang for your buck. To maximise the discount, you want to buy goods as close to but just over $150 or $300.
3. If you can, head in store and try on any clothes or shoes in the day or so before you receive your offer. This way, you don't have to line up to use the change rooms and fight the crowds. Instead, you can make your purchases quickly, knowing what size/colour you need already. It also makes shopping online easier too.
4. Look for new season basics. I'm talking jeans, shorts and every day shoes. I tend to use the Spring Spend and Save to buy a good pair of shorts for each of the kids, kids bedlinen (if I need it), a few small kitchen items and perhaps a pair of shoes or a bigger ticket item for me. I'll also be looking out for a Father's Day gift for Mr SnS.
5. Don't get caught up in buying something for the sake of it. There will always be another promotion around the corner (including the occasional 25% storewide).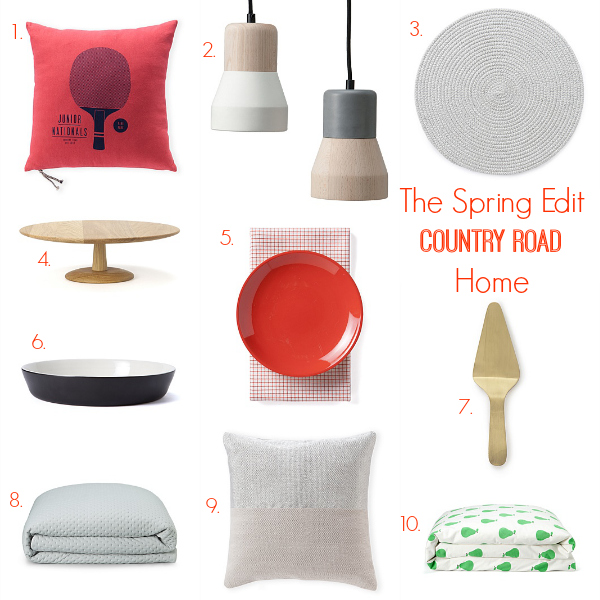 1. Ping Pong Cushion, $49.95;  2. Concrete Wood Light, $349; 3. Coil Placemat, $12.95; 4. Baker Cake Stand, $59.95; 5. Astrid Large Shallow Bowl, $49.95; 6. Jiro Large Bowl, $34.95;  7. Jona Cake Slice, $29.95; 8.  Asta Queen Quilt Cover, $229 9. Belinda Cushion, $59.95; 10. Pear Single Quilt Cover, $149.
Do you love a Spend and Save? What are you making a bee-line for or popping on your wish list?