I've just returned from a lovely long weekend in Byron Bay, (except that bit at the end when my flight was cancelled).
And oh my soul, how lovely it was to have one last crack at summer, sans children.*
As you would expect, Byron is the kind of place were boho reigns supreme, even in and amongst the abundance of VERY short denim shorts.
When I packed for my time away, all my old and new boho favourites were happily dusted off and thrown in.
Taking pride of place and set aside for travel day was my favourite new piece – the Bohemian Traders Falling Flowers Kimono. I knew it would be perfect for the journey – a light layer for the cool Melbourne morning and air conditioned airport/plane which could be removed easily once I hit the humidity of Byron.
Can I tell you how much I love this Kimono? I love the way it drapes, the pom poms, the print and quality of the cotton. I am also a fan of the way it provides bottom/leg coverage over skinny jeans.
I wore it three times last week and below, you'll find two of the ways I styled it.
As autumn sets in, I also plan to wear it over dresses and with long tees. I initially wore it belted but it also worked nicely loose. How would you wear it?
In both outfits, I am wearing new season Country Road jeans/pants. Both have been total winners and are forming the base of my autumn wardrobe as the weather slowly turns.
In the photos below, please forgive me my scrunchy face too – it was bright times last week!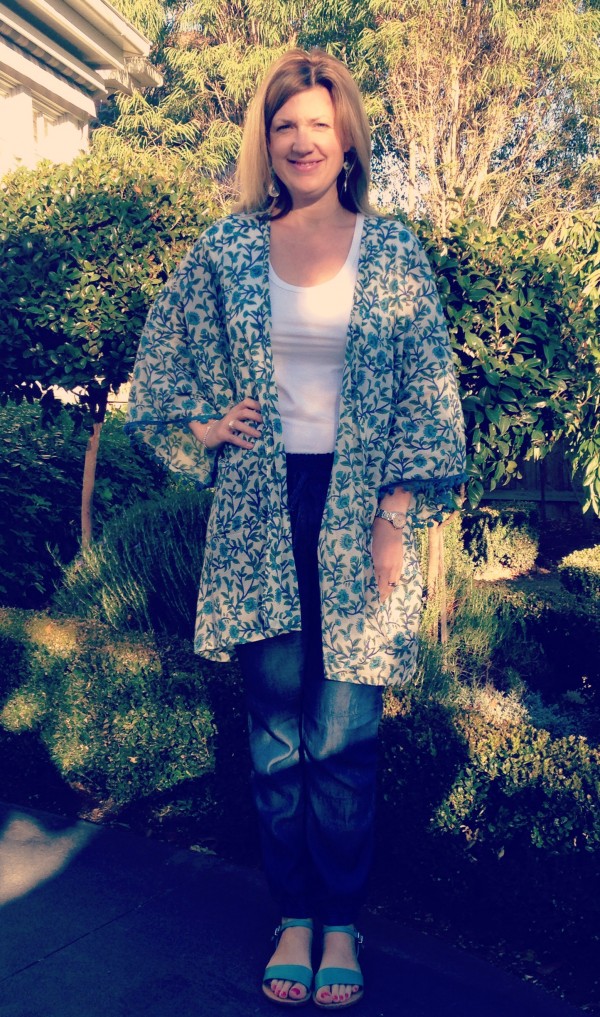 Wearing: Bohemian Traders Falling Flowers Kimono in Print 11; Country Road Utility Pants; French Connection tee; Sambag sandals (bought on sale, this summer but sadly no longer available as I'd love them in other colours!); Anthropologie earrings (for similar, try these); Tiffany & Co. bracelet and ring.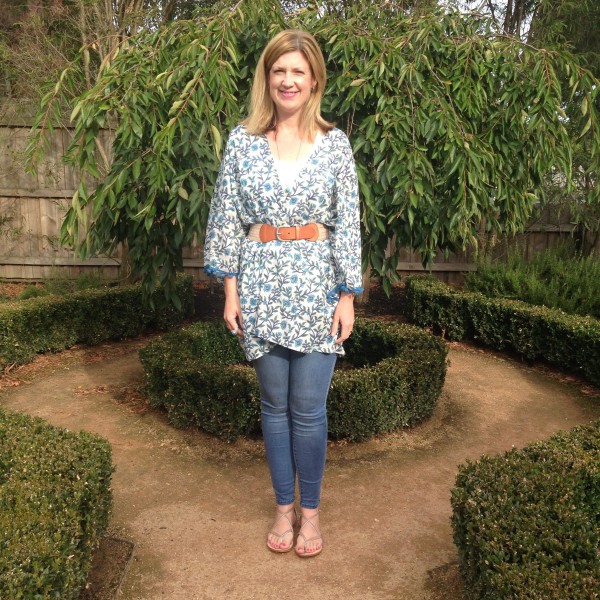 Wearing: Bohemian Traders Falling Flowers Kimono in Print 11; Country Road cropped jeans (no longer available, but these are a similar cut and colour; French Connection tee; Witchery belt and sandals (from several summers ago); coin pendant from market.
If you are considering buying a Bohemian Traders Kimono, the hardest part is choosing the print – there are twelve lovely options to choose from. I loved all of them but opted for #11 as the colours worked back with other boho-ish pieces in my wardrobe.
To see some great styling of other prints check out Emily, the talented lady behind Bohemian Traders and The Beetleshack wearing print #8 here. Nikki from Styling You has print #7 which she looks fabulous in, as you can see here. Kimba over at Kimba Likes is rocking print #1 here and has styled print #3 which you can see here.
As for the pants, for me, the sizing at Country Road this season has been a bit hit and miss. In the cropped jeans and jeggings (basically anything with elastane), I have sized down from my usual 12 to a 10 and even an 8. However, in the utility pants, which certainly give a little and have a drawstring waist, I am my usual 12 and I could not have sized down (there is a fixed seam across the thigh). However, I can see how for others, the cut/style may see you go down a size. This makes it tricky to buy online so if in doubt, perhaps head in to your local store to try them on or order a couple of sizes to compare.
*I'll be sharing more about my Byron travels in an upcoming post too, by the way!
Are you a Bohemian Traders Kimono fan? Have you had any luck buying pants/jeans this autumn? Any recommendations?