I've been hanging out for Country Road's new season Spend and Save Promotion. Has anyone else?
Today, while I was actually at my local Westfield, I received an email notifying me that the promotion had begun. Without further ado, I hotfooted it to my local store and took my time browsing the racks and trying on a few favourites.
Below are my picks of the new range.
The standout for me was the white flared hem dress (1), below. It is a knockout. If I was working in the office this term, I would have snapped it up post haste. It has a flattering cut, gorgeous waffled fabric and sits a couple of inches above the knee. It's a dress I could see moving seamlessly from the office to weekend do's and even beyond to the Races. It is a generous fit though, so if you are looking to buy online perhaps go down a size.
I love this range's pink accents and spot prints too. You can go all out with a top or go for a pop of colourful print with a scarf.
1. WORK WEAR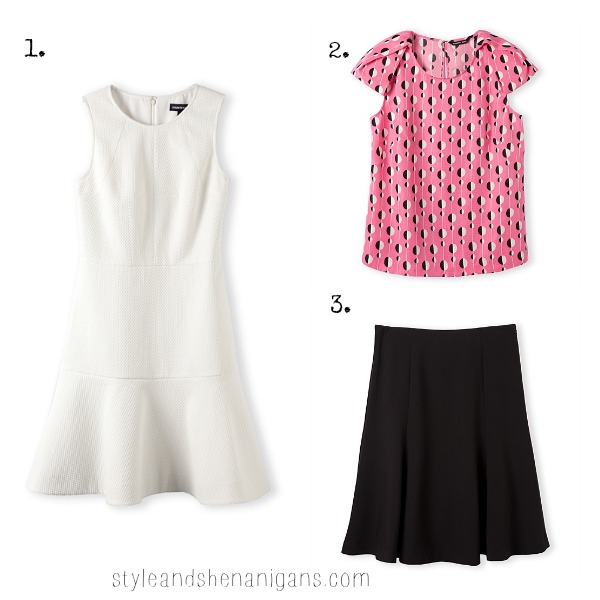 1. Flared Hem Dress, $229.00; 2. Spliced Spot Print Top, $129.00; 3. Flared Midi Skirt, $149.00
 2. SMART CASUAL 
Smart casual pieces are versatile in that they can move seamlessly from your work to week day wardrobe. They are the working woman's best friends. Most of the pieces below can be mixed and matched with jeans or a tailored skirt or trousers all week long.
I am big fan of Country Road's slim line long sleeved cardigans. I have several from many seasons ago, all of which are still going strong. These cardigans look great with a simple tee and skinny jeans and are workhorses in my trans-seasonal wardrobe. This year's long sleeved cardigan also comes in 3 neutrals (black, cream and grey).
I have also included the mid rise skinny cropped jeans that I featured on the blog earlier in the week again. I love the look of these and have ordered them on line in two sizes (they haven't arrived yet) as a girlfriend who has bought them told me they were very generous size wise. I'll let you know how I go. Fingers crossed!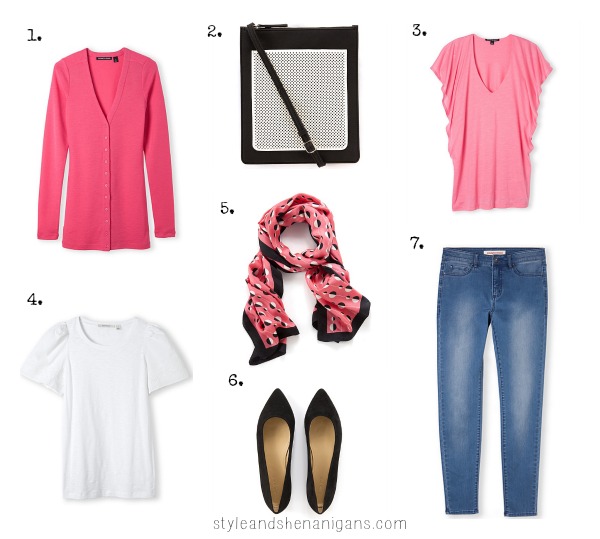 1. Long Sleeved Cardigan, $99.95; 2. Perforated Hip Bag, $69.95; 3. Ruffle Sleeve T-Shirt, $69.95; 4. Embroidered Sleeve T-Shirt, $59.95;   5. Contrast Circle Scarf, $69.95; 6. Carrie Suede Point, $99.00; 7. Mid Rise Skinny Cropped Jeans, $99.95.
3. HOME 
I am a big fan of Country Road's home wares and the new season's range does not disappoint.
There are some great new colours in serving ware/dining (pastel pink, mint and acid yellow) but the stand outs for me were the cushions in the new children's bed linen range. The duvet sets are divine too but are a bigger investment. The cushions, however, with the discount, are reasonable and would work back nicely with existing linen and colour schemes. And they look so cosy and warm!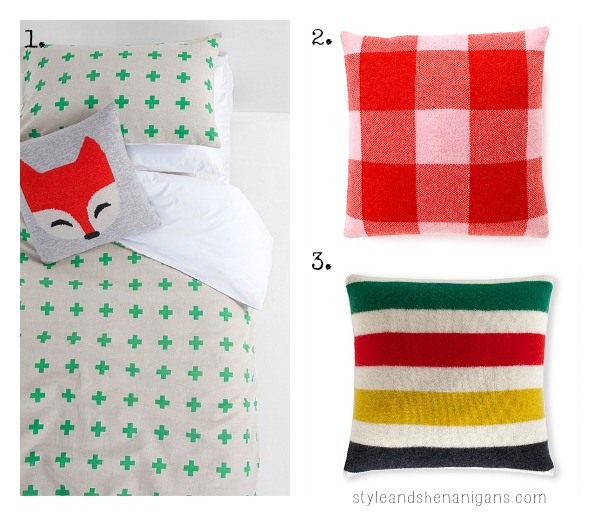 1. Fynn Quilt Cover with from $129.95 with Wes Cushion, $49.95; 2. Saskia Cushion, $49.95; 3. Ulrike Cushion, $49.95
What is your pick? What do you plan to purchase with your Spend and Save?
Thank you for your comments. I love to hear from you!