It has been a week of firsts here at Style and Shenanigans. Today I am launching another regular post in which I will be featuring some of my favourite brands, some lovely pieces from their current ranges and some of my musings about why it works for me. Reader participation is encouraged! I would love to hear from you about your favourite brands and what you would like to see featured, so if you feel inspired, please drop me a line in the comments section below.
I am starting with Sussan as I have spent most of my adult life wearing her clothes. I actually began shopping at Sussan when I was in high school. Since then, I have gone through periods where I have bought a lot of clothes and other times less, although I always dropped in for the obligatory new pair of hospital pjs prior to the birth of my children.
Over the years I have loved Sussan for her casual skirts, jeans and dresses for summer (a navy linen dress from a couple of years back is one of my faves for hot Melbourne summers). I have also bought my fair share of "leisure wear" (i.e. tracksuits) and sleepwear. Since having children, I have appreciated that Sussan really works for women in their 30s and beyond or women post children. Sussan is always on trend with plenty of colour and prints but to me, their cuts and styles are more forgiving (i.e. flattering) for women with curves.
I have noticed that over time their prices have crept up and it has become less mid range price wise. Of late, I have found their accessories have represented better value and I have picked up some great scarves and heavily discounted jewellery from the sales rack (the last pair of earrings I bought there cost $3.95).  I do lash out occasionally though. I bought a pair of their skinny jeans last summer which have been a winner as they are slightly higher waisted which minimises any muffin issues!
Occasionally I have also found a special little something for a friend amongst their small but well curated selection of gift wares.
I generally duck into Sussan each time I visit my local shopping centre. When I popped in last weekend, I found lots of great summer looks. Below are 6 of my faves and I thought you might like them too.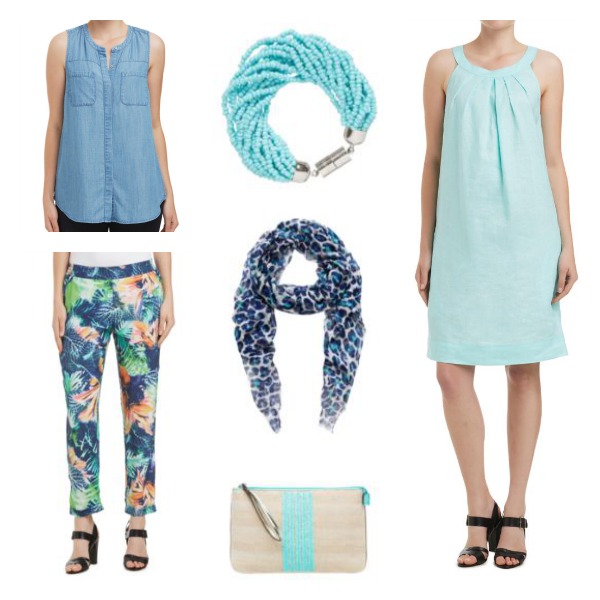 I initially wavered when I saw this Sleeveless Chambray shirt, wondering if I ought to leave the chambray in the past when and where I last wore it. I ended up trying it on, loving it and buying it with the intention of getting some more mileage out of the several pairs of coloured jeans I bought last summer. It is light and felt soft and I thought it would be a versatile piece for summer, also working well with printed pants and shorts. I sized down to a Size 10 (from my usual 12) in this shirt, so it is generously sized.
I tried on a few pairs of their printed pants as this is a style I love the look of, but have had difficulty finding a cut that suits me. Of the three pairs I tried on, this Tropical Print Pant (size 12) was the winner for me and I am planning to wear them with a bright orange or green singlet top and either navy wedges or my green patent Salt Water Sandals. If you are looking for some tips on how to wear printed pants, check out this great post from the lovely Dee from Mama Stylista.
I tried on this Halter Neck Linen dress as I was struck by the great colour, fabric and interesting neckline. Alas, my usual Size 12 was too narrow across my lower half but there was plenty of room around the chest and waist. With its straight cut, I think this dress would look great on the right person – probably someone with a boyish or apple shape. This dress also comes in a bright floral print.
As for the accessories, they are all gorgeous and I would happily wear them all, especially with that lovely dress.
Do you shop at Sussan? What do you like about it? Does it suit your shape/style/budget?