Well, its my birthday this week and I am celebrating with a little festival of gatherings and catch ups with family and friends.
But it's not really about my birthday. It's not a milestone or anything. It's just an excuse to get together and reflect on the year that was and have a good laugh or three.
I was thrilled to receive a voucher from Sussan*, so I put it to good use and bought myself a couple of celebratory outfits which are perfect for this week's events, but will also be work horses all summer long.
Ok, here's the first outfit: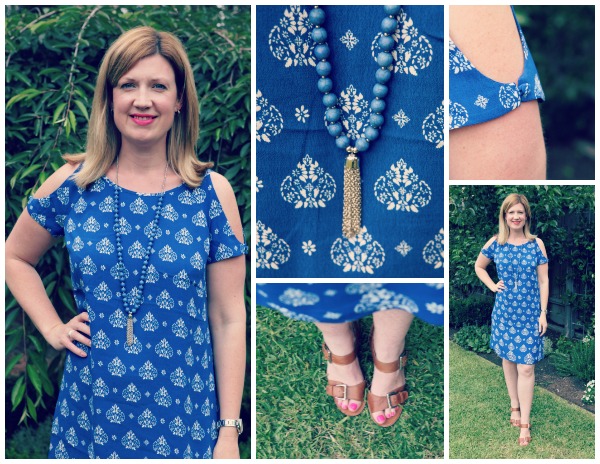 What am I wearing?
This dress had just hit the store when I picked it up from my local Sussan last Thursday. It is the Cut Out Shoulder Dress in Mid Blue, now available in sizes 8 – 18.
I was struck by the great print and interesting details – I love a fresh blue and white colour combo for summer. The mid blue is a nice alternative to the more traditional summer navy and white combo too.
The shift style is perfect for hot days with its drapey viscose which skims and flatters without clinging. It is also a great dress for dinners and lunches out as the shift shape disguises a full belly and is comfortable to wear.
I love the cut out detail on the shoulders and the little fabric covered button too.  It provides a bit of arm coverage if you prefer it, as well as some ventilation.
I always look for versatility in my summer dresses too – it must be able to be dressed up or down. This dress wins on that front as it works for both days and evenings. Just add a pair of wedges or sandals.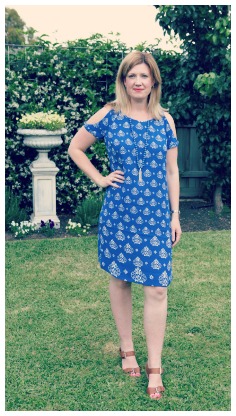 The sizing in this dress is generous. I am wearing a size 10, although I am usually a size 12 in Sussan pants and skirts. I initially tried a 12 and while it fit, it was too shapeless. It might be worth sizing down for a more flattering fit.
Jewellery wise, I am wearing the Blue Bead Tassle Necklace  from Sussan which complements this dress perfectly and is great value at $24.95.
I am wearing Tiffany hoop earrings and a Tiffany ring, gifts from Mr SnS on previous wedding anniversaries. I saw a great version of my ring at Witchery this week for $19.95. It's available in silver and rose gold.
On my feet are my favourite multi purpose tan block heels for summer, bought last year on sale from US superstore Anthropologie for the equivalent of $40 in Australian currency.
What was I up to that day?
I had a hilarious dinner with three of my besties at our local Thai. It was a night of many laughs, reflections on life and the very amusing shenanigans of our collective ten children. This dress was perfect for a casual night out and was comfortable for a night of curries and wine.
Why did it work?
In hot weather, a drapey but flattering dress is a great option.
A shift is not the most flattering style on me normally but the combination of the bright blue (always a winner if you have blue eyes and blonde hair) and the cut out detail got me over the line.
This shape however, is ideal for apple shapes and would be perfect for those first few months of pregnancy or post baby belly, which can last several years!
Now, time for outfit #2: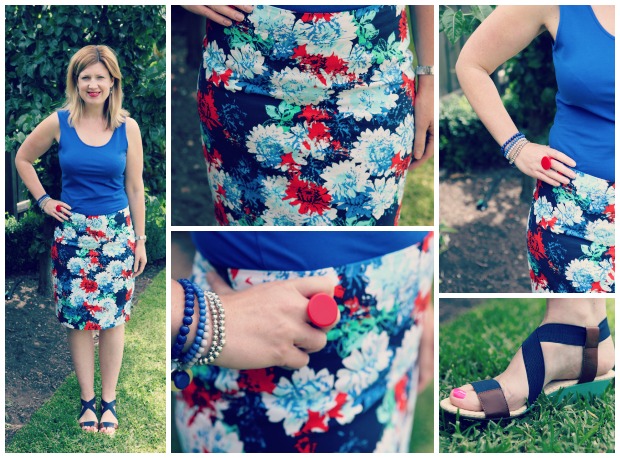 What am I wearing?
I am wearing the Blossom Pencil Skirt from Sussan in Size 12. It is available in sizes 8 – 18. Given it is a pencil skirt, I found the cut to be surprisingly flattering. I often find the waists on pencil skirts are too big but the rest is fine, however this skirt was perfect on me and sat just below my waist.
How gorgeous is this floral print? It is perfect for all sorts of warm and trans-seasonal weather and bang on trend. If skirts aren't your thing, you will be happy to hear that this print is also available in a shirt.
On top I am wearing a Sussan tank in Diva Blu, in Medium (not yet online).
Over the last few years, I have become a top tuck-er-in-er. I find tucking my top in is more flattering as lots of my tops are quite long and form bulk over my waist and hips when worn over skirts and pants. I may be deluding myself however, and be in early training for my senior years!
My bracelets and earrings are also from Sussan circa last summer and my ring is from Dinosaur Designs.
Once again, my shoes are from Anthropologie, bought in the recent US summer sales. They are a low wedge with a patent minty green on the wedge so they work perfectly with this skirt.
What was I up to?
Team Shenanigans and I went over to my Mum's for a family birthday dinner for moi – Mum's roast beef, followed by pavlova, vanilla slice cake, a lovely singalong and a spot of birthday cake pyromania from the boys.
Why did it work for me?
I can't go past blues, reds and greens together – they are all colours that suit me and I have loads of accessories, knits, tops and shoes that will work back with this skirt.
I am a big fan of prints and wear a lot of them. A print with a few colours provides endless options as you can choose a colour to use as the accent and therefore create new looks with the same piece.
I can also get plenty of wear out of this skirt – it is versatile enough to be dressed up or down. By adding heels or sandals and a few accessories, it would transition easily from work (with a jacket or knit) through to smart day time events.
What is your pick from the items above? What is the most versatile piece in your wardrobe? What makes it work so well for you? Do you tuck your top in or leave it out?
* Sussan is one of my favourite brands and one I wear often and have featured previously on the blog. They kindly gave me a gift voucher to enable me to purchase clothes for today's photo shoot. How awesome!
Thank you for your comments. I love to hear from you!