Today's edition of Every Day Style features a couple of new frocks which I wore on my birthday last week.
I like to wear a new or favourite outfit on my birthday. It gives me a little pep up and helps to differentiate the day from the usual. Do you?
Last Wednesday was the perfect summer's day: a sunny 30 degrees. It was also the kind of day that turns into the perfect balmy summer's night. A night that calls for any excuse to celebrate, a frock and a cocktail.
Day time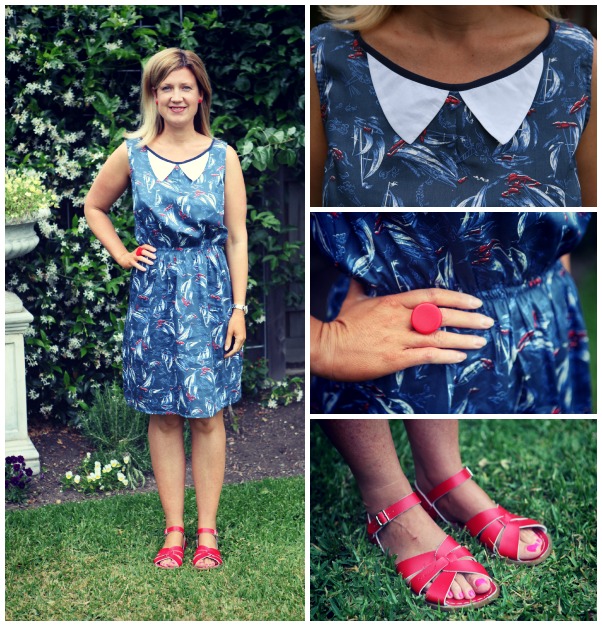 At the recent Big Design Market, I chanced upon the lovely local Melbourne designer, Kindling. Their stall was full of all kinds of skirts and dresses with lots of pretty prints and retro gorgeousness.
This dress, which I affectionately think of as my Rod Stewart, "We are Sailing" dress, was one of the many I tried on.  (It's actually called the "Hello Sailor" dress and is available here). I am wearing a Size 12 but could have sized down to a 10 as it is a generous cut, however I preferred the length of the Size 12 on me.
It's elasticised waist and Peter Pan colour are lovely retro details and add a bit of interest and shape to what is essentially a lightweight sundress. I also don't need to worry about a belt, which is one less thing to think about.
My red Salt Water Sandals match this style perfectly too. (You can read all about my undying love for Salties and where to buy them cheaply here). Later in the day, I popped on a pair of red woven wedges which also worked well.
My earrings are red resin flower studs picked up at a market a long time ago and my ever faithful Dinosaur Designs red resin ring.
This dress was perfect for a day out on my own: a coffee with gorgeous girlfriends, a Christmas catch up at a friend's place and a trip to the movies to watch The Hunger Games #2 before returning to normal life, kids, pick ups and all the usual after school shenanigans!
A Night Out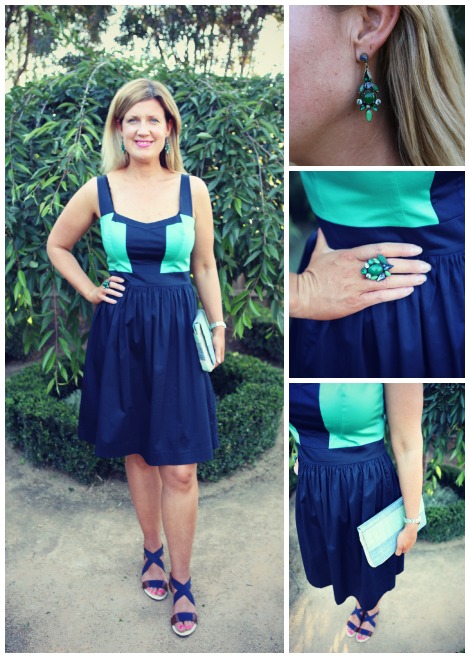 So last Wednesday evening, Mr SnS and I mosey-ed along to the seriously fabulous Cutler & Co for my birthday dinner, which has been on my list of places to go to for ages.
I decided to wear my newish colour blocked flared dress in blue and green from French Connection, previously featured on the blog here. I love blue and green together and snapped this up on sale in November, knowing I would get plenty of mileage out of it this summer. The colours and the flared shape are also perfect for me.
I am also wearing the Peter Lang earrings and ring that were part of my outfit for Mr SnS's 40th last year. I love these pieces but have only worn them once since. They are a bit dressy but I wore them anyway as they matched the dress perfectly and lent a happy, nostalgic touch. I also subscribe to the philosophy that special, gorgeous or sentimental pieces should be worn whenever and wherever possible.
My woven blue and green clutch is from Sunny Life, picked up in the Stocktake Sales last summer. It's the perfect foil for my Anthropolgie wedges (featured previously here), which also have a woven detail.
Speaking of wedges, I love a low wedge. As we were heading to Fitzroy for dinner (which is busy at the best of times), I knew I may have a decent walk to and from the restaurant, so I needed something comfortable enough to walk in. I also appreciate the support a wedge gives these days, particularly as I fractured my foot last year and am still a bit nervous in anything too high.
What do you do to celebrate your birthday? Do you indulge in a birthday frock or outfit? What is your idea of the perfect birthday outfit (not suit!) or way to spend the day/evening?
P.S. This is the last Every Day Style blog post for the year. Over the next few weeks, I'll be posting my every day style on the SnS Facebook page instead, hopefully a few times a week, until I am back from holidays mid January.
Thank you for your comments. I love to hear from you!