Welcome to this week's instalment of Every Day Style @ Shenanigans Central. Today I am channelling the colourful, the quirky and the feminine.
This outfit is one of my favourite outfits from last summer and now that we are finally enjoying some mild summer days in Melbourne, I couldn't get it out of my wardrobe fast enough!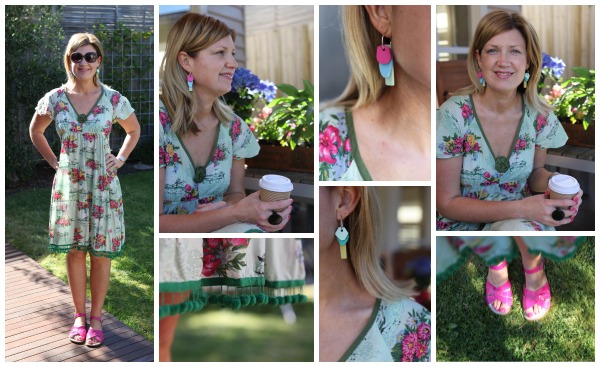 What was I wearing?
I love this Lazybones Joni dress in Vita which I picked up on sale last summer from Emia boutique in Sorrento. I could not go past those pom poms.
Lazybones make beautiful, feminine dresses using beautiful prints with a vintage sensibility. Their cuts celebrate curves, waists and always have a full skirt. So, in an nutshell, this dress makes me want to bake cupcakes and will hide the consequences of actually eating them!
This dress was the very last one in this print but a size Small but I loved it enough to give it a go and was surprised and delighted that it fit.
I recently tried on some new season Lazybones dresses at Milly Moo and Tilly Bear in Phillip Island, and was surprised to find the Mediums were too big on me, particularly on the bust. This is ahem, unusual for me as I am well endowed (DD). So, my take is that their sizes are generous given I am normally a size 12 in other brands (such as Country Road/Witchery/Sussan).
Being last summer's stock, this dress is now on sale for $65 on the Lazybones online store but only in XS which is probably a size 10. You can also find Lazybones at Birdsnest.
Jewellery wise, I am wearing my absolutely most favourite earrings, the "Making Shapes" earrings from local designer Stampel, which I picked up at The Big Design Market last year. I adore these earrings, I wear them often, they go with so many outfits and people always notice them (in a good way).
I also love that they are asymmetrical colour wise as I can be a very organised, symmetrical, co-ordinated person and this is my little bit of "crazy"! These earrings seem to have been made for this dress because every colour in the earrings is picked up in the dress. Ok, maybe I am not so unco-ordinated after all!
I am also wearing my dark green Elk resin ring which is $22 and still available at Elk. This ring looks great, is durable and works with all the green in my wardrobe.
On my feet are my hardworking and much loved fuchsia Salt Water Sandals, which I have waxed lyrical about previously here. I am also wearing Witchery sunnies.
What was I up to that day?
It was a quieter than normal week day with school and kinder drop offs and pick ups, a coffee run followed by a morning at home with Master 2, then tea and a play with a friend after kinder, then all the usual after school shenanigans.
Why did it work for me?
This outfit epitomises my idea of style in this current season of my life: it is feminine, comfortable, practical, colourful and a bit quirky.
In other words, I can pound the pavement with the pram around my 'hood in flats but still look and feel presentable and ready to go out.
What is your favourite outfit from last summer? Have you cracked it out yet? What do you love about it? Are you a fan of Lazybones or Stampel?
Thank you for your comments! I love to hear from you.