If you follow me on Instagram (where I post regular daily outfit pics using the #everydaystyle hashtag), you'll know that my daily "uniform" often involves a ponytail and flats.
I love a fab hair day and heels as much as the next girl, but the reality is, I often have no time to do my hair (and only wash it twice a week) and heels aren't the most practical option for traipsing around the neighbourhood when you're running around after 3 busy boys.
I literally spend most of my life on that well worn path between school, kinder and the local cafe and comfort is usually King.
So when I find a dress that looks the goods with minimum effort, I'm a happy camper indeed. Case in point – the Olivia dress from Lazybones, which I bought from Birdsnest.
This dress is perfect for a Christmas lunch, school concert, family get together or even Christmas day and can easily be worn with either flats, as I've done, or with a heel.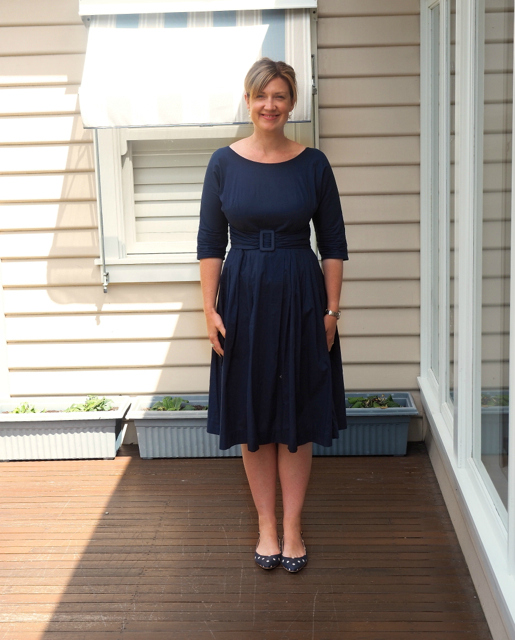 I've long been a fan of Lazybones and feature them regularly here on the blog (most recently in my What to Wear to the Work Christmas Party post).
Why?
Well, this Australian label knows how to cut a dress that flatters women both with and without curves and caters for a broad range of sizes. Typically, their clothing is available in sizes XS through to XXL.
Lazybones also love a vintage print, colour and the detailing like embroidery, retro buttons and belts.
And this gorgeous, flattering and retro style dress I'm wearing above is a great example of Lazybones' signature style.
The boat neck, V neck at the back and simple waisted belt are such striking and flattering details.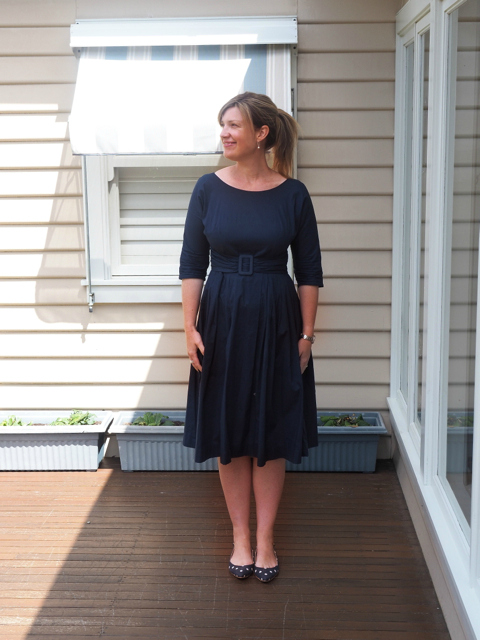 The belt cinches in at the narrowest point of my waist, creating a great shape while the full skirt falls at just the right place.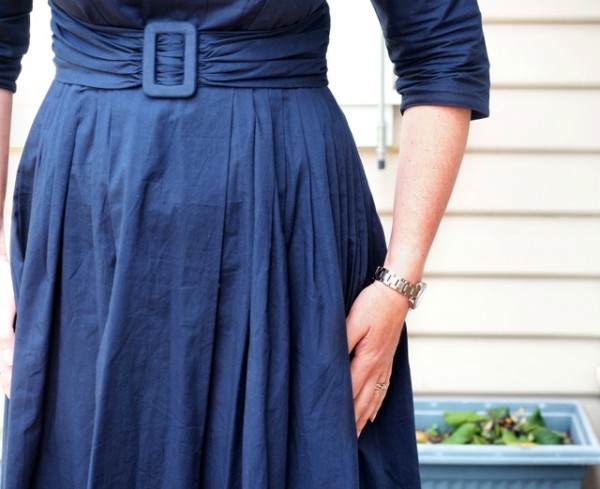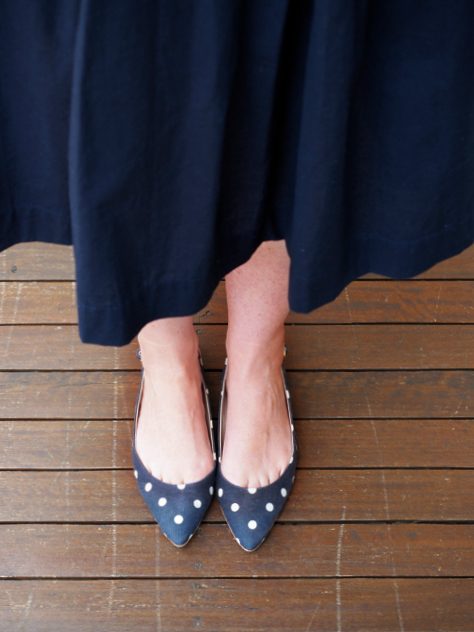 In terms of sizing, I usually find Lazybones on the generous side size wise (I have two of their current season smocks in a S/M which are roomy) but in this style, I'm definitely a Medium.
As you can see, it's a snug but flattering fit.  The right sizing is important too as there is no stretch in the cotton.
I love that this dress also comes in sizes XS through to XXL so it's a dress that could work for a lot of us.
I've paired mine with a spotty pair of pointed slingbacks from Boden, bought a couple of years ago.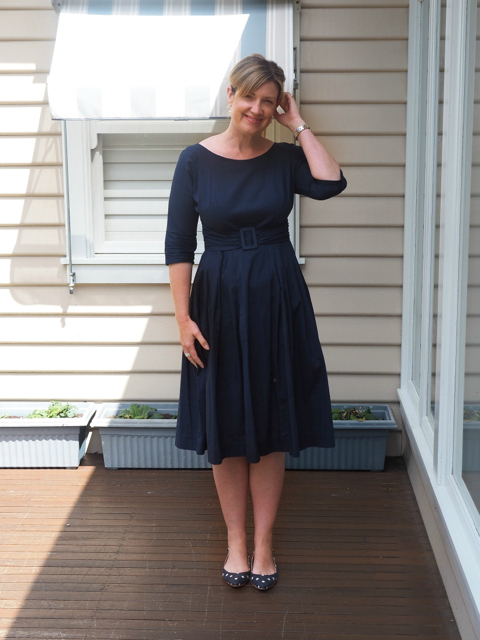 I actually bought this frock several months ago – sadly but not surprisingly it's only available in XS on Birdsnest in the navy now – but fear not, because since then, it's proven so popular that it's now available in a shorter sleeved style in a range of gorgeous prints and colours for summer, some of which are pictured below.
LEFT TO RIGHT: Olivia dress in Sky, $145 from Birdsnest; Olivia Short Sleeved dress in Peony, $145 from Lazybones; Olivia Dress in Berry, $145 from Birdsnest; Olivia dress in Adeline, $145 from Lazybones.
I'm rather partial to the pink and the prints but really, it's hard to go wrong with such a beautiful dress.
You can check out the full short sleeved range here at Lazybones.
Lazybones is stocked in a range of places (some have a limited range or sizes though) so it's worth trying Birdsnest, Lazybones and Lark to find the size/style you're looking for.
This post contains affiliate links. You don't pay any extra and I earn a small commission. Read more in my Disclosure Policy here. 
Are there any easy wearing frocks in your wardrobe that work with minimum effort? Which style/colour of this dress is your pick?