Welcome to this week's edition of Everyday Style @ Shenanigans Central.
Well, it's the end of week #2 of the school holidays here in Victoria and after last week's deluge of Noah's Ark proportions, I am happy to report that the sun is shining and sanity is restored here in the southern state. See, I am smiling with relief!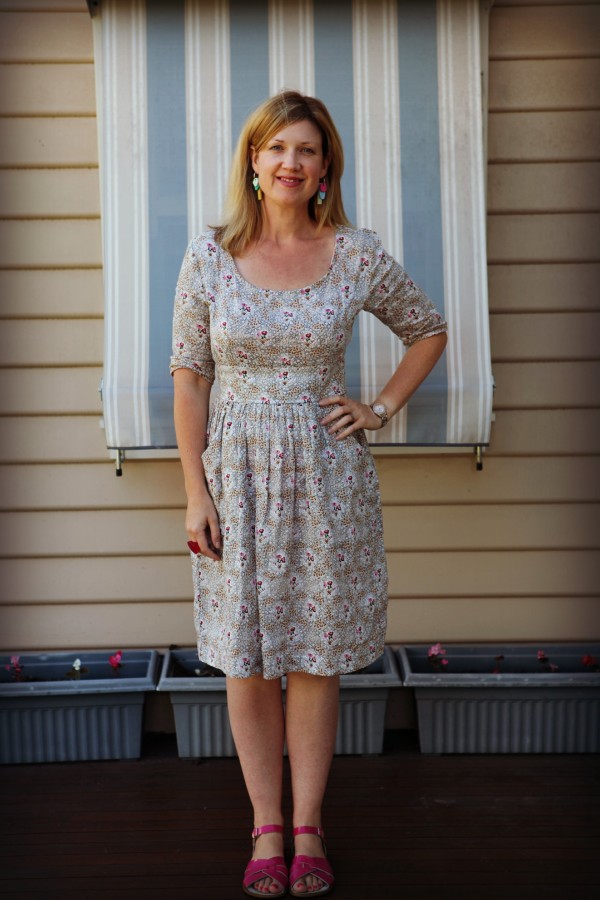 In the last week of term, my Mr 5 (who is enjoying school but is a sentimental little fellow), declared he was missing his kinder buddies and asked if we could catch up with them in the holidays. Given the number of people he then began to list, the practical me stepped in and decided to organise a play for our entire kinder group (a.k.a. the class of 2013 alumni) in the park this week.
Surprisingly, the morning of our play arrived and the sun was shining. In fact, it was one of those breathtaking autumn days that starts with a crisp morning, and slowly blossoms into a glorious afternoon that makes you want to air the house, bake cakes, garden and well, just lie on the grass and bask in the sunshine forever.
We had a great turn out at the park that morning. The kids played happily for three hours and the grown ups had a good natter and debrief about the hellishness that was that rainy week.
As I went to get dressed that morning, I bypassed my jeans in favour of a gorgeous Lazybones  frock I found on my recent visit to Bangalow. Yes Lazybones again! I just love their frocks – so feminine and flattering, what's not to love! (You can see me in my other Lazybones frocks here and here).
Today, it's the Elsie dress in Nancy print from the Autumn 2014 range, which retails for $145.00. It also comes in another print which you can see here or in this print but in a different style, here.
I am wearing a size S (small). As I have mentioned here before, Lazybones' sizing is generous as I am a 12/Medium in dresses in Witchery, Glassons and Country Road.
Although it was just an average day at home with the kids, I decided it was the perfect day for a trans-seasonal frock.  I popped on my favourite Stampel earrings, my new pink resin ring from Bangalow market and my ever faithful fuchsia Salt Water Sandals. In the morning and late afternoon, I also added a striped scarf picked up earlier this season from Country Road for a bit of extra warmth.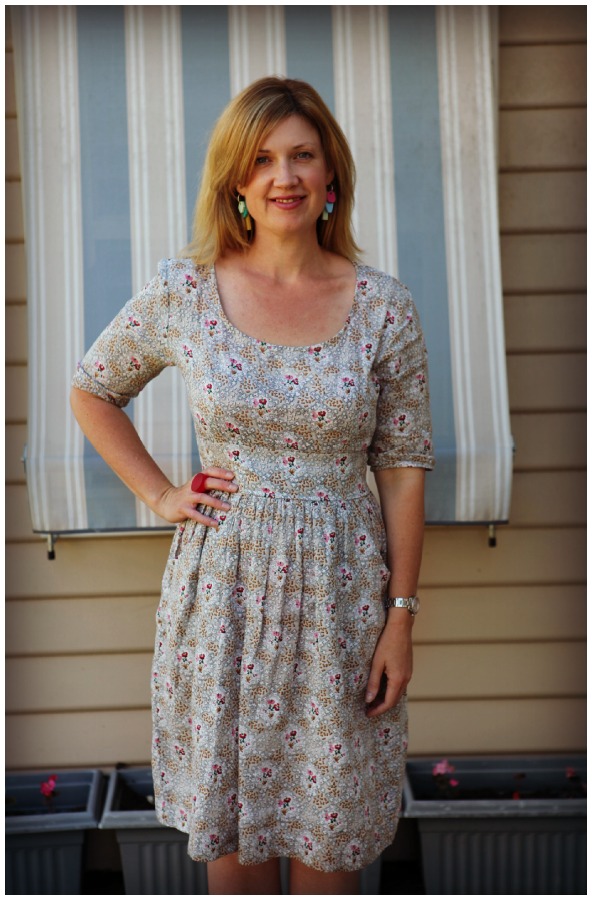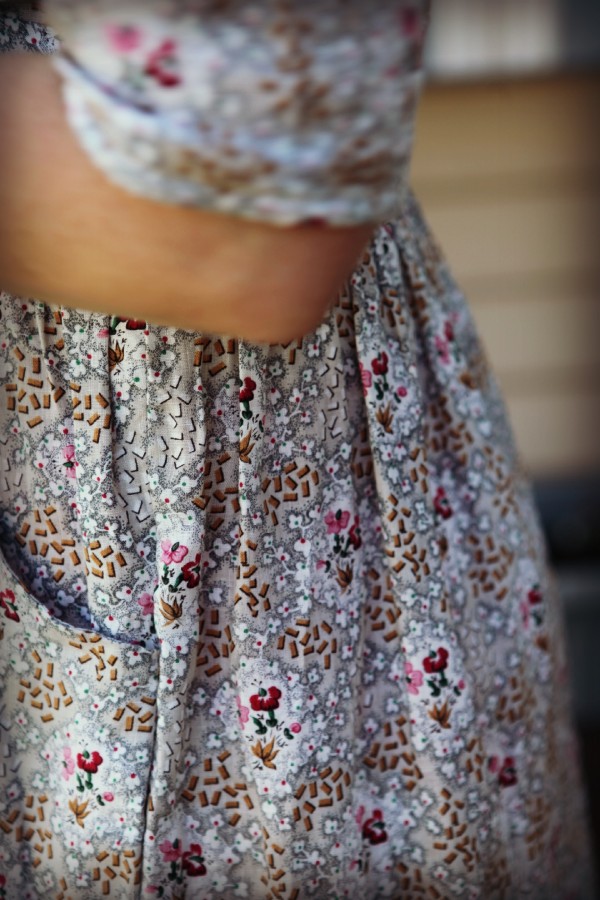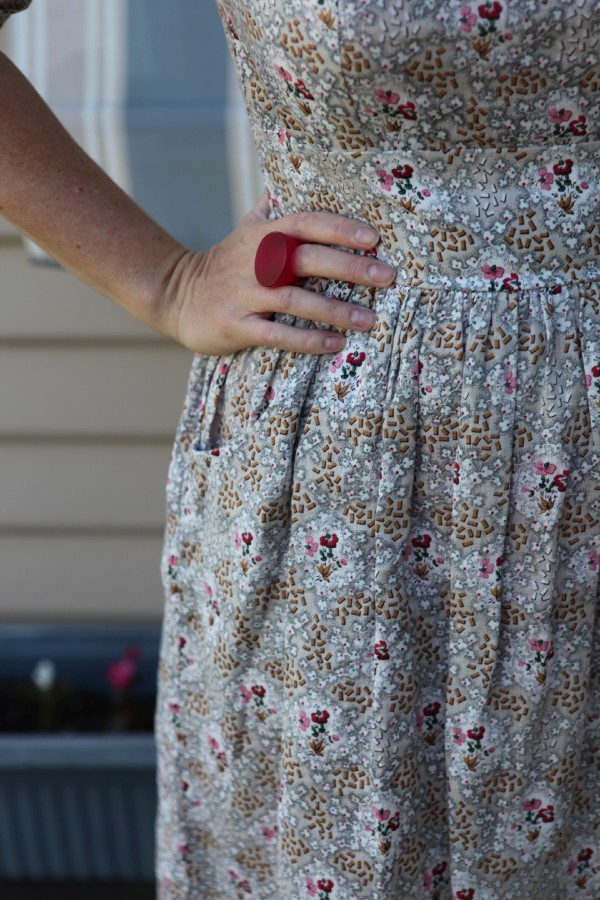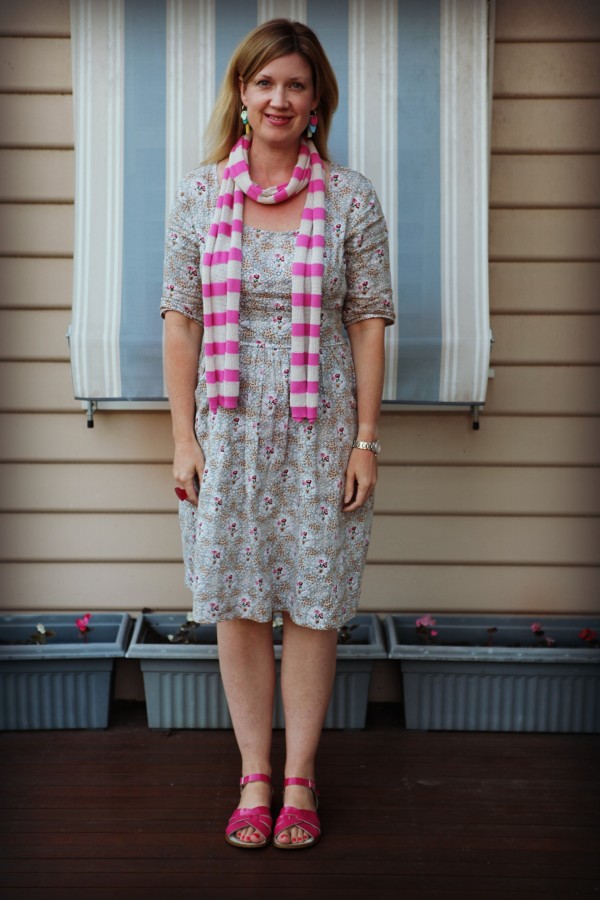 This really is the perfect trans-seasonal dress, don't you think? It's linen and lightweight but the flattering elbow length sleeves provide enough coverage so there's no need for a cardigan or jacket when the weather is mild.
The print is a bit different too. It's a little whimsical and feminine.
I do like a pocket in my frock too (provided it doesn't add bulk). It's a pretty and practical touch and perfect for stashing Lego and other miscellaneous items.
I just love this length as well, as it is long enough on me to cover my knees. And again, because the dress is patterned, it's a lazy dressing day option – just add earrings and sandals and you are good to go.
As the days get cooler, I think this frock would also look the business with ballet flats, a pair of  boots and a chunky knit.
Are you sorted on the trans-seasonal frock front? What's on your shopping list right now?