Welcome to this week's instalment of Everyday Style @ Shenanigans Central.
This long weekend, we finally scored a beautiful Melbourne Spring day. Besides mentally calculating how many loads of washing I could get dried on such a day, I could not get into a frock fast enough. It was a recent purchase which I have been waiting and waiting and waiting to wear.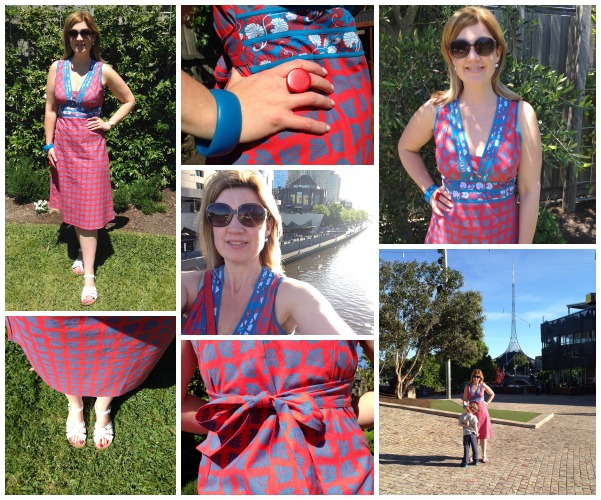 What am I wearing?
I am wearing a Boom Shankar Olivia Dress, in Tree Red, Size 12 from Birdsnest. (Note – I have previously bought clothing directly from Boom Shankar but the beauty of buying from Birdsnest is that because it is virtually an online department store, for the one delivery fee (or none during a promotion) you can buy across a range of brands instead of buying directly from each retailer and paying for separate/numerous delivery fees.)
This dress is part of Boom Shankar's Spring/Summer 2013/2014 range and is also available in Tree Blue and Tree Brown. This style and print is also available as a tunic. The Olivia dress is also available in another print (vine).
I am a big Boom Shankar fan, having first come across the brand at a market in Brisbane several years ago. I was wowed by their great fabrics and flattering shapes and left with a couple of knock out skirts (they always attract compliments). Each summer I add to my Boom Shankar collection, adding a dress or a skirt.
I had a hard time choosing which colour to buy as they all appealed to me and were within my colour range. I chose the red one as I thought the contrast of the red against the bright blue with a flash of white was striking and I knew I already had plenty of accessories and shoes to complement it.
This style is flattering on me as it is below the knee, the tie draws it in at the waist and it works colour wise. It was a little on the boobalicious front, even with the in built camisole, so probably not a frock for work or a conservative social do. If you are less well endowed than I am, I don't think this will be an issue.
I am wearing a blue resin Universal bangle I have had for so long I can't recall when I bought it and a red Dinosaur Designs ring. As I have written before, I love resin as it is durable and it comes in lots of great colours. It is perfect for every day at home but good looking enough to wear out.
On my ears I am wearing my favourite white drop earrings from local store Fudge. I am wearing a pair of Witchery sunnies.
On my feet I am wearing White Salt Water Sandals which I have previously raved about here.
What was I up to that day?
It was a busy Saturday which began with dropping my son off at a birthday party, coffee with a girlfriend, a few errands at the local shopping centre, a trip into the city with Mr SnS and the kids to see Peppa Pig in concert followed by a wander around and an alfresco dinner in Federation Square. If we hadn't been walking around the city, I would have swapped my flats for a mini wedge for a dressier look.
Why it worked for me?
A dress is a complete outfit. One piece of jewellery and a co-ordinating pair of shoes and you are good to go. There is no need to co-ordinate tops and bottoms and it requires little thought. A colourful print dress is a wonderful thing and if the colours work for you, basic make up and a great accessory will create some wow factor.
Do you have a favourite brand that makes great dresses? Have you heard of or shopped at Boom Shankar before? What is your idea of an easy summer outfit?