Welcome to this week's edition of Everyday Style @ Shenanigans Central.
Today I am excited to be sharing with you some lovely pieces that I recently received from Blue Bungalow.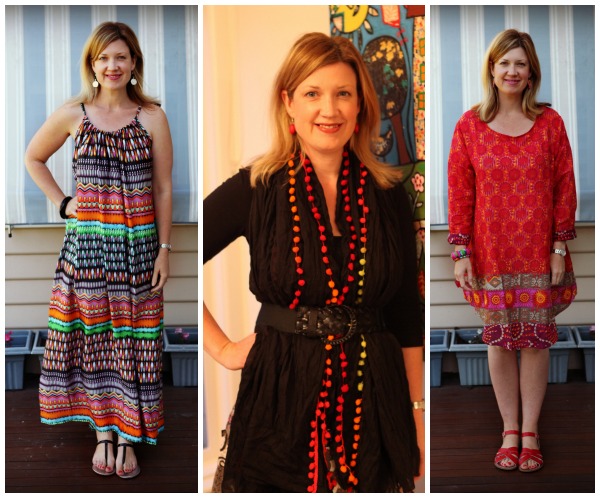 If you're not familiar with them, Blue Bungalow describes itself as a "Brisbane- based online fashion house, where the sun shines everyday and sandy white beaches endlessly beckon. Designed for the habitual holidaymaker, weekend wanderer and just your regular domestic dreamer, Blue Bungalow is the home of resort wear and summer essentials."
If you live in a warm place, you no doubt get loads of wear out of your summer wardrobe each year. Lucky ducks! As you may know, I live in Melbourne where resort wear is lovely but is only worn for 3, maybe 4 months of the year. Max. So why would I talk up resort wear in the middle of autumn?
There are a few reasons, the first of which is that you won't just find resort wear at Blue Bungalow – you'll also find a selection of great trans-seasonal knits and jackets as well as great accessories (I'm talking fab scarves, jewellery and bags), several of which I featured recently in this post.
Secondly, when you check out Blue Bungalow's online store, you'll be struck – as I was – by their very reasonable prices. We're talking plenty of frocks around or under the $60 mark and a great range of scarves for $29.
And finally, I know some lucky people who are heading to warmer climes during the Australian winter and who, in a panic, find themselves looking for summer clothes in the middle of winter. Have you been there? It's nice to know that even if you are, hypothetically speaking, heading to Bali in June, there is a place that stocks resort wear all year round. Just in case. That's good to know.
So, without further adieu, let me show you my lovely new pieces* from Blue Bungalow.
1. Silky Multi Stripe Maxi, $65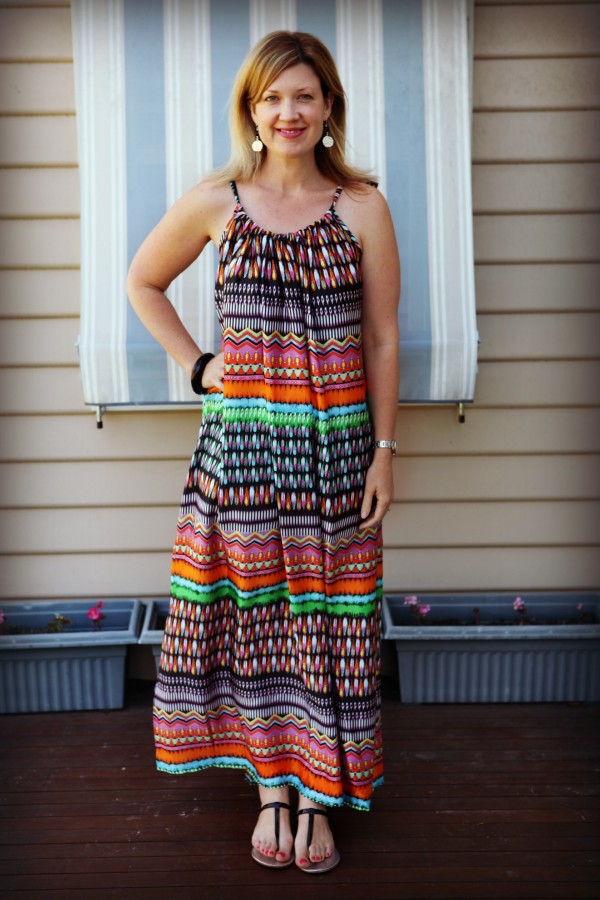 Now this is my kind of maxi. It has a great Missoni-esque print and plenty of colours to work with accessories wise. With it's soft, silky (rayon) fabric, it is comfortable but dressy enough for dinner or lunch out.
I also love that the dress is tied up over the shoulder, so you can change the length of the dress and where the neckline sits, to suit. It's quite a long, full dress, so this is important. By hiking it up a little, I've been able to wear flats.
I'm pairing this great frock with a pair of flat silver and black patent Country Road sandals, Witchery earrings and a black bangle from several seasons ago. With an up to date frock however, the look is modern, chic and relaxed. I feel fab in this dress and ready to party. Someone pass me a cocktail!
It also comes in a pink and bronze colourway, which you can find here.
Did I mention this dress is $65? That's what I call bang for your buck. Right there.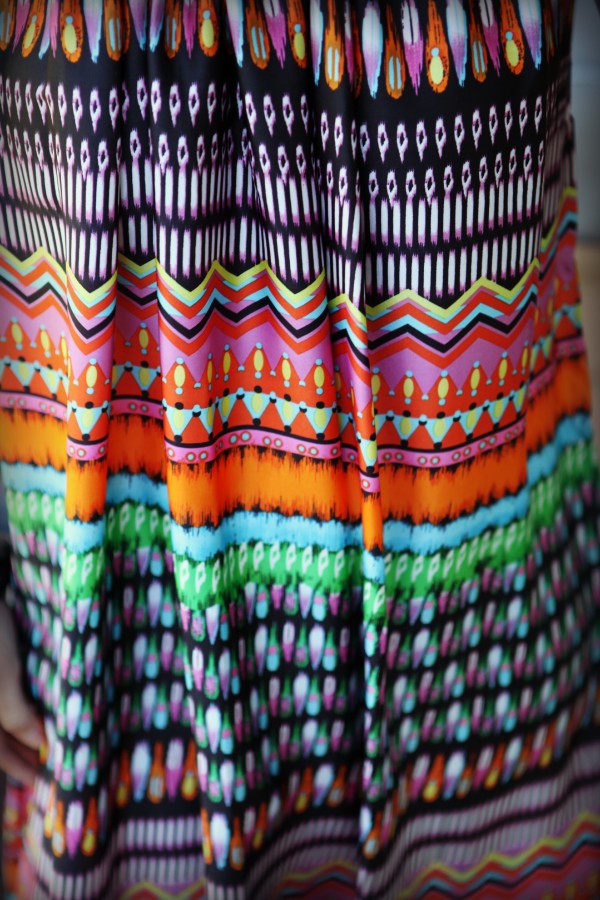 2. Pom Pom Scarf in Black, $29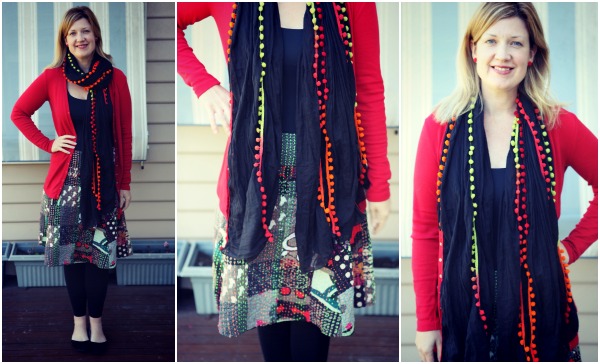 I chose this black scarf as I am the founding member of Pom Poms Anonymous. I'm also a fan of its bright pops of colour against the black. I wear a bit of black and red in the cooler months too and knew it would break up and add interest to many a black outfit.
It's quite a substantial scarf though (its 100% cotton) and there is a reasonable amount of fabric so I had a play with different ways to style it. What's your pick?
3. The Scooped Moroccan Tunic Dress in Red, $69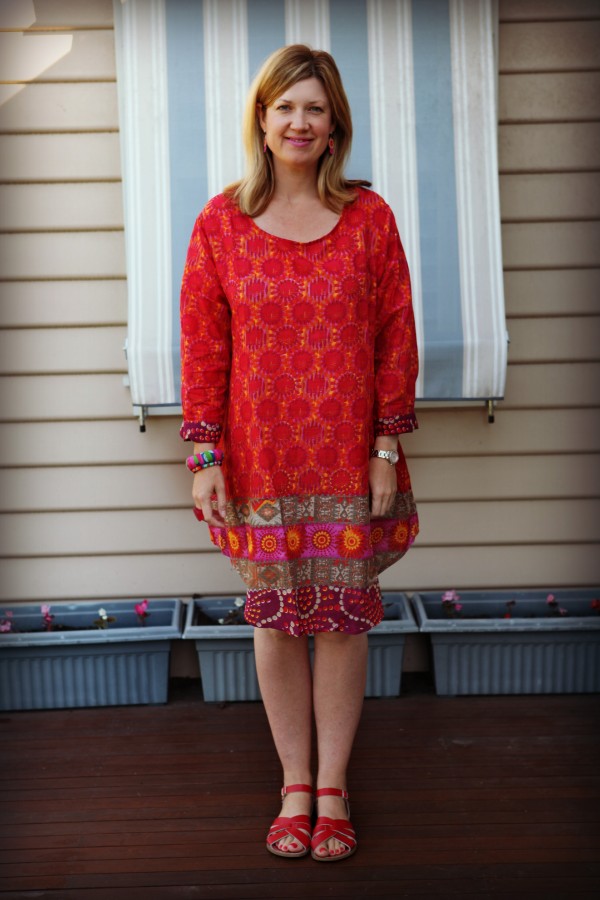 I first wore this great dress on the last warm day in Melbourne, a couple of weeks ago.
I love the vibrant autumnal colours in this dress. I also can't go past anything with multiple prints and I am particularly fond of the reverse print on the sleeve (I wore my sleeve turned back to showcase this). Details like this count in my book.
The fabric is light and floaty, so it would need to be paired with leggings, tights or a slip for trans-seasonal wear in cooler climates. I can see myself wearing this on our upcoming holiday to Bali – the arm coverage provides great sun protection and in terms of the length, it is long enough to be worn beyond the pool fence.
It is also available in green which you can find here.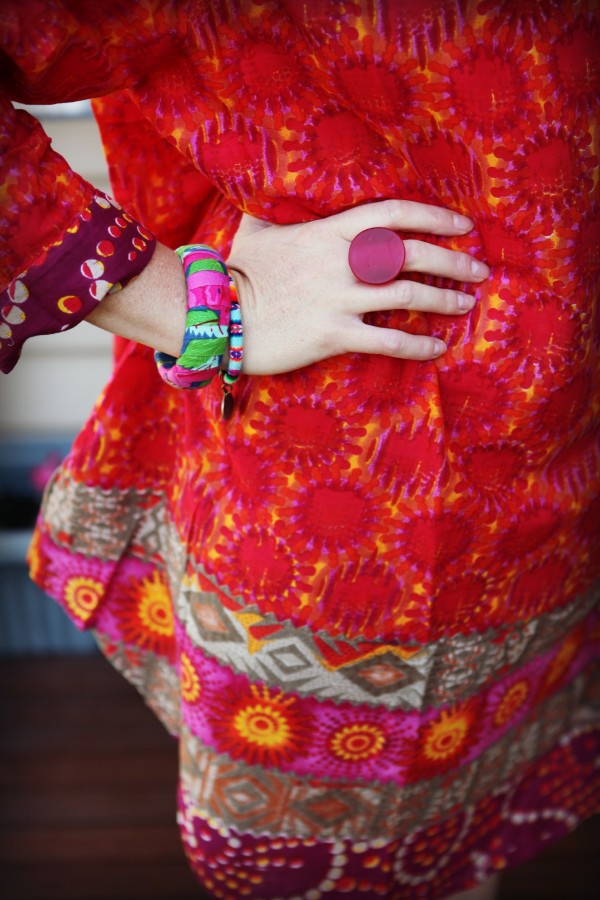 For more Blue Bungalow styling inspo, check out these great outfits worn by Sonia Styling here and Redcliffe Style here.
* These items were sent to me for editorial consideration in accordance with my Disclosure Policy. I loved them so much I decided to tell you all about them in this post.
Have you heard of or shopped at Blue Bungalow before? What's your pick of the above?