Ok, I have now been blogging for nearly two months on all things style and shenanigans, so I think it is time I got out from behind the keyboard to show you my own personal style on me in real life. From now, on, I will aim to regularly bring you an outfit I have worn during the week together with what the day held and any tips I can share about how to inject a bit of style into the shenanigans.
I work outside the home but spend the majority of my week at home with my  young children (aged 7, 5 and 2). My outfit each day has to be comfortable (as I walk most places), practical (because I often don't have time to get changed during the day), but also reflect my personal style. To verify that shenanigans are very much a part of my every day, you will see my Master 2 doing a cameo in one photo, watering himself with the hose helpfully during this photo shoot! You can't script this stuff.
Below is my debut outfit. A big thank you to the lovely Rachel from Redcliffe Style for her great post with tips on how to take flattering selfies. I obviously have a way to go, but you have to start somewhere.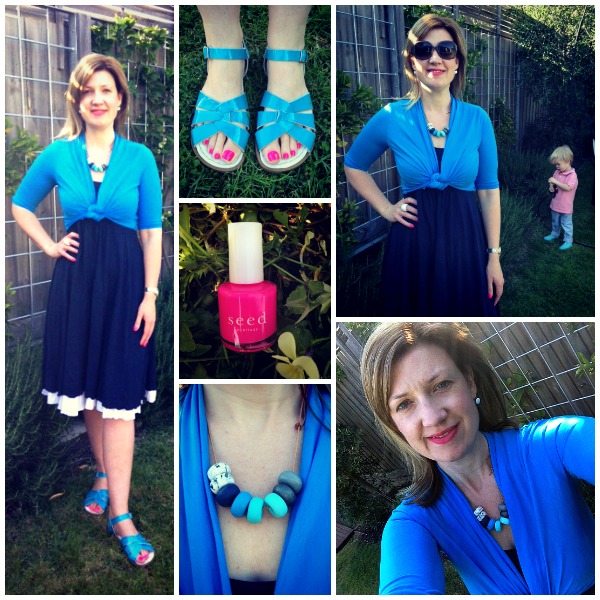 What am I wearing?
I am wearing three Metalicus pieces which I have bought over the last 12 months: a navy sleeveless dress, together with a white flared skirt slip and a cropped Azure blue cardigan. I wear this white slip under most of my Metalicus dresses and find it gives a smoother finish with an extra layer and the flared slip is flattering on my lower half. I also like the extra inch of length and flash of white it provides.
I am a big Metalicus fan because of the no-iron factor. I also find some of their shapes and styles are carried over season to season so it is easy to layer and mix and match pieces old and new. I love their colours and I think their spring/summer ranges are their strongest and they always have plenty of shapes and colours that suit me. While Metalicus is relatively expensive full price, I very rarely buy a piece full price. They regularly have sales with significant reductions and that is when I stock up on my favourite colours and with their loyalty program I occasionally receive a voucher or early access to promotions.
My shoes are Blue Salt Water Sandals. I absolutely love SWS and find them super comfortable and great style wise. I bought two pairs of SWS locally at Kiitos (patent yellow) and My Gidget (patent green). They retail for $85 in Australia. I then discovered I could buy them online from the US for $34.95 plus delivery from Me and My Feet once I knew my size (they have a unique sizing structure) and I have subsequently added to my collection.
Of my many pairs (you will see the rainbow featured in future posts), I have got the most wear out of my patent fuchsia SWS but my patent yellow SWS are my favourites hands down. On that note, I personally prefer the patent SWS in general and have found my white (matte) pair have discoloured easily as they are often trodden on by little feet.
I am wearing Seed Heritage nail polish in "Candy" on my toes and hands – a bright neon pink bought last summer. I don't often bother getting my hands done as they are lucky to last 12 hours but I was offered a $10 file and paint at Ladies Race Day on Friday and couldn't say no! I had packed my toe polish in my clutch for a matching finish. I prefer this colour on my toes only but it was fun for the weekend and I loved the contrast of the neon pink against the bright blue.
Jewellery wise, I am wearing a white Polka Luka ring, white drop earrings from Fudge and a necklace from Danidot Design.
What was I up to that day?
It was a busy Sunday with church in the morning, a trip to the supermarket, my son's friend's birthday party, some early Christmas shopping at the local shopping centre, followed lastly by a BBQ at my sister and brother in law's place for dinner. I felt comfortable all day and felt my outfit suited all occasions and best of all, it suited me.
Why it worked for me?
The layers worked for a warm day 30 degree day. I wore the cardigan tied up in the morning and anywhere indoors with air conditioning. In the afternoon, I let the cardigan hang loose as the tie came undone and it looked relaxed and sat well.
I love my Salt Water Sandals and find them comfortable enough to wear all day long. I find the patent SWS are slightly dressier too and suited for day time social occasions. My necklace brought the whole outfit together with is colourful beads and the neon pink on my nails made sure there was an extra pop of colour.
Are you a fan of Metalicus or Salt Water Sandals? Why or Why not? Let's workshop!