Hello and welcome to this week's instalment of Everyday Style @ Shenanigans Central.
Today I am talking about "set plays". Are you familiar with that expression? In AFL, sometimes players appear to execute a sequence of disposals resulting in a goal which looks spontaneous and effortless. However, it is actually a "set play" which has been practiced all pre-season long, to be executed whenever the opportunity presents.
This outfit is one of my "set plays". It is one of those outfits I don't need to think about. A no brainer. Like a uniform, I can quickly reach for all the pieces and pop them on when I don't have the head space or time to think about what to wear but I need to look presentable and feel comfortable. I know this outfit works and the colours and styles complement me and each other.
I think we all need to have a few "set play" outfits in our wardrobes. They are such a timesaver!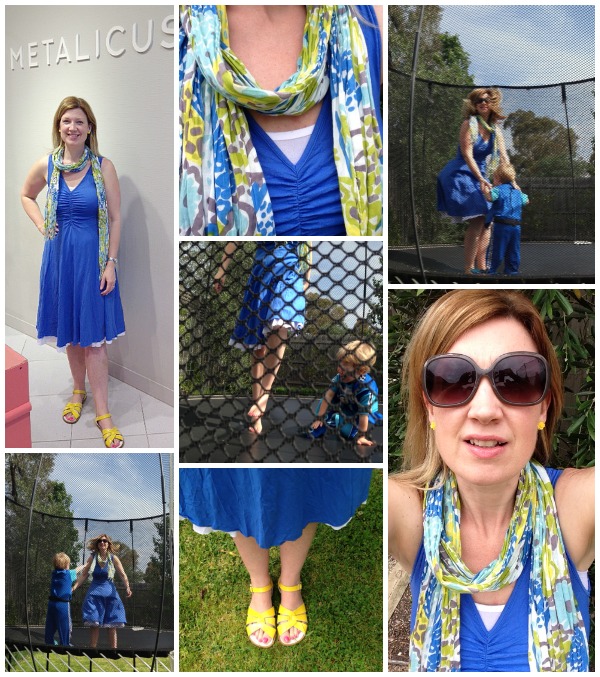 What am I wearing?
I am wearing a cornflower blue dress bought on sale last year and a white flared slip, both from Metalics. I like this particular style because the gathering at the bust creates a bit of interest and the v-neck  allows for the white slip to show through. Again, it is a classic fit and flare shape dress, so always a winner for me. I loved this style so much I also bought it in another colour.
I am always looking for opportunities to wear my favourite yellow Salt Water Sandals. (You can read all about my love of SWS and where to buy them here). I love yellow but I don't have a whole lot of it in my wardrobe so a scarf is an easy way to introduce it. I love wearing yellow with white, blue and grey in the warmer months.
A scarf is also an effective way to pull different coloured items in your wardrobe together in a co-ordinated look. This scarf is a cotton print number I picked up several years ago on a weekend away in Daylesford. I had it for quite some time before inspiration struck one day and I put it with this dress and my fave shoes and bingo! Has that every happened to you? You buy something fabulous and it sits there for ages and then all of a sudden, it is the item that brings a whole outfit together? I love it when that happens.
Jewellery wise, I am wearing an inexpensive pair of yellow rosette earrings which I picked up at a stall at Salamanca Market in Hobart last year. At under $10, they are casual and fun but work back well with my yellow SWS.
What was I up to that day?
It was a busy weekday which began with dropping the boys at school and occasional care. I then met a girlfriend and we did a few errands before a quick visit to the Lark Pop Up Store in Fitzroy. Having made excellent time, we snuck in a lovely brunch at the hip and happening Hammer & Tong 412 before heading back for occasional care pick up, the usual domestic bits and pieces, school pick up, spontaneous trampolining and after school shenanigans.
Why did it work for me?
This is a simple outfit but an effective one.  The colours do all the work. A friend and a shop assistant both commented about how this colour suited me as soon as they saw me. It made an impression. I'll admit that when I am busy and tired, a compliment gives me a bit of a boost!
I also love wearing these shoes. The bright yellow patent makes me feel a bit "sunshine-y" and happy and gives me a little spring in my step.
Credits: Thank you to my obliging Master 7 for taking the trampoline shots and the Metalicus sales assistant for this in-store shot. Finally, special mention to Master 2, aka Sportacus for his cameo.
Do you have any "set play" outfits? Outfits that are no-brainers? What colour can you wear that gives you an instant lift? Do you wear any yellow? Why or why not?