Today's Every Day Style @ Shenanigans Central is a colourful offering.
Last Friday, after all the local schools had started up again, one of my girlfriends had a special gathering to celebrate a double milestone – her youngest child starting primary school and her eldest beginning high school. It was also a celebration to mark the end of her thirteen years of "children at home". It was also a significant day for some other parents who had sent off their youngest or only children. Or their second child. Sniff.
It was a lovely morning of great company and three of my favourite Cs: canapes, champagne and cake. I even managed to enjoy the festivities while supervising my date (Master 2).
I thought a frock and a bit of colour was in order, so this is what I came up with.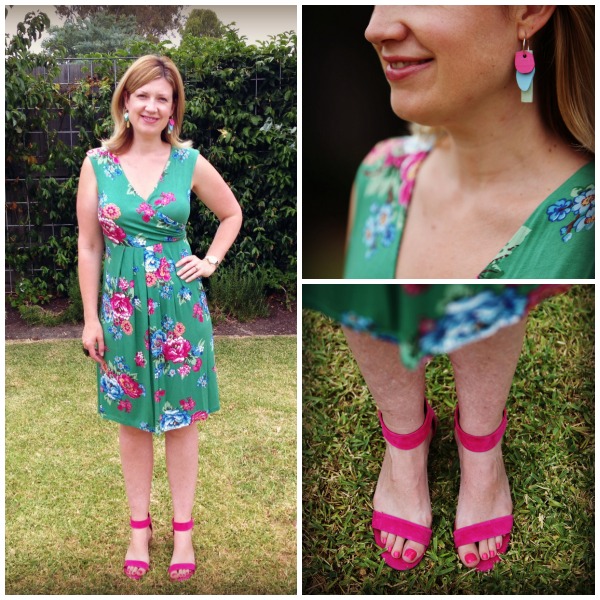 What am I wearing?
I am wearing a jersey dress from Joules, a UK brand, which I bought on sale last year. They have just brought out a similar cut and style which you can find here. I am wearing a Size 12 but it is a smallish 12. I have bought Size 14 in other Joules garments which fit me as well.
I am a fan of Joules clothing although here's the disclaimer: it has a certain British middle class equestrian vibe about it. When looking through the Joules online store, you will find lots of colour, prints, dots, stripes and florals.  They don't mind their tweed or quilted jackets either.
What you won't find is a beige convention. As a result, it's not necessarily a brand that will appeal to everyone and if it is worn head to toe you could find yourself on the high road to frumpy floral central. I tend to work it back with denim, a modern, quirky accessory or a pair of Converse to keep it fresh and contemporary.
I do love British fashion though, particularly the quality jersey dresses they churn out at reasonable prices. This dress is a classic example of this. On sale, it cost me approximately $60 (Australian) and there is no way I could find a comparable dress of the same quality and price at my local Westfield.
On my feet I am wearing Mollini Wedges (Marsy in Fuchsia) picked up in the Boxing Day Sales from Style Tread when there was a 20% discount across the entire store. Being a low wedge and suede, I find these to be extremely comfortable (I walked to school and around the local shopping centre in them). The only thing I could say against them is that the ankle strap left a slight mark after a day's wear but it didn't hurt.
As for the colour, well, they are just perfect for me and work back with many frocks in my summer wardrobe. I just can't get enough of pink this summer. What colour is calling your name?
Jewellery wise, I am wearing my most favourite earrings – Stampel Making Shapes earrings. Even though they have 6 different colours on them, they somehow go with everything.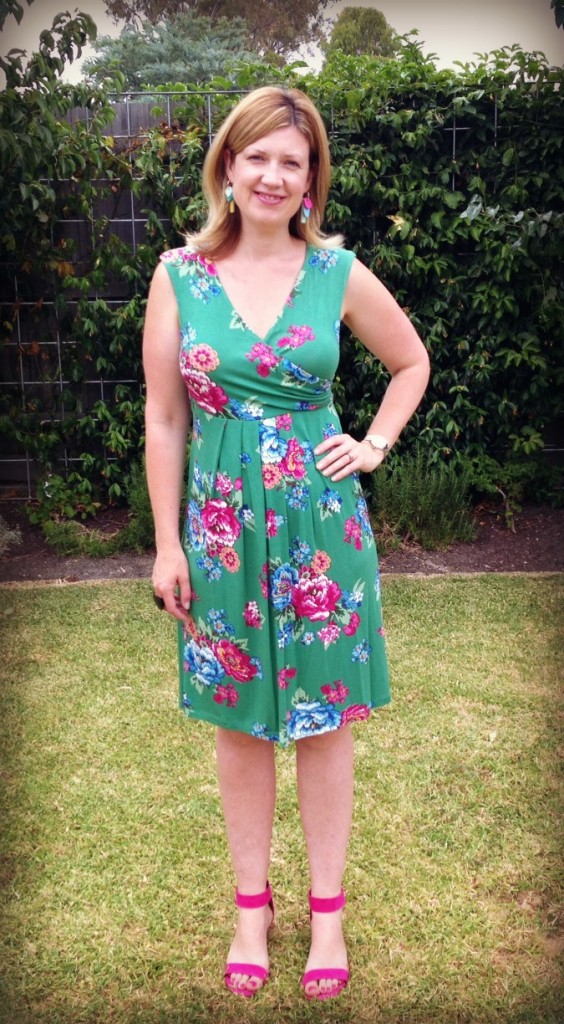 Why did it work?
This outfit was comfortable enough to wear to school drop off, errands at the local shopping centre and then on to my girlfriend's place.
The colour and print of the dress was pretty and feminine, so perfect for a daytime soiree. Just three co-ordinating items and I was sorted!
Have you celebrated the kids going back to school? Have you a milestone? What would you wear to a daytime soiree?
Thank you for your comments. I love to hear from you!