Well, it was an extra special day.
A day where I was trying to look my "every day" best.
A day on which I would be photographed, along with the rest of Team Shenanigans and SnS HQ for an upcoming Studio Bambini feature on all things Style and Shenanigans.
No pressure.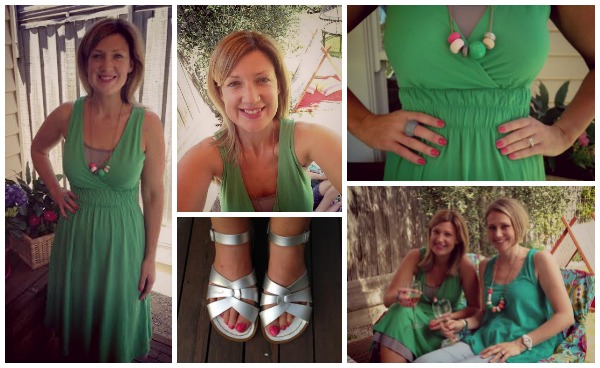 What was I wearing?
So what to wear? Luckily, Metalicus* came to the rescue with this fabulous Langkawi Tank Dress in Garden. I am a huge fan of green in summer – it is so fresh and bright and looks fab with a pop of colour and silver.
This dress is part of Metalicus' high summer range and is also available in a most gorgeous orange as well as black and white.
Underneath it, I am wearing a Metalicus flared slip dress in dapple grey. This is a versatile piece, will look fab under lots of my Metalicus frocks and is a nice change from my usual white.
I was thrilled with the green and grey combo as I knew I had the perfect pendant to complement it. I bought this lovely pendant from Elm Tree Studio at a local market a few months ago. Just had to work a pop of neon pink in there somehow.
On my feet, I am wearing silver Salt Water Sandals, borrowed from my lovely friend Amelia (pictured above). I have several pairs of SWS but besides white, no neutrals. I think I may have to remedy this asap. For information of how and where to buy Salties, check out my previous post here.
And finally, you may have noticed that I am a little more tropical looking, shall we say, than usual. No, I haven't had a cheeky weekend up north. Instead, I have spent a quality ten minutes in the spray tan tent using the new Kardashian two hour tan (professionally applied by the delightful Betty of Blush Beauty).
The two hours refers to the time the tan takes to cure. A two hour tan is the perfect option for Mums or the time poor. You can pop by after dinner, come home and spend quality time on Facebook, have a shower and you are sorted.
During the day, you can drop the kids off at school or kinder, have a tan, do a few bits and bobs at home, shower and be back at kinder sporting a casual browner look.
No more sticky night's sleep or logistical issues. Thank you Kim. You have almost redeemed yourself.
What was I up to that day?
It was a very exciting day mixed with an Open for Inspection kind of panic. Team Shenanigans and I spent the day being photographed by the fabulous Simon of Simon Pollock Photography for an upcoming feature in the fabulous Studio Bambini magazine.
If you'd like to see the feature online in Autumn, you can subscribe here. In the meantime, I'll be posting a few behind the scenes snaps on the blog.
I also spent the day styling and shoojing like a crazy woman aided by the incomparable, talented Amelia, who also happens to be a very dear friend. By the way, she is looking fabulous in Metalicus, Country Road and Emily Green.
We also managed to finish the day with a lovely bottle of TarraWarra Estate Rose, a BBQ and an early night.
Why did it work?
It was a busy day and a warm 30 degrees. Despite this, I was comfortable all day in this outfit. Big tick.
This dress/slip combo was also flattering, functional and feminine. It perfectly encapsulates my Style in and amongst my Shenanigans.
* Metalicus is one of my favourite brands and one I wear often. They kindly gifted me some items for today's photo shoot. How awesome!
A massive thank you also to Nadia, my hairdresser of nearly 13 years who kindly paid me a house call on the morning. Above and beyond.
What would you wear if you wear being photographed? Any tips or traps? Are you a spray tan fan? Have you had any major tanning triumphs or disasters?