Welcome to this week's instalment of SnS Brand Focus. This edition is a little earlier that usual, but I brought it forward because there is currently 30% off storewide at French Connection (until Sunday) and you will need to walk not run if you want to pick up any of these hot little numbers.
I have had an on again off again relationship with French Connection. When I worked in the city a few years ago, I would often pop in to the French Connection store nearby. Since then, it has kind of slipped off my radar. That is until this week, when I popped in to my local David Jones and saw all these gorgeous offerings. As I am mad about the current colour blocking trend, particularly green and blue together, I was immediately impressed by this collection. Then I went a bit cray – cray when I saw the signage that told me everything was 30% off. Yippee!
FC's current range is bang on trend – so many great colours, so many great prints, so many great frocks, so few nice Melbourne days to wear them all! There were lots of stripes (6 & 8), spots (7) and colour blocking (5).
There were some lovely printed tunics (9 & 11), which work well with skinny jeans, shorts or bare legs.
If you are still looking for a great pair of printed pants, check out these black and white beauties (10).
After all the jumpsuit talk earlier in the week, I couldn't go past this printed jumpsuit (12).
I do love a tassel on my scarf, particularly if they are yellow (2).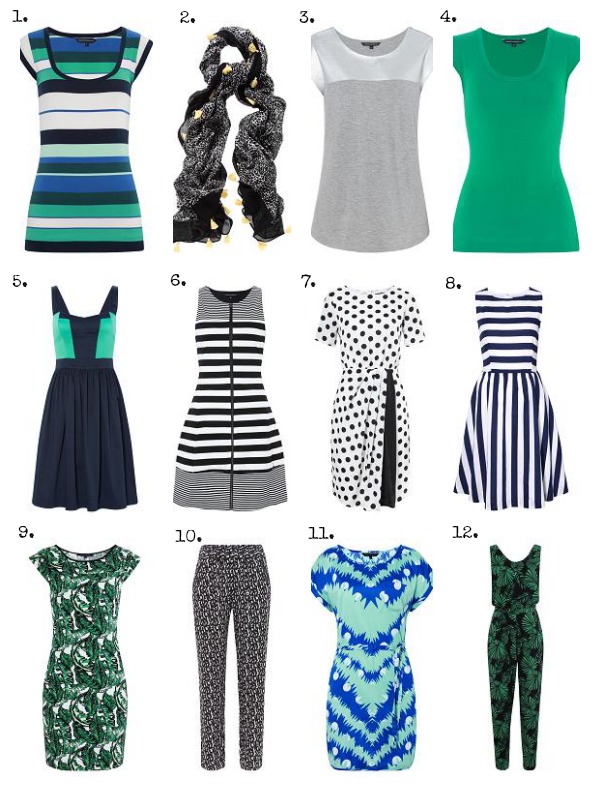 1. Contrast Stripe Scoop Neck Tee, $39.95; 2. Cheetah Print Tassel Scarf, $39.95; 3. Faux Leather Short Sleeved Tee, $89.95; 4. Stretch Cotton Scoop Neck, $19.95; 5. Colourblocked Flared Dress, $129.95, 6. Multi Stripe Flared Dress, $149.95; 7. Dotty Short Sleeve Dress, $149.95; 8. Striped Flared Dress, $129.95; 9. Tropical Print Long Tee, $89.95, 10. Mini Brush Strokes Selena Pant, $129.95; 11. Printed Cotton Tie Waist Dress, $129.95; 12. Palm Print Jumpsuit, $129.95.
If like me, you are in need of some fresh new basic cotton tees, check out FC's range. I have been searching high and low for some this Spring but have not had any luck until now. I usually buy mine from Seed Heritage or Witchery but they don't appear to be doing them this year. FC have scoop or V-neck basic tees (4) which are $19.95 before the discount. The FC tees are flattering, good quality and on the mark size wise (I am usually a 12 and was a Medium at FC).
I also bought a couple of their contrast/block colour tees and their signature striped scoop neck (1). I have bought several of these from seasons gone by and I think of them fondly as my "licorice all sorts" collection. They work back perfectly with a denim or white skirt and a pair of Havianas or Salt Water Sandals for easy, every day style but can easily translate to after hours with a great pair of jeans and a cropped jacket.
When I visited in store yesterday, they were also unwrapping some great striped Maxi dresses which are not online yet but are dee-vine (green, navy, cobalt blue and white stripe or red, pink, navy and white stripe).
P.S. Please note that some of what is featured may have sold out already in your size online, but if you hot foot it to your nearest FC store, you might have better luck.
Is French Connection somewhere you usually shop? Why or why not? What takes your fancy from the selection above? Can you recommend anywhere else to buy quality, basic tees for summer?
Thank you for your comments. I really love to hear what you think!