With Christmas approaching, many of us are searching for great gifts for the special little people in our lives. I try to minimise buying expensive plastic toys unless we are talking Lego. (You can read all about my love affair with Lego here).
When you think of quality gifts for children, many of you may think of the lovely Seedling brand of children's toys and craft kits. If you haven't been acquainted with Seedling, let me give you the heads up.
Seedling promotes itself as "Helping creative and curious kids bring their ideas to life" and are probably best known for their beautifully packaged craft kits. These kits make great gifts for children who enjoy their art, craft and construction. They also make a great range of other DIY kits (science, gardening, exploring and cooking kits) which are great for children from about 5 years onwards.
The smaller, less expensive Seedling toys should appeal across the board (and from a younger age) and make great stocking fillers or add on to a smaller gift, such as a book.
It is not surprising that this NZ brand was founded by a mother of young children (Phoebe Hayman) with a fine arts background who wanted to buy quality toys for her own children. You can read all about her and the brand's origins here.
I have bought lots of Seedling gifts over the years and my children have been fortunate enough to receive them as well. My Master 5 received the DIY sword kit for his birthday and loved it.
Locally, you can buy Seedling products at Parenthood, Jasper Junior and other quality toy retailers.
You can also find a great selection of Seedling products online here. Prices start at $2.99. Helpfully, products are categorised by age, interest (art & craft, imaginative play, science, cooking etc) and by price. Note that the currency is New Zealand dollars (which means they are even better value – hooray!).
Here are some of my favourite Seedling products:
For boys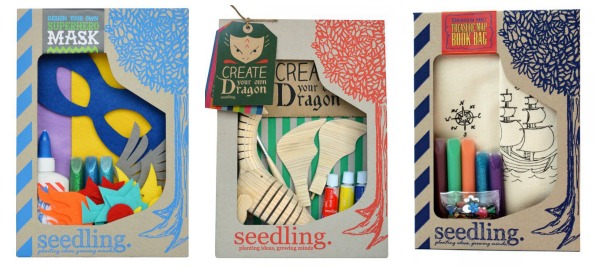 LEFT: Design Your Own Super Hero Mask, $23.99; MIDDLE: Create Your Own Dragon Kit, $26.99; RIGHT: Design Me! Treasure Map Book Bag, $19.99.
Seedling also have a great range of "pocket money" products that would make perfect stocking fillers for boys. There are some great finds here including Dino Fossils in a Jar for $7.99, Racing Flags for $2.99, Classic Whoopie Cushions for $5.49 and a Design Your Own Yo Yo for $14.99.
For Girls

FROM LEFT TO RIGHT: DIY Owl bag, $19.99; My Fairy Wand, $17.99; My Pom Pom Jewellery Kit, $8.99 and The Creative Card Making Kit, $19.99.
There are also lots of smaller, less expensive items that would make great stocking fillers: Butterfly Mask for $4.99; Cookie Coin Purse for $4.99, Let's Play Elastics Jump Rope for $7.99 and an Ice Cream Skipping Rope for $11.99.
Have you bought or received Seedling products? What are your faves? What have your kids loved and what would you recommend?