It's less than two weeks to Christmas.
Is that a collective "Eek" I hear?
Or was that just me?
I've finished my Christmas shopping, at least I think I've pretty much finished but until I get everything out when the kids are not around, I won't quite know for sure. And then no doubt I'll be bolting up to the shops at midnight in the days before Christmas. Been there done that?
One thing I often leave until the last minute are the kids' stocking fillers – the small and relatively inexpensive bits and bobs that go into their Santa sacks, that Santa gets the credit for (we take all the credit for the rest of the presents).
I usually draw inspiration from the various categories that help me think about my gift buying (which you can read more about in Christmas Gift Ideas for Children). Even though I am looking for smaller, less expensive gifts, I still try to avoid buying rubbish and try to think creatively so I buy them not only fun stuff, but things they they either want or need.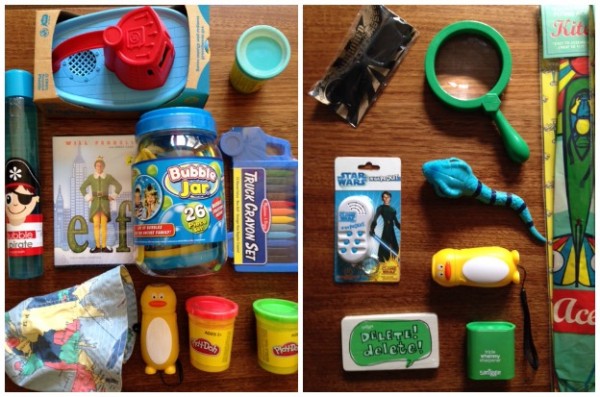 Above are my stocking fillers gifts from last year for my then 2 year old (left) and my 5 and 7 year olds (right).
Below, you'll find stocking filler ideas for children for this Christmas, all of which are under $15 and can be shopped online. Get your skates on though for online shopping, as online shopping Christmas deadlines will be happening next week.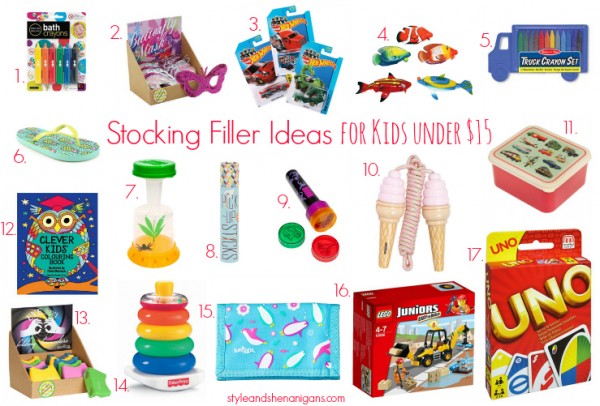 1. Bath Crayons, $9.95 from Seed Heritage; 2. Butterfly Mask, $4.99 from Parenthood Furniture; 3. Hot Wheels, $2.50 from Target; 4. Pool Toys, $5.99 from Rebel Sport; 5. Truck Colouring Set, $7.99 from Parenthood Furniture; 6. Printed Flip Flops, $4.86 from Cotton On Kids; 7. Bug Catcher, $9.99 from The National Geographic Shop; 8. Pick Up Sticks, $12.95 from Seed Heritage; 9. Dinosaur Projection Torch, $7.99 from Parenthood Furniture; 10. Ice Cream Skipping Rope, $12.95 from Lark; 11. Vintage Transport Lunch Box, $11.95 from Lark; 12. Clever Kids Colouring Book, $9.95 from Seed Heritage; 13. Folding Binoculars, $6.99 from Parenthood Furniture; 14. Fisher Price Brilliant Basics Rock a Stack, $12 from Big W; 15. Sea Life Wallet, $10.95 from Smiggle; 16. Lego Junior Digger, $15 from Big W; 17. Uno, $8.50 from Big W.
If you're not sure where to start with stocking fillers, I've put together a few tips:
1. Set a budget: even with a very modest budget you can buy some great bits and bobs for kids. Decide how much you want to spend and work from there;
2. Think about practical stuff they may need: wallets (15), key rings, luggage tags, torches (9), calculators, money boxes, and sunglasses.  I love giving stationery and craft supplies too – think note pads and paper, journals and diaries, pencil cases, pens, pencil sharpeners, erasers, rulers, paint, glue and stickers. Kikki K, Typo, Smiggle and Office works have loads of stocking filler sized stationery;
3. Think about stuff they can explore and play outside with: binoculars (13), magnifying glasses, bug catchers (7), kites, paper planes, pool toys (4), tennis balls, frisbees, skipping ropes (10) and so on can keep the kids entertained and doing something different;
4. Think travel/stocking size: travel sized and bath crayons (1) and (5), games (UNO (17), Pick Up Sticks (8), Pass the Pig, cards etc), Lego (16), small toys like cars (3) and colouring books (12). They can play with them now and then take them on holidays;
5. Think essentials: socks and jocks, thongs (6), lunch boxes (11), hair ties, head bands and clips and hair brushes. My kids were over the moon with the Teenage Mutant Ninja Turtle undies they received last year  (it was one of their fave presents) and this year they have requested Lego undies;
6. Include something fun and silly: whoopee cushions, slime, toy snakes and spiders, joke books, fake moustaches, masks (2), magic wands and disguises are inexpensive but can keep your little one entertained for days and provide a few laughs on Christmas day if things get a bit tense … nothing like a well placed whoopee cushion to ease any in law tension!
For more ideas, check out Lark's range of stocking fillers for girls and boys and The National Geographic Shop's great range of kids toys under $10 which you can shop here. I've also found great bits and bobs at Parenthood Furniture, Big W, Target, Cotton On Kids, Seed Heritage and Myer's Giftorium.
What have you bought for stocking fillers this year? What did you receive growing up that you still remember? Have you ever given or received a whoopee cushion?