Well it's beginning to look a LOT like Christmas.
How's that working out for you?
Me? I'm doing ok as I've been reasonably organised this year. I started buying gifts in July during the toy sales just after the boys' birthdays when I could see what they were into and playing with the most.
Despite an early start, I've still be chasing my tail and buying several bits and pieces over the last few weeks. Just when I think I'm done, I see or think of something or someone else.
In some respects, it's getting easier to buy for them all as their interests are becoming more defined and they are able to think about what they want and write their own list.
Mr 9's list this year was pretty simple: a Kaboom cricket bat, more Lego, more books, more art and craft, lollies and chocolate. Hmmm, we'll see how we go buddy.
Mr 7 isn't sure and will get back to me at some stage. Probably late Christmas Eve.
Mr 4 would like Octonauts, Octonauts and a few more Octonauts.
It's getting trickier in other respects though – having a third child of the same gender means I've pretty much exhausted all my excellent ideas with the older two. As a result my Mr 4, who already plays with all the gifts his brothers received at the same age, is getting a few replacements/updates but more of the plastic fantastic toys I've tried to avoid until now.
Let me put it this way: Come Boxing Day, this place will be Octonauts Central.
Perhaps as a result of this, I've streamlined my gift giving this year. I'm using the following categories for a guide, trying to find a mix of gifts and price points. Most of all, I'm trying not to go overboard and add to the clutter.
What follows are some of the ideas that have worked well before as well as what Santa's bringing to Shenanigans Central this year.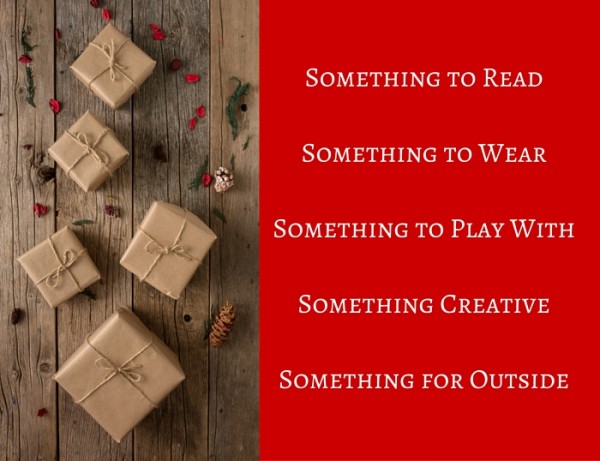 Something to Read
It's no secret that I love reading and thankfully, I seem to be passing my love of books on to my kids.
Every year I try to find them some new and interesting books to read, to keep them interested in reading and to give them a quiet activity over the long summer holidays.
My 9 year old has requested Weirdo 5 (he loves this Anh Do series), more Harry Potter books and a couple of books from David Warner's Kaboom Kid series. He is presently obsessed by cricket and is happy to read about it too.
I've also bought him Grandpa's Great Escape by David Walliams.
He has also loved The Map Maker Chronicles series by A,L. Tait, Tom Gates books, anything written by Roald Dahl, Enid Blyton, David Walliams, and, our old favourite TinTin comics.
Girls of a similar age might enjoy Ivy & Bean, Alice Miranda, Clementine Rose or Billie B Brown books.
My 7 year old loves Oliver Jeffers' books, is interested in drawing and animation. He loves the Bad Guys series by Aaron Blabley and Captain Underpants.
He's also fascinated with nature, science and facts. I've bought him a Children's Atlas and this beautiful Animalium book, touted as "a virtual museum".
The latest Guinness Book of Records have always been a hit with out older boys too.
My 4 year old loves Oliver Jeffers' books too and has recently enjoyed The Day The Crayons Came Home, the sequel to The Day The Crayons Quit. He also loves The Book With No Pictures by B.J. Novak and anything Curious George.
Something to Play With
For toddlers, there's no need to overthink it. After all, these kids love to play with saucepans, tongs and whisks. They don't care or know how much things cost and are easy to please.
I've generally opted for Duplo, trains, bubble bath, bath toys, Little People, toy food and domestic items (kitchens, tea sets, vacuum cleaners), musical instruments, cars, dolls and basic puzzles.
If you're buying for a preschooler, there are loads of options. I usually opt for games, puzzles, blocks, Duplo or Lego Juniors, trains. Little People and costumes go down well too.
Mr Potato Head, Buzz Lightyear, Woody and The Shopping List Game game were popular with our kids at this age too.
This was about the age my kids started playing UNO and Connect Four too, albeit creatively.
This year our 4 year old is scoring the Octopod and some Octonauts figurines (they may make a cameo as cake decorations in six months – stay tuned) as we have pretty much covered the above with his older siblings.
Once they hit primary school, my kids' interest in Lego skyrocketed – they request it for their birthdays and Christmas year after year. This year they've requested Ninjago and Scooby Doo Lego.
Rory's Story Cubes are a favourite of my 7 year old and a yoyo, whoopee cushion or anything joke related is always well received too.
As they've gotten older, I've given them games such as Monopoly, Chess, Scrabble, The Game of Life and even Junior Trivial Pursuit. Less expensive options like UNO and Pass the Pigs have been popular at our place too.
Spy, detective and magic kits always go down a treat and a new pair of binoculars or a magnifying glass are fun too and good for a range of ages.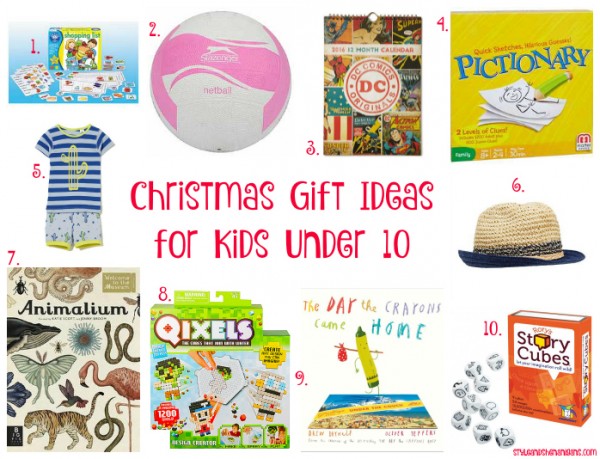 1. Shopping List Game, $34.99 from Big W; 2. Slazenger Netball, $5 from Big W; 3. 2016 Calendar, $9.99 from Typo; 4. Pictionary, $20 from Big W (online only); 5. Boys PJs, $24.95 from Cotton On; 6. Casual Beach Fedora, $29.95 from Seed Heritage; 7. Animalium, $46.99  from Angus & Roberston Bookworld; 8. Quixels, $16 from Target;  9. The Day The Crayons Came Home, $17.50 fro Booktopia; 10. Rory's Story Cubes, $14.95 from National Geographic Shop.
Something to Wear
Every Christmas I give my kids a new set of PJs and an outfit to wear on Christmas Day.
One year I gave them a Trilby each. This year, they are all getting a new pair of Havianas.
Other practical options include hats, sunglasses, bathers, goggles and runners.
Socks and jocks can also be good stocking fillers, particularly the licensed variety. Older boys love boxer shorts too and my 9 year old has requested Globe or Nike socks. And so the tween years begin.
Depending on your kids' interests, other ideas might include a costume or sports gear such as cricket whites or dancing shoes.
Something Creative
Creative play is so great and can keep kids occupied during the holidays and away from screens.
There are loads of inexpensive options here from crayons, colouring books, stickers, fuzzy felt, play doh, chalk and paints for toddlers and preschoolers through to pencils, pens, pencil cases, diaries, calendars, journals, sketch books, highlighters and modelling clay for older kids.
Bigger ticket items include model, beading and card making kits.
My Mr 7 played with a friend's Quixels while we were away recently (which only uses water no messy glue) so I'm getting him one of those.
Kikki K, Typo, Riot Art & Craft, Lincraft, Spotlight and Smiggle all have great kids ranges and and are well worth checking out.
Something for Outside
You can buy fun things for outside at a range of different price points and with the holidays around the corner, I always think this is money well spent whether you're staying at home over the holidays or heading away.
I'm a big fan of making sure the kids have a few new things to keep them occupied outside.
Frisbees, water bombs, pool toys and floats, tennis and cricket balls, skipping ropes, hula hoops, buckets and spades for the beach are all fun but inexpensive options.
Mid price range options could include slip n slides, basketballs, netballs, footballs, cricket stumps, wickets, pads and helmets.
At the higher end are bikes, scooters, trampolines, skate boards, boogie boards, surf boards, soccer nets, basketball and netball rings.
Looking for More Ideas?
Sometimes we like to give our boys a gift to open together and share.
This has been anything from a board game, new release or classic DVD through to a trampoline. This year we're giving them Pictionary.
Other years, we've given them an experience such as tickets to the theatre.
In Melbourne we are currently spoilt for choice with Matilda, The Sound of Music, The 52 Story Treehouse and, for the little ones, The Three Little Pigs and  at The Arts Centre next year (more details here). Combine the tickets with the book and you've got the complete experience.
Movie tickets, a day out at a zoo or some other attraction are other options.
You might also like to check out the following posts:
– The Top Five: Toys for Girls That Go The Distance
– The Top Five: Toys for Boys That Go The Distance
– Bike Accessories for the Whole Family
Colour Me Anna has a free printable list to keep Christmas list writing simple and manage expectations. Check it out here.
What's your approach gift buying for children? What are you planning to buy/have you bought this Christmas?