How is your Christmas shopping for the kids coming along?
Haven't started? Nearly finished?
Do you find it easy? Overwhelming?
Are you uncertain about where to start or what you should get? Do you want to include a variety of gifts but not pay the earth?
Would you ideally like to keep things simple, thoughtful and not end up in a panic buying frenzy?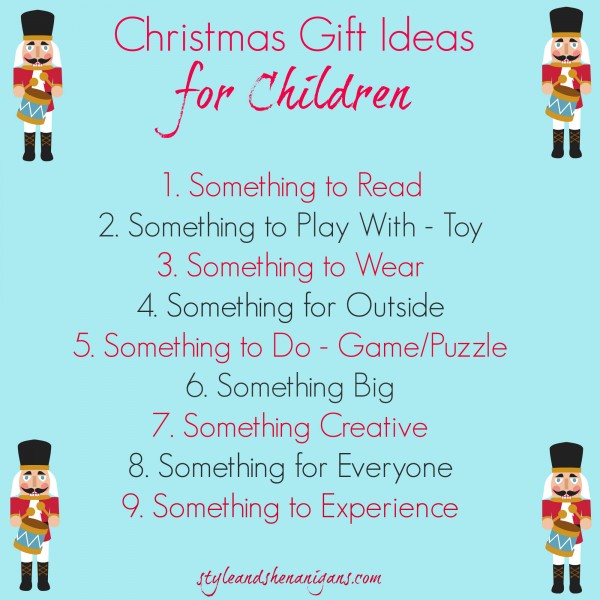 Last Christmas, I wrote this post Christmas Gift Ideas for Children, which was one of my most popular posts last year. In it,  I included a number of categories to help structure gift giving. I've used the same categories this year but included new ideas and products. The idea is not to spend a lot or to cover every single category – several overlap in any event. Rather, it is to provide some inspo and ideas if you're feeling stuck, uninspired or overwhelmed.
I've also included less expensive ideas in each category, many of which would make great stocking fillers.
My approach to Christmas gift buying is pretty straight forward – I try not to go overboard for the kids for Christmas (that's what grandparents are for!) but I also see it as an opportunity to give them gifts that they will not only enjoy, but things they need and things that they can play with and use over the long summer holidays.
I still ask the kids for input into their gifts – my eldest still wrote a list – but suggest they think about things they can play with, wear, do outside etc.
Oh and if you're wondering, my children – three boys – are currently 8, 6 and 3 but I've also included ideas for girls and for younger/older children.
1. Something to Read
Thankfully, my boys love books and reading and I always go to town with books for their birthdays and Christmas. Books also make great gifts for friends, nieces, nephews and god children too. I buy them from all over the place but I find Big W, Kmart and The Book Depository are well priced and have a decent range.
This year, I've bought my Mr 8 a selection of Tin Tin graphic novels from The Book Depository and Wierdo 3 (all of which were on his Christmas list). For older kids, Harry Potter books or The Map Maker Chronicles by A.L. Tait are popular options.
My Mr 6 will receive a box set of Zac Powers books (11). He is also enjoying the Hey Jack series too, so I might add in one of those or a Where's Wally.
I've picked up a couple of gorgeous books for Mr 3 from Parenthood including this gorgeous new Oliver Jeffers book, Once Upon an Alphabet (9).
I also a fan of the Usborne range which includes sticker books, activity books through to classics and non fiction books. On the topic of non fiction, children's history and science books, an atlas or the Guinness Book of Records can be a great gift idea for a curious child who asks a lot of questions!
2. Something to Play With
This is the fun gift that the kids would choose themselves and something you know they will love and will spend hours playing with.
For my boys this year I'm getting yo-yos, Lego sets (that's always high on their lists) and Star Wars figurines (via Grandma!).
For girls, perhaps this might be a doll, Barbie, My Little Pony (8) or similar.
For babies, new bath toys can be a fun and practical option.
3. Something to Wear
I'm a creature of habit when it comes to Christmas clothes shopping.
My lads always receive a new pair of PJs. This year they'll be thrilled to receive these cool super hero pjs from Peter Alexander, which were kindly given to us by Warner Bros. (Mr SnS and I have been given a pair each too. We're practically The Incredibles!)
I've also bought them a Star Wars t-shirt (13) each, new bathers (which they needed anyway) and a pair of shorts from Country Road.
Friends with girls often buy PJs too (2) or an outfit/dress for Christmas Day, head bands, clips and other accessories. Pavement, Seed Heritage (12), Cotton On Kids and markets often stock great bits and bobs for girls.
Other ideas might include footy jumpers and other sporting paraphernalia, hats, caps and even costumes.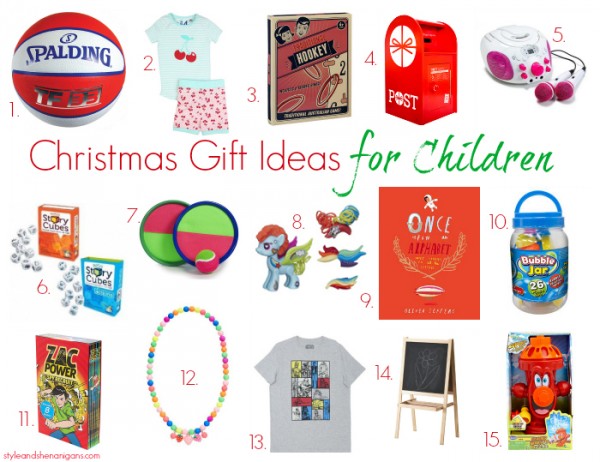 1. Spalding Basketball, $20 form Target; 2. Cotton On Kids pjs, $24.95; 3. Traditional Hookey Set, $12 from Kmart; 4. Post Box, $70 from Make Me Iconic; 5. Karaoke Machine, $39 from Kmart; 6. Rory's Story Cubes – Original & Actions, $29.97 from Fishpond; 7. Catch Ball set, $5 from Kmart; 8. My Little Pony Pop Theme Pack, $12.99 from Toys R Us; 9. Once Upon An Alphabet, $19.60 from Book World;  10. 26 Piece Bubble Jar, $6 from Kmart; 11. Zac Powers Spy Recruit (8), $15 from Target; 12. Fruit Charm Necklace, $9.95 from Seed Heritage; 13. Bauhaus Star Wars T-Shirt, $18.71 from Myer; 14. Mala easel, $29.99 from IKEA;  15. Flashy the Fire Hydrant Sprinkler, $7.20 from Target.
4. Something for Outside
I have totes gone to town with the outside/active gifts this year. I want my boys to play outside as much as possible and to burn off some of their endless energy!
My boys will receive tennis balls in their Santa sacks, and the big boys, a basketball (1) and a soccer respectively. I've suggested totem tennis, footballs and soccer nets to relatives asking for gift ideas and, following a girlfriend's recommendation, old fashioned quoits and hookey (3) which have been a hit with her kids.
Other ideas could be a netball, basketball ring, kite, cricket or a bocce set. Just hit your local Big W, Target, Kmart or Rebel Sport for loads of ideas.
I often also include some sort of water related item – like a sprinkler or Slip n Slide. Other ideas might include boogie boards, pool toys/games, or even a new set of goggles.
Inexpensive options include frisbees, tennis balls and this fun Catch Ball set for $5 (7). The Fire Hydrant sprinkler  (15) is a bargain at $7.20 too.
We always buy our preschoolers and toddlers a bubble set (10). Buckets and spades for the beach are another fun and affordable option. Outside water tables or pool/sand shells are great for toddlers too.
5. Something to Do – A Game/Puzzle
We've already got a well stocked games cupboard with Monopoly, Operation and The Game of Life to name but a few and we have an entire cupboard devoted to puzzles. We love them and the kids often pull them out in the school holidays and we always pack a few when we go away.
Our eldest has a Chess set which he loves. I'd love him to learn backgammon at some stage but this year I've bought him Boggle.
Our six year old loves these Story Cubes (6) which are great for primary school aged children and they come in various themes.
Less expensive options include card games like UNO, a deck of cards, jacks or elastics, which you can pick up for under $10.
6. Something Big
Big doesn't mean expensive at our place. Rather it is the main or the most wanted gift.
We don't spend exactly the same amount on each of our children every year either – it's a case of swings and roundabouts – particularly as we tend to alternate with the more expensive gifts such as bikes. We do try to give them exactly the same number of gifts though as we take turns in opening them on Christmas morning and, I have observed that kids seem more attuned to the number as opposed to the value of gifts (within reason of course), when it comes to perceptions of fairness.
At the top of our 8 year old's list is a Karaoke DVD player (5) which is $39 from Kmart.
Our youngest is receiving a Mini Micro scooter but our 6 year old is proving difficult to buy for – all he wants is more Lego! I'd like to give him this post box (4) however Mr SnS reckons he might be too old for it!
Other "big" gifts might include skateboards, trampolines, swing sets and tech gifts such as iPads, iPod touches, Wii consoles or games, DS devices and digital cameras.
7. Something Creative
This is an easy gift and one that will hopefully keep giving all January long.
I usually buy some play doh for our preschooler and perhaps a colouring book or coloured paper from IKEA. The older boys will receive some stationery and new textas/pens from either Smiggle or Cotton On Kids. The Lego stationery ranges available at Office Works, Big W and Target are terrific too.
When our children were younger I bought them an easel from IKEA (14) for painting outside on warm days. An art smock and some inexpensive paint could be companion stocking filler options.
Other ideas could include jewellery making kits, paper plane kits, models, clay, craft kits. Basically whatever you can cope with on a 40 degree day! Check out Riot Art & Craft, children's toy shops, department stores and even the supermarket for options.
8. Something for Everyone
I like my boys to share a gift. Plenty of the ideas mentioned above could happily fall in to this category. Mine will be sharing this sprinkler (15) and the Despicable Me 1 & 2 DVD set.
9. Something to Experience
Last year I bought my 8 year old a ticket to see the Thirteen Story Tree House play together with the latest book. This year, we have bought our older children tickets to see The Lion King next year.
Other options for younger children could be a movie ticket to see the soon to be released Paddington Bear movie together with the book or soft toy or perhaps a yearly family pass to the Zoo, Museum or similar.
Older kids might be excited to receive a ticket to see their favourite artist.
For more ideas, you might like to check out the following posts:
– The Top Five: Toys for Girls That Go The Distance
– The Top Five: Toys for Boys That Go The Distance
– Bike Accessories for the Whole Family
How do you approach gift buying for children? What are you planning to buy/have you bought this Christmas?