So Christmas is just over two weeks away.
Far out-icus! Can you believe it?
I can't believe how quickly this year has zoomed by even though I feel like I've been in the Christmas zone since October … the festivities certainly seems to begin a fraction earlier each year.
No doubt you've been busy running around to various end of year do's, sorting Kris Kringle admin, ordering gifts on line or braving the shops – on Saturday it took me twenty minutes to exit a car park – talk about cray cray!
If you have kids, you are no doubt up to your eyeballs buying gifts and keeping up with the never ending flow of end of year function paperwork about what to wear and what to bring. I'm almost tempted to dress the kids like elves every day and send them everywhere with a plate of fairy bread to save time and brain cells.
In the midst of all the busy-ness, I wonder if you've had time to stop and think about your Christmas gift – what you'd like this year. I've been forced to stop and think about it because my birthday is a week before Christmas so I've had to come up with more ideas that most. Twice as many in fact. And because a milestone birthday will be happening next December, I'm wanting to keep this birthday/Christmas relatively low key and inexpensive for everyone. Next year might be a different story (i.e. not low key!).
So, if you've been asked what you might like for Christmas but aren't really sure, I've come up with a few ideas to get you thinking. If you like what you see, you might like to forward this post/link to your significant other in the confidence that everything can be bought online, is under $50 and gorgeous.
Does that sound like a plan?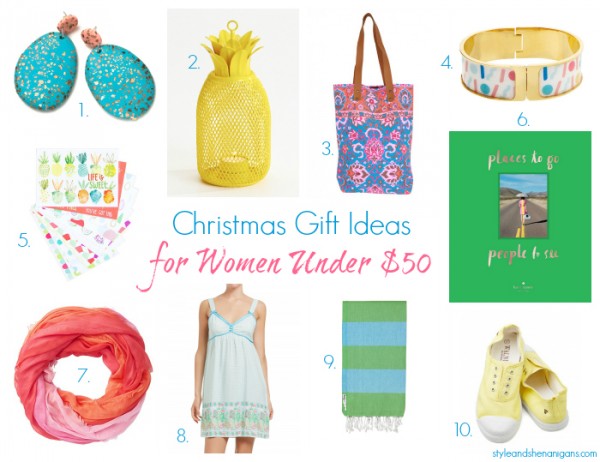 1. Terrazzo Drop earrings, $49 from Emily Green; 2. Pineapple Lantern, $19.95 from Mozi; 3. Blue Brown & Orange Jaipur Tote, $45 from Blue Bungalow; 4. Enamel Bangle, $39.95 from Mozi; 5. Scatter Love Postcards by Fat Mum Slim, $20 from Emma Kate Creative; 6. Places to Go, People to See by Kate Spade, $39.90 from Booktopia; 7. Multi Ombre Scarf, $49 from Witchery; 8. Tropical Scarf Chemise, $39.95 from Sussan; 9. Towel, $39.95 from Adrift; 10. Euro Plimsoles, $49.95 from Walnut.
Some other ideas and tips for those buying gifts for women this Christmas:
1. Vouchers are always fabulous – Vouchers can get a bad rap for being lazy, impersonal gifts but I say boo to that. I'm a big fan. A voucher for a store you love and shop at regularly is not impersonal, rather it is fabulous, appropriate and gives us another reason to hit up the stocktake sales.
The key though is to do you research in terms of the shop. A quick perusal of her wardrobe or her/your credit card statement is a good place to start. Personally, I don't think you can go wrong with a Gorman, Country Road, Seed Heritage, Witchery or Mecca Cosmetica voucher. David Jones, Myer and Westfield vouchers are safer but still excellent options too.
2. Gifts don't have to be expensive – As you can see above, there are loads of well priced options out there if you do your research. Be creative and have fun. Also check out my 15 Kris Kringle Ideas Under $15 which has loads of lovely gift ideas for women.
3. The best gifts can be free – Depending on the stage you are in, some of the best gifts are free. For me now, a "day off" to go shopping or to lunch with a girlfriend is a precious thing indeed, as is a regular, designated "sleep in". I also love an offer to babysit so we can have a cheap night out.
Other lovely free things include a letter or card with words of encouragement, thanks and affirmation. If her love language is words of affirmation, this might be the gift she really craves.
4. Thing about what she really needs – does she really want something in particular or could she really do with some things to help her unwind and relax over the holidays – like a spa voucher, beauty treatment, a Kindle/book, beautiful scented candle, bath salts etc.
Alternatively, has she just had a baby and could do with some new summer clothes, some time to herself and a magazine subscription to give her an escape from reality once a month? If she is trying to relocate her style mojo post baby, a copy of Unlock Your Style by Styling You's Nikki Parkinson might be just the thing.
Has she just started running or heading back to the gym? A new pair of runners, a gift voucher for Lululemon or Lorna Jane for some new exercise gear and a nice water bottle could be the way to go. If she is a cyclist, check out the cool bike accessories for women in this post.
Has she just moved out of home or renovating and could do with some new home wares and house stuff? If so, a voucher or gift from Adairs, IKEA, Bed Bath n Table or a department store might be welcomed.
Has she had a promotion or started a new job and could do with a shooj to her corporate/work wardrobe? If so, a new bag, jewellery or a pair of investment shoes might be appreciated. Vouchers for Mimco, Oroton, David Jones and Country Road could cover these bases.
Is she starting up a new business? Could she do with some stationery (head to Kikki K or Typo), some furniture (a Freedom or IKEA voucher), a lap top bag (check out Toffee Cases) or some business cards?
5. A touch of luxury can go a long way – I find a little luxury in my life can go a long way – a pair of earrings (1), a beautiful body lotion, a hard back copy of a book, a beautiful coffee table book (6) – all these things can mean something to your someone.
6. Gifts that keep giving are great –  The obvious example of this is a magazine subscription (check if she'd prefer the digital or hard copy version).
Other options include charity gifts which mean something to you both. For example, if your partner is passionate about education, a useful gift like a Pre School class ($15) or Adult Literacy ($35) from TEAR Australia is thoughtful and personal.
7. Look out for hints – this may be a casual comment that she has run out of her favourite perfume or she needs a new pair of this or could do with the update of that.  Or it might be slightly more direct such as an email with the subject heading "Gift Ideas" or the forwarding of this post. It's worth paying attention. Your efforts will be appreciated!
8. Proceed with caution – for any domestic item. We'd all love a Dyson vacuum or a state of the art dishwasher or washing machine but, unless you've specifically discussed it already, this is possibly not the best Christmas present. You might be on safer ground with hair straighteners, a Kitchen Aid, coffee machine or a Thermomix, but all the same, it's still worthwhile to do some serious reconnaissance beforehand (i.e talk to her BFF/sister/mum).
9. Keep the receipts/check the returns policy – this is particularly important with some smaller boutiques. Shops like Alannah Hill and Gorman also have a very limited exchange/return period. If possible, ask if they have a gift return card just in case. Country Road and Trenery office this service which gives the recipient a card (not the receipt) with a transaction number to enable returns after Christmas without fuss.
 What would you like for Christmas this year? What, of the above, takes your fancy?