When it comes to gift buying, kids aside, I find myself buying most presents for the many awesome women in our lives – mothers, sisters, carers, teachers, friends and so on.
And while what I want to spend varies – for some are a small thank you gift, while others are family Kris Kringle pressies with a higher budget – I'm always amazed to see the great variety of gifts out there across price points.
So in today's post, I've put together a range of Christmas gift ideas for all the fabulous women in our lives across a range of price points.
I've covered practical but pretty gifts; fun stuff for beach/resort holidays; and finally, gift ideas that put the luxe into the everyday.
Let's start with those gifts that are useful but look the goods …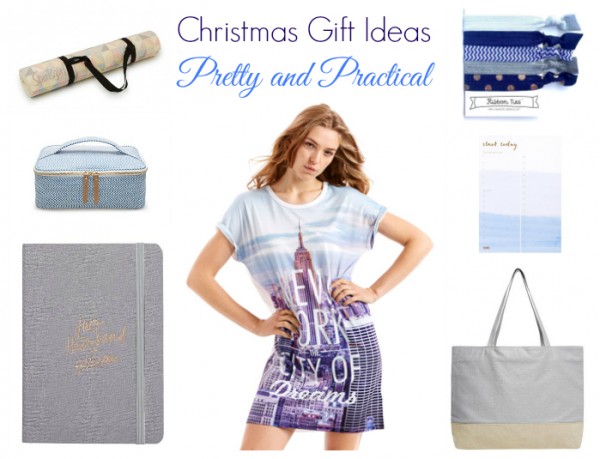 CLOCKWISE FROM TOP: Triangle Print Yoga Mat, $29.95 from Sportsgirl; Set of 5 Hair Ties – Boyfriend, $12 by Ribbon Ties; A5 To Do List, $7.95 from Kikki K; Bettina Metallic Tote, $59.95 from Seed Heritage; City of Dreams Sleep Tee, $59.95 from Peter Alexander; 2016 Diary, $39.95 from Seed Heritage; Chevron Weave Cosmetic Bag, $49.95 from Country Road.
Practical gifts that look good can be great gifts indeed.
Just do you research and find out who needs a fresh nightie, a 2016 diary, some cool hairties, a yoga mat or a new washbag. When you can find a gift that someone actually needs and they look this good, you are kicking goals.
If you don't know what they've got and are looking for a fun but useful gift, a new tote or some cool stationary can be an excellent option.
For fitness enthusiasts, a voucher for some new exercise gear, equipment or runners could work.
If you are buying for someone who has a pool, a beach holiday planned or is heading to a tropical destination, getting her sorted with some fabulous resort style bits and bobs could be the way to go.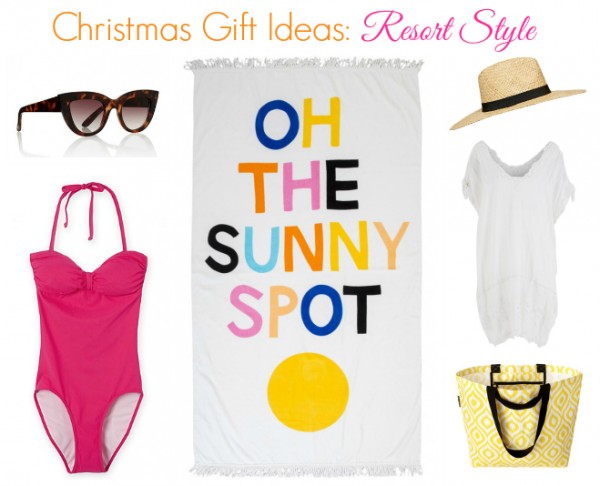 CLOCKWISE FROM TOP: Mistress Sunglasses, $29.95 from Sportsgirl; Sunny Spot Beach Towel, $79 from Castle and Things; Wide Brim Straw Panama, $59.95 from Seed Heritage; Broderie Short Kaftan, $129.95 from Birdsnest; Yellow Ikat Medium Tote, $16.95 from Project Ten; Gathered Front Swimsuit, $129 from Country Road.
Kaftans, beach towels and a tote in which to pack all your supplies are always winners and are available at a range of price points.
How fun is this fab beach towel! You could spot that on the beach or at the local pool a mile away (see what I did there).
I can personally vouch for this Project Ten tote too – it has an impressive capacity and fits all our gear for the pool for our family of five.
Unless you know her size and preferred style, bathers are a bit of a gamble but instead, you could give her a gift voucher or make sure she can exchange her gift. Hats and sunnies might be a safer bet and equally useful.
Fun pool floats (including this most excellent flamingo drinks float) and cocktail ware might also be well received gifts. Check out the great range at Sunny Life.
If the lady in your life has everything and you'd like to spoil her, a gift that introduces a bit of luxury into her everyday – whether it's something beautiful to wear or for her home, might be the way to go.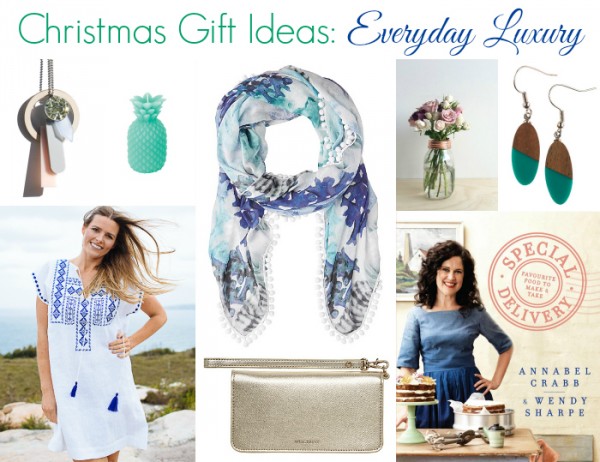 CLOCKWISE FROM TOP: Tag Necklace in Pink, $49 from Martha Jean; Small Pineapple Candle, $16.95 from Sunny Life; Coral Pom Pom Scarf, $69.95 from Witchery; Copper Ball Mason Jar (950ml) $26 from Rainy Sunday; South Pacific Frangipani Earrings in Aqua, $24 from Ruby Olive; Special Delivery – Favourite Food to Make and Take by Annabel Crabb, $29.95 from Booktopia; Harmony Phone Wallet in Soft Gold, $39.95 from Witchery; Linen Embroidered Dress, $149 from Bohemian Traders.
I love a new cook book in my Santa sack and would be more than happy to receive either this Annabel Crabb book or Donna Hay's Life in Balance, $25.99, both from Booktopia.
Jewellery and scarves are always lovely and are not things that some people buy themselves very often.
A gorgeous summer dress is always a good thing and this new season Bohemian Traders frock has summer style written all over it.
This phone wallet is a gorgeous gift too and great for nights out with it's coin and credit card compartments. This cute Aisha Coin Purse, $29.95 from Witchery is lovely too.
Other ideas might be a beautiful cheeseboard and knives, a Mecca Cosmetica or Mimco voucher, a statement clutch or a print.
This post contains affiliate links. You don't pay any extra and I earn a small commission. Read more in my Disclosure Policy here. 
Who are you buying for this Christmas? Would any of these ideas be up their (or your) alley?