We're on the home straight.
Christmas is now just under two weeks away.
Can you believe it?
And I'm sure that for you, like me, the end of year slash Christmas festivities are in full swing, with plenty of dashes to the shops or online ordering going on in between times.
In recent weeks, I've covered off gift ideas for the work Kris Kringle (details here); the kids (ideas here) and what to wear to everything (outfit ideas here and here). But now that's all sorted, I'm slowly turning my attention to what to give my folks, my fab MIL and FIL and of course, Mr SnS.
The thing is, it can be tricky to know where to start sometimes, particularly if no hints are coming your way. Hypothetically speaking of course.
And that's what's inspired today's post – gift ideas a plenty for all your special peeps. Maybe there might be some ideas here for you too!
While I've covered gifts under $25 in great detail in my Kris Kringle Ideas Under $15, $20 and $25 post, here I've extended the budget to cater for those higher budget Kris Kringles or to give you some ideas for your special someone on whom you'd spend a little (or a lot) more.
I've grouped ideas for both men and women under the following headings too – The Luxe; The Fun; The Practical and The Relaxing.
Happy shopping!
Christmas Gift Ideas for Women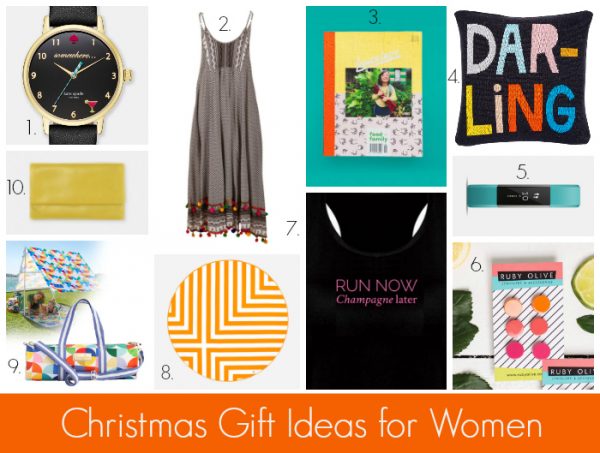 ABOVE:  1. Kate Spade Watch, $299 at The Iconic; 2. Astrid Maxi by Naudic, $149.95 from Birdsnest; 3. Lunch Lady Issue 5, $19.95; 4. Knitted Cushion Cover, $49, from Rachel Castle; 5. Fitbit Alta, $189.99 (on sale) from The Iconic; 6. Earring Pack, $49 from Ruby Olive; 7. Running Singlet, $44.95 from The Champagne Cartel Shop; 8. Fast Drying Compact Towel, $89.99 from The Iconic; 9. Beach Shade with yoga bag, $149.95 from Sunny Jim;  10. Status Anxiety Wallet, $99 from The Iconic.
The Luxe
Monogrammed/personalised accessories and jewellery;
A watch, like the Kate Spade one above, or another piece of jewellery;
A luxe appliance – Nespresso machine, Dyson hairdryer or Kitchen Aid;
Personal care – a beard maintenance/shaving kit, spa or Mecca Cosmetica voucher;
Perfume or aftershave;
Luxe pjs or sleepwear – check out the fun range at Peter Alexander here;
A bottle of champagne, sparkling wine or perhaps craft beer or spirits;
A beautiful coffee table book on an area of interest – photography, art, nature or interiors;
A magazine subscription – The Lunch Lady, Home Beautiful, Donna Hay, The Collective or New Scientist. They may prefer a digital subscription to print too;
A piece of artwork or a print. Check out the range at Sweet William or Studio Cockatoo.
The Fun
Season tickets or tickets to a game, performance, festival or event. In Melbourne, we have the Australian Open coming up as well as the Cricket, Bruce Springsteen, A Day on the Green (various locations), Music Festivals, The Book of Mormon to name but a few;
A voucher (and pre-arranged babysitting if applicable) for a favourite restaurant, cafe or winery;
A hand crafted game of chess, backgammon or a poker set;
Boardgames – I love Taboo, Scrabble and Sequence for a fun night in with family or friends.
Christmas Gift Ideas for Men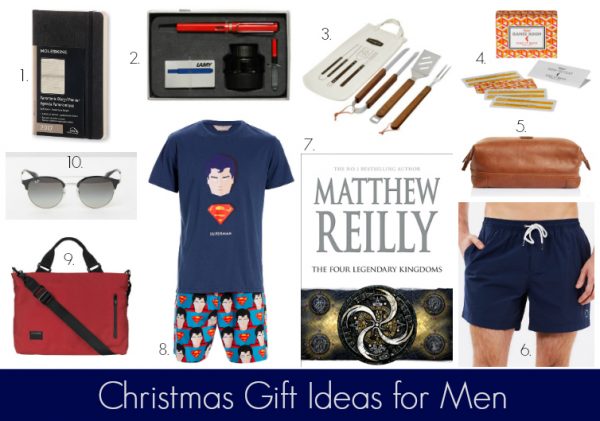 ABOVE: 1. Moleskine Professional Weekly Diary, $39.95 from  Notemaker; 2. Lamy Fountain Pen Set, $69.95 from Notemaker; 3. BBQ Set, $29.99 from House; 4. Sing it Back Music Quiz, $24.95 from Notemaker; 5. Normandy Wash Pack, $99.95 from Sportscraft;  6. Ben Sherman Swim Shorts, $69.95 from The Iconic; 7. Matthew Reilly book, $29.99 from Dymocks; 8. Superman Set, $99.95 from Peter Alexander; 9. Crumpler Laptop Bag, $71. from Notemaker;  10. Ray Bans, $219 from The Iconic.
The Practical
Things for outdoor entertaining and summer fun – a banana lounge; BBQ set; champagne bucket or pizza oven accessories;
A laptop bag, iPhone or device cover or other work accessory;
An overnight bag – I'm loving this Calendonia Overnighter, $149.99 from Sportscraft;
A beautiful tie, scarf, a pair of sunglasses or a hand/man bag;
Plants, gardening gloves or other gardening tools/accessories;
A beach towel, beach cart/trolley/tote or sun cover;
A beautiful vase, pot or hanging planter – I love the botanical designs at Angus & Celeste;
Summer clothes – shorts, tees, bathers, thongs;
Get your active on – golf clubs or other equipment, sportswear, new trainers, Fitbit, yoga mat, drink bottle or Lululemon voucher;
A diary, desk accessories or stationery.
The Relaxing
A new book or a Kindle with some books already loaded on to it – you'll find ten great holiday reads here;
A box set for a series or a subscription to Foxtel, Netflix or other provider;
A massage voucher;
Cushions, throws and candles;
Movie/Gold Class or other entertainment vouchers;
A new recipe book or cooking equipment for someone who loves to cook.
Other Ideas
Hampers can be a great way to go – I love the range of home wares at Style Bundle. You'll find great foodie gifts at The Hamper Emporium too;
Vouchers are always a safe bet – A voucher from their favourite retailer will always be well received. If you're stuck for ideas, perhaps a book, movie, spa, restaurant, Westfield or Myer voucher is the way to go;
Gifts that keep giving – give a gift on their behalf to their favourite charity or cause;
Some of the best gifts are free – making time to spend with someone; writing a thoughtful note; saying thank you, I love you or sorry might mean more than anything else.
This post contains some affiliate links. You don't pay any extra and I earn a small commission. Read more in my Disclosure Policy here.
What's on your Christmas list this year? What are you giving a special someone?