Blokes are, on the one hand, easy to buy for as they're generally pretty low maintenance.
On the other hand, though, it's hard to know what to buy when you don't get a lot of direction or inspiration from your gift recipient.
Ladies, I hear you.
So in today's post, I'm being a bit cheeky and using my guide for the kids for the blokes. It's one way to think outside the gift giving box and hopefully help you come up with some ideas this Christmas.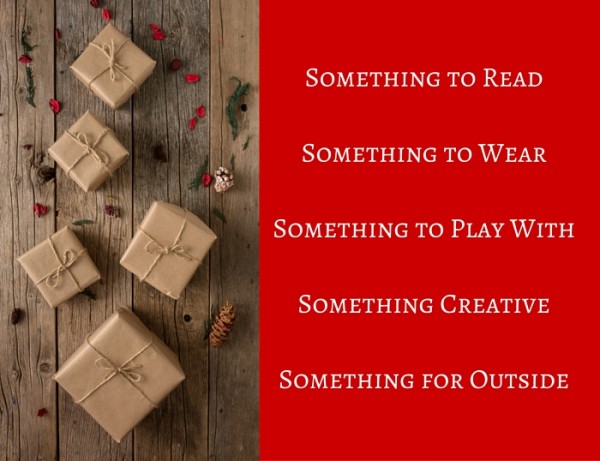 Something to Read
Now before you scroll down, this doesn't necessarily mean literary fiction as not all blokes are into that.
This might include a cool photo book like The Humans of New York, an art or photography book.
For your foodie types and drinking enthusiasts, why not a cook book or a wine compendium.
Outdoorsy or gardening types might like a book on, well the outdoors and gardens.
He might even like a Lonely Planet guide or a phrase book if you're planning a trip.
In terms of fiction and holiday reading, I bought Mr SnS the first book in the Game of Thrones series for Father's Day which he is enjoying and for Christmas, I've bought him I Am Pilgrim and the latest in the Lisbeth Salander series, The Girl in the Spider's Web (it's a new author but I've been told it's very good).
Biographies are often a winner too, particularly for guys who love their footy, cricket, or politics.
Something to Wear
I don't know about you, but my husbo doesn't buy clothes for himself with quite the same frequency as my good self.
Therefore basics like socks and jocks, a new pair of bathers, shorts, summer t-shirts or even work wear like a new tie or shirt, can be a practical gift.
Hats, belts, thongs and even watches fall in this category too.
Something to Play With
Most blokes like something fun whether that's a gadget, something techie or some other thinly disguised toy.
Petrol heads might like something car related; guys who are into fitness might appreciate some new weights or sports equipment.
I usually throw in a set of nano blocks but this year I've bought Mr SnS some Lego Architecture – The Eiffel Tower. I know it's not strictly for adults but I know he'll enjoy putting this together with our sons. Meanwhile, I might leave them to it go and read my book in peace and quiet …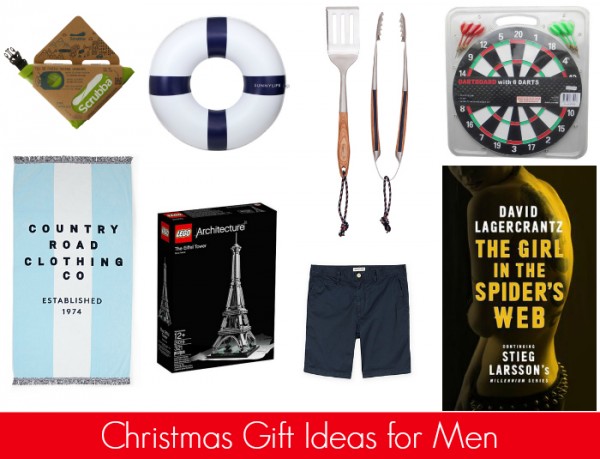 CLOCKWISE FROM TOP LEFT: Scrubba Washbag, $64.95; Inflatable Life Ring, $59.95 from Sunny Life; BBQ Tong Set, $69.95 from Sunny Life; Dart Board Set, $5 from Target; The Girl in the Spiders Web: Millenium Series Book 4 by David Lagercrantz, $29.69 from Bookworld; Stretch Twill Short, $79.95 from Country Road; Lego Architecture- Eiffel Tower, $49.99 from ToysRUs;  Country Road Beach Towel, $64.95 from Country Road.
Something Creative
OK, this one is a bit of a stretch but if your fella has some kind of creative interest, think of something he might like.
Photographers might like a new camera bag, tripod or lens.
Cooks might like a new kitchen gadget, cook ware or even a BBQ.
Mr SnS is currently our resident pizza maker (he whips them up in the thermie on Sunday arvos), so I've bought him a couple of pizza trays and a cool pizza cutter.
Enrolling them in a course or experience (cooking, photography, furniture making, painting, creative writing, drawing) might also be a fun and thoughtful gift.
Something for Outdoors
Again, this can be as broad or as simple as you like.
Campers will love this super practical Scrubba Washbag which is super light weight, works quickly and is compact.
Plants, gardening gloves or mat, a leaf blower, hose or new pots for a gardener.
Sporty dudes might like something for their bike, some new exercise gear or a new helmet/kayak/kite/basketball/life jacket.
More leisurely fellows might like a bocce set, beach towel, BBQ tongs, deck chair or a fun pool float.
A voucher for Bunnings is a good idea for handy types too.
For More Ideas
They are just some ideas, check out my latest Father's Day post and last year's Christmas post for some more inspo.
For inexpensive gifts and stocking fillers, check out my 35 Kris Kringle Gifts under $15 post.
This post contains affiliate links. You don't pay any extra and I earn a small commission. Read more in my Disclosure Policy here. 
Is the man in your life easy or tricky to buy for? What are you getting him this year?