I've done my research for today's post.
Firstly, I put together a list of what I thought men might like  (based on previous "successful" gifts I've given or Mr SnS has received from others).
Then I ran it all past Mr SnS who made a couple of tweaks and suggestions and voila, the SnS Christmas Gift Guide for Men was complete.
You can read this Guide safe in the knowledge that an actual, real life man has had some input into it.
So, if your fella tends to respond to requests for gift ideas with a shrug, a grunt, an "I don't know" or "I don't need anything", you have somewhere to start. Oh and if you've ever hit the jackpot in the gift giving stakes, please share your highly valuable intel in the comments below. A sister needs to help a sister in need!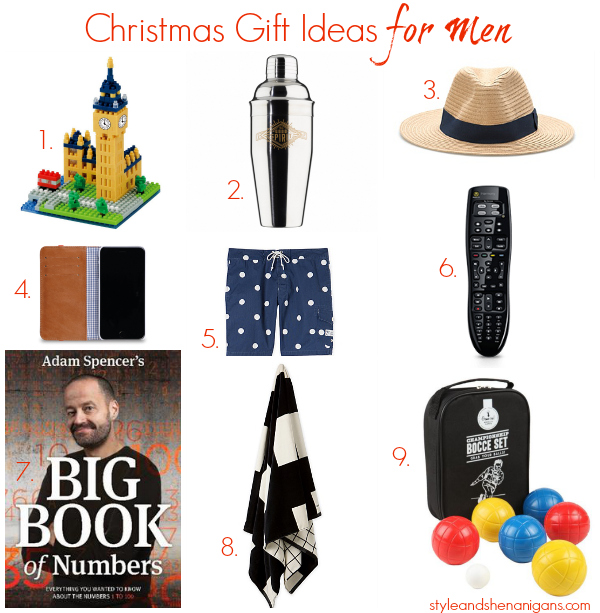 1.Big Ben Nano-Block, $24.95 from NanoBlock; 2. Cocktail Shaker, $49.95 from Hard to Find; 3. Anderson Panama, $59.95 from Trenery; 4. Flip Wallet for iPhone 6 from Toffee Cases, $49.95; 5. Spot Print Board Shorts, $69.95 from Country Road; 6. Harmony 350 Universal Remote, $39.95 from Logitech; 7. Adam Spencer's Big Book of Numbers, $23.80 at Book World; 8. Marmont Beach Towel, $59.95 from Country Road; 9. Bocce Set, $24.95 from Typo Shop.
You know, I reckon blokes are actually pretty low maintenance in the gift stakes.  They are generally easily pleased with a thoughtful gift, particularly if it falls into one of the following categories: the practical; the tech; the fun and the entertaining. So if you are looking for some inspo for your fella, this might be a helpful approach to your Christmas gift giving this year and beyond.
1. The Practical Gift
These are the gifts he really needs, even if he doesn't know he needs them.
Most blokes can do with a summer fashion update and often this task falls to us. I usually give Mr SnS a pair of shorts (5) and a couple of new tees or polos at Christmas time. These then miraculously morph in to his Christmas Day outfit. In fact, I've been know to deck out all the lads at Shenanigans Central in co-ordinating polos. Tragic but true.
If he is covered on the clothes front, other practical options could be a new hat, like this cool Panama (3) or perhaps a new pair of sunglasses or bathers, a new beach towel (8) or a pair of thongs.
Another practical gift that may appeal to his inner Tom Cruise (circa 1988's Cocktail as opposed to awkward couch jumping TC on Oprah) is this cool Cocktail Shaker (2). A bottle of spirits may make a nice companion gift.
If you are buying for a bloke who lives on loves his bike, check out some of the great bike accessories in my post Bike Accessories for the Whole Family.
2. The Tech Gift
The man in your life may be a tech geek or a dinosaur. Either way, tech products are an inescapable reality of modern life and can make great gifts provided they look good and do the job.
If your fella has a new iPhone 6, he might appreciate this brilliant flip wallet (4) – it's a phone case and wallet all in one and much harder to lose (or so I've been told by a mate who has one). If a laptop bag is more his thing, check out the great range at Toffee Cases.
We are big fans of the universal remote at our place – ours covers about 6 TV/video/audio things and makes life simpler and less stressful. Big call but undoubtedly true. If you need fewer remote controls for your collective sanity at your place, consider giving him a universal remote – it's a win/win, provided you can agree on who's in control of it!
Bigger tech gifts might include a digital camera, iPad or smart phone or an accessory such as head phones, phone holders and the like.
3. The Fun Gift
I always like to include something fun for Mr SnS. I've bought him several NanoBlock sets (1). If you've not been acquainted, NanoBlocks are like tiny adult Lego and the range is very cool – animals, instruments and my favourite, world land marks. The kids help him put it together over the holidays and all his constructions sit proudly in his office. Given they are tiny, they don't take up much room either. NanoBlock sets also make great stocking filler gifts for older boys or for Kris Kringle, depending on your budget.
A bocce set is a great gift idea too (9). Mr SnS was given a set a few years ago and we take it with us when we go on picnics and play it over summer in the back yard. It's a game of skill and patience and is loads of fun.
Check our TypoShop and Myer's Giftorium for other fun, quirky and cool stuff.
4. The Entertainment Gift
There are loads of options here. If he likes his tunes, he might appreciate an iTunes, Spotify or JB Hi Fi gift card.
If he has a fave TV show, a box set might be more his thing. For movie lovers, a gift voucher for your local cinema or book of tickets can be a great idea.
Mr SnS is a reader like me and has requested this Adam Spencer book (7) for Christmas. Most online book stores have best seller lists too if you need some inspo. A cook book is also a great idea for a foodie fella or he might like an Atlas or a photography book such as the excellent Humans of New York book.
For blokes who consider an adventure entertainment, consider a voucher for Red Balloon or similar.
For more fab ideas, check out the Kris Kringle ideas under $15 and these Father's Day Gift Ideas.
So who are you buying for this year – partner, husband, brother, Dad or Father in Law? Have you ever hit the man-gift jackpot? Please share any intel to help out a sister!