Have you thought about Father's Day this year?
Like me, you might file it away in the September tab of your brain.
However, in breaking news, Father's Day is almost upon us.
A week and a half away in fact.
I've given it a bit of thought as it's a pretty busy weekend for us given I have four Dads to cover: my Dad, my Step-Dad, my Father in Law and of course, Mr SnS.
Logistics aside, Father's Day is actually a relatively low key affair, thanks to all the Dads being pretty chillaxed characters. They don't generally ask for anything and are happy to receive a piece of artwork from the kids, something funny or sentimental and another small gift.
With this in mind, I've compiled some gift ideas that are inexpensive, fun and useful.  Everything below is under $50 too. Winning!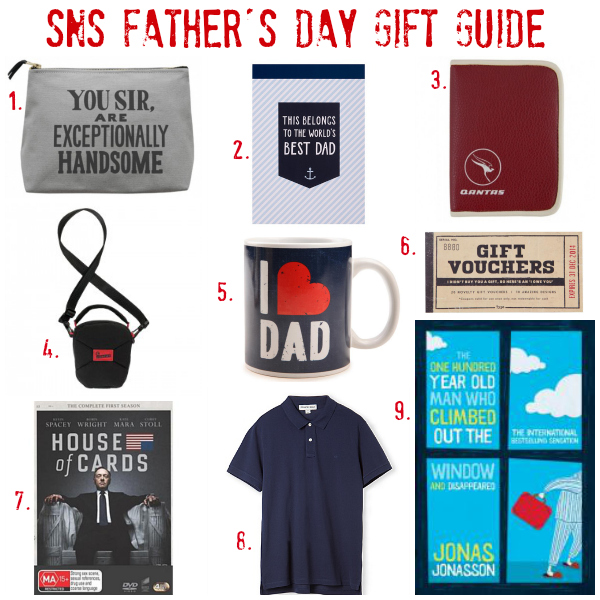 1. Wash bag, $35 from Lark; 2. Note pad, $14.95 from Kikki K; 3. Qantas Retro Passport Holder, $19.95 from Lark; 4. Pleasure Dome Camera Shoulder Bag, $45 from Crumpler; 5. I Heart Dad Mug, $6.95 from Typo;  6. Gift Vouchers, $6.95 from Typo; 7. House of Cards, Season 1, $39.99 from JB Hi Fi; 8.  Pique Polo, $49 from Country Road; 9. The 100 Year Old Man Who Climbed Out of the Window and Disappeared by  Jonas Jonasson, $16.95 from Booktopia.
Fun Gifts
I love to buy the Dads a fun gift like this mug (5) or gift vouchers (6). They all like a bit of a laugh or a nice reminder that they've been thought of. For more fun or "novelty" gifts for Dads, check out Typo.
Practical Gifts
Dads aren't necessarily all over shopping and occasionally need some help updating the basics. A nice new wash bag or a polo generally won't go astray. In fact, I have given my Dad two polo tops every Christmas for the last decade. He pretends to be surprised but is always delighted year after year.
Stationery for the office is also another nice but practical option and it's hard to go past this notepad (2).
Travelling Gifts
If the Dad in your life is a traveller, he might appreciate somewhere to stash his documents or passport. I love this cool retro passport holder (3) and might even borrow it on the sly. A camera bag (4) is another good idea for someone who travels a bit closer to home.
Veg Out Gifts
All the Dads I know love to veg out. You can't go wrong with a DVD of a TV series or book that reflects his interests.
Mr SnS is a raving fan of House of Cards (7) and recently read and enjoyed The 100 Year Old Man who Climbed Out of the Window and Disappeared (9). Autobiographies and anything from the ABC Shop generally go down well with my Dads x 3.
Do you celebrate Father's Day? What are you giving the Dad/s in your life for Father's Day this year? Got any other ideas to throw in to the mix?