So it's Valentine's Day this Friday. As it is a popular time for weddings, it is also a time when a lot of people (ok, me) are celebrating wedding anniversaries.
In keeping with the theme of lurve, my blogging buddy and SnS reader, the lovely Sonia, asked me this question:
"Hi Vanessa,
It's our 1st wedding anniversary next month. We are going out for a lovely dinner and despite saying no gifts, I just can't help myself! I'd like to get my husband something small but meaningful and with it being our 1st anniversary, that means something "paper". Could you please help me with some gift ideas?"
While this post is in answer to Sonia's question and I have included some "paper" gift ideas, I hope it also provides some gift inspiration for anniversaries, Valentine's Day and other special milestones.
As far as celebrating goes, Mr SnS and I aren't big on Valentine's Day although we usually exchange a card provided conditions are favourable i.e. we are not up to our eyeballs in babies, ear infections or gastro.
For our wedding anniversary though, which is three weeks later, we go all out. We get dressed up and go out for dinner somewhere fabulous, go away for the weekend or head into town for the night.
So, regardless of what you celebrate and when, I hope you find these gift ideas helpful for your next festival de love.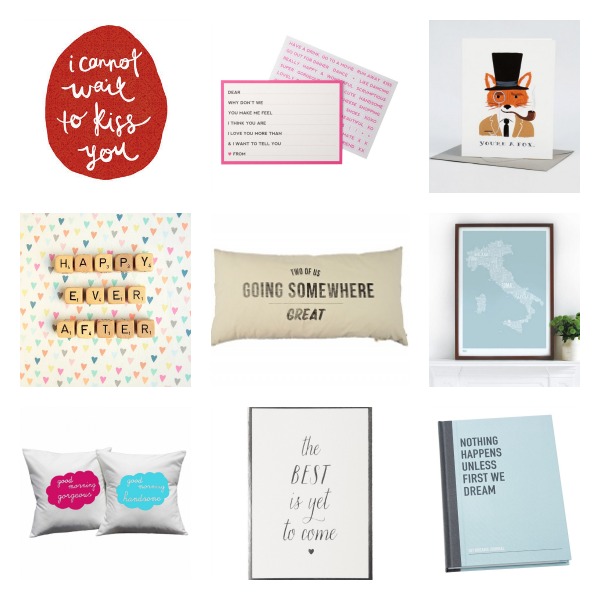 1. A great card or a handwritten note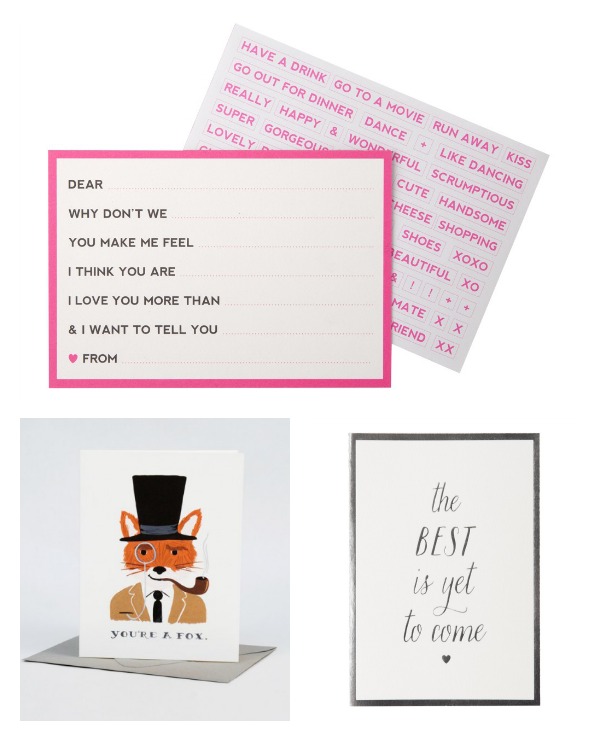 TOP: DIY Love Letter in Neon Hearts, $7.95 from Kikki K; BOTTOM LEFT TO RIGHT: You're a Fox Card, $6.95 from Lark; Best is Yet to Come Card $4.95 from Kikki K.
I love a great card and there are so many great ones to choose from, including the cards above. A loving message in a great card is a lovely gift in and of itself.
I bought a couple of crackers recently for Mr SnS at Typo too. Check in store for the full range.
2. An Art Print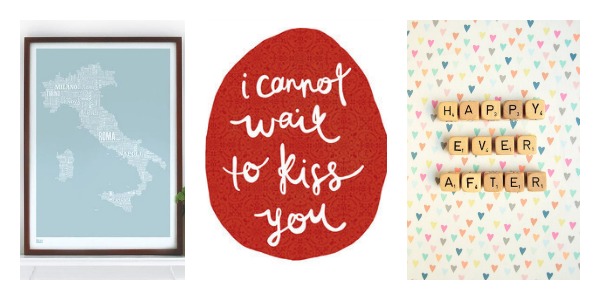 FROM LEFT TO RIGHT: Bold & Noble Italy Type Map Print in Duck Egg, $74.00 from Brown Paper Packages, $74.00; Kiss You Art Print, from $20 by Emma Kate Creative at Down That Little Lane; Happy Every After Print, $20 from Happee Monkee.
You can find a great art print at a range of price points. I've included a selection here which includes sweet sentiments through to a map print for couples who met, travelled together or who are from different parts of the world.
3. A Photo book

I love photo books. I think it is one of the most thoughtful and meaningful gifts going around.
A photo book full of photos of your lives together, special people and places is likely to be well received and appreciated. Some great places to buy photo books include Blurb and Kikki K (above).
4. Tickets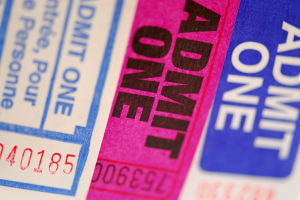 The possibilities here are endless.
Perhaps tickets to a favourite sporting event or an upcoming musical, show or concert.
My favourite tickets are plane tickets (hint), tickets to the International Flower Show, The Good Food Show or a special exhibit at the Museum or Gallery. I wouldn't knock back movie vouchers either.
(Of course you'll need to print the tickets out to meet the "paper" requirement).
5. A Journal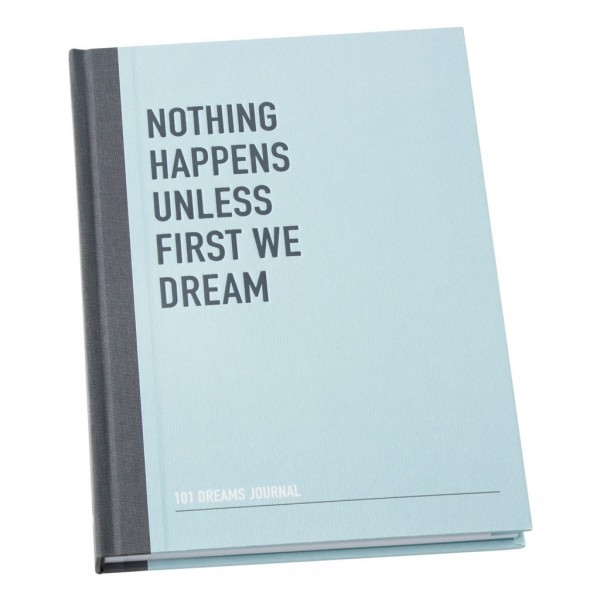 I love stationery and am always happy to receive a lovely journal or notebook.
Fellas, if you are looking for the ladies, you can't go wrong at Kikki K. You'll find a great range including this gorgeous 101 Dreams Journal (above), $39.95. Typo also have a great range which is less expensive.
Mr SnS loves his Moleskine journals. Paired with a pen they make a practical but luxurious gift.
6. The Newspaper
Another idea which your partner might like is a copy of the newspaper published on a day which has particular meaning for you both, such as the day you met, made a commitment  or another significant day in your lives together.
For his 40th, Mr SnS received a copy of the newspaper which was published on the day he was born which I thought was a thoughtful and original gift idea.
7. Cushions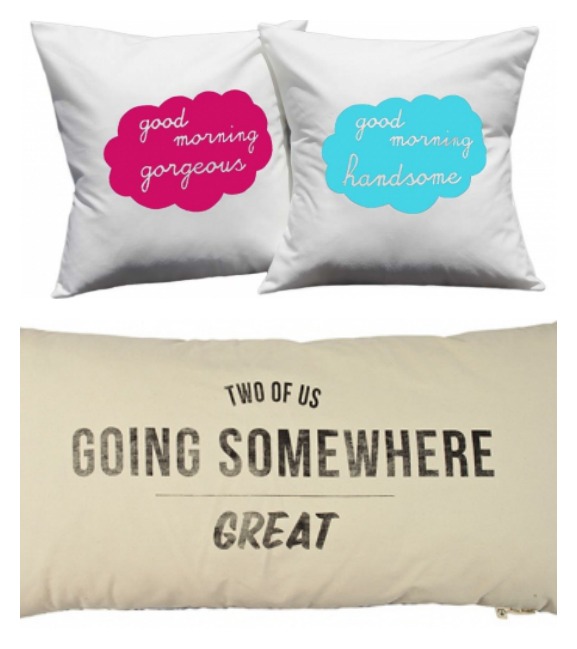 Ok, so technically these do not qualify as a "paper gift" but they are adorable and would look lovely on a bed. I love the sentiments on these cushions and seeing them would put a smile on my dial every morning.
TOP: Good Morning Gorgeous Cushions (Set of 2), $74 by Linnea Swedish Design at Hard to Find; BOTTOM: The Two of Us Going Somewhere Great Cushion, $149 from Pony Rider, $149.95 from Pony Rider
For more Valentine's Day inspiration check out Styling You's 6 Ways to Celebrate Valentine's Day and Redcliffe Style's Guide to Valentine's Day Lingerie and Boudoir Style.
Do you celebrate Valentine's Day or anniversaries? How? Can you add any more "paper" gift ideas for Sonia?