There are seasons in your life where you celebrate a number of milestone birthdays. At the moment, I am in the middle of a run of 40ths and it has been wonderful to celebrate these momentous occasions. With a milestone birthday, I feel a bit more (internal) pressure to buy the "perfect" gift. By "perfect", I mean:
– a gift I know the recipient will love as it reflects her personal style and taste;
– a gift that will last;
– a gift that is within the budget;
– a gift that is gorgeous and practical.
I have written this post with 40th birthdays in mind but I hope you will find that my suggestions suit women of all ages, from friends, sisters and sister in laws through to mothers and mother in laws. I have also tried to find gifts at various price points. Hopefully, you might find some inspiration for the treasured women in your life.
A second post in this series will cover group/more expensive gift ideas.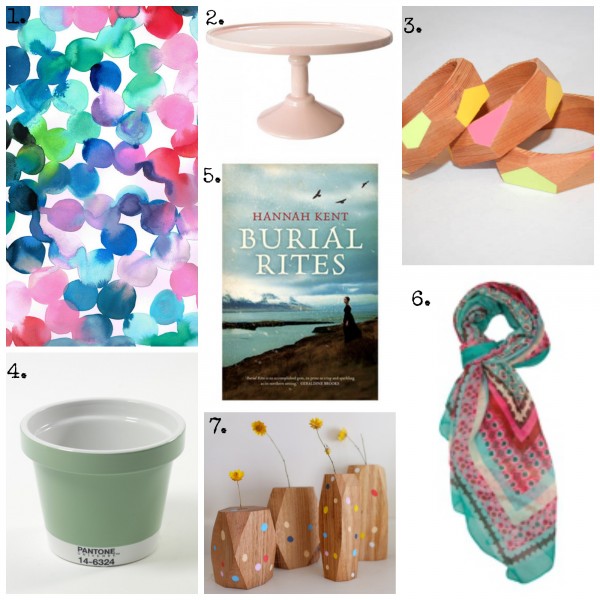 1. Art Print
An art print is a lovely gift, particularly if you know her well enough to know what colours/prints/style she might like. It is lovely to be known and for a gift to clearly reflect this. This Peacock & Candy Pink Watercolour Clouds Print by Emily Green  is from $49 for an A4 print. Paired with an IKEA frame, it makes a complete gift.
2. Cake Stand
A beautiful cake stand is a lovely gift for a baker or entertainer. It is also a practical gift that can be used for birthday cakes or for general entertaining.
This Fairy Floss Pink Footed Cake Plate from Lark Store is $45. They come in two sizes and three colours (also green and white). The large size is pictured above.
There is a more expensive milk glass version of this available from the Donna Hay online store. They are often featured in Donna Hay Magazine, particularly the children's issues. They are simply beautiful but a more expensive gift. They come in three sizes and colours and range in price from $39.95 to $119.96.
3. Jewellery
A piece of jewellery that suits your friend in colours and in a style she likes is likely to be a very well received gift. This Slim Faceted Bangle by Treehorn Design (Broad Fit) is $45 from thehandmadelover. If you are looking for necklaces/pendants or earrings, I have written about them previously here and here.
4. A plant and flower pot holder
A beautiful plant in a gorgeous pot holder is a lovely perpetual gift.  These Pantone flower pot holders by Beautiful Spaces come in a range of gorgeous colours, so if you know your friend's colour and plant preference, you have a truly personal gift. This pot holder is $36.95 from Hard to Find and would be perfect for an orchid.
5. Book
Despite the popularity of reading books on tablets and Kindles, nothing can replace the feeling of the weight of a great book in your hands. A book is a relatively speculative gift however, so if you are planning to buy a book as a gift, you want to feel confident that it is a great book. I recently read "Burial Rites" by Hannah Kent and it is a beautifully written, very moving book. Everyone I know who has read it (including my book club) has loved it.  You can pick up a copy of Burial Rites from Big W for $19 and find reviews of it here.
If your gift recipient is not a reader of fiction, other 'book' gift ideas that might be more appropriate are a great cookbook, a travel book or an art book.
6. Scarf
A scarf is a lovely, practical gift. This gorgeous, on trend Co Co scarf by Miss Divine is $39.95 from Birdnest. Other places to find great scarves include Seed, Witchery and Sussan.
7. Vessel
I am a huge fan of the talented Andrea Shaw of Stampel and I love the simplicity and design of this Spot Fasett Vessel. It would make a lovely, unique gift for the right person. It is $45.00 from Stampel.
What are some other great gift ideas for women? What have you enjoyed giving or receiving?