Has the silly birthday season hit for you?
Is your diary peppered with upcoming celebrations and your fridge dotted with invitations?
In our circles, there always seems to be a flurry of birthdays come September/October – all those babies who are the product of summer holidays in years gone by.
As we have the usual run of kids', family and friends' birthdays coming up plus an 80th, I am totally in the present giving headspace.
I'm also starting to think about the big present giving festival at the end of the year (don't mention the C word). With lots of gorgeous new Spring stock hitting the shelves, plus some great design markets popping up, it's a good time to pick up gifts, particularly if you have a busy couple of months on the horizon.
In today's post, I've put together a range of gifts for women, all of which you can find in online stores. Five of the nine come in under $34.95.
I've chosen them with girlfriends, sisters, sister in laws, mothers and mothers in law in mind. Just quietly, I may also flick this link to Mr SnS as I'd be happy to see a few of these under the tree come December.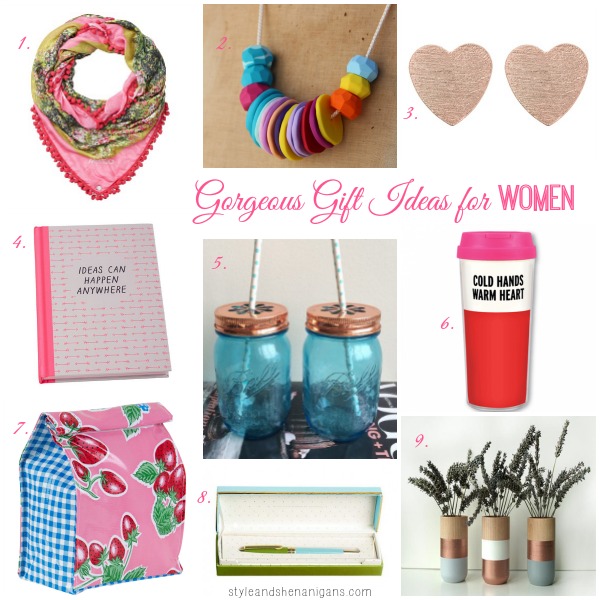 1. Antiquity Scarf, $79.95 from Mimco; 2. Rainbow 2 Jumbo Disc Necklace, $75 from Ellery Fox at Etsy; 3. Ear Brushed Heart Studs, $14.95 from Witchery;  4. Ideas can happen anywhere Journal, $19.95 from Kikki K; 5. Copper Ball Mason Jar Limited Edition, $18 from Rainy Sunday; 6. Kate Spade Travel Mug, $34.95 from Lark Store; 7. Ben Elke lunch bag, $14.95 from Birdsnest; 8. Kate Spade Ballpoint Pen, $59.95 from Lark Store; 9. Bronze Painted Wooden Vases (set of three), $65 from Hard to Find.
For the first time, below, I've also included a few group present ideas. Here, I'm thinking milestone gifts for large groups of friends and extended families.
A milestone can be a great opportunity for guests or family members to put together to buy one bigger, more expensive gift. It's great for the guests in terms of convenience and confidence as usually the birthday girl's closest friends/family co-ordinate the gift with helpful inside intel.
I imagine it is also lovely for the birthday girl to receive a special, sentimental gift.
For my sister's 40th last year, everyone in my family and a couple of her closest friends put in to buy her a Kitchen Aid. It was a lovely gift to both give and receive.
Other appliances like a Nespresso machine or, if you have a very big group of friends/extended family, a Thermomix, can be great options too. If you have money left over, a beautiful recipe book or serving ware can be a lovely addition.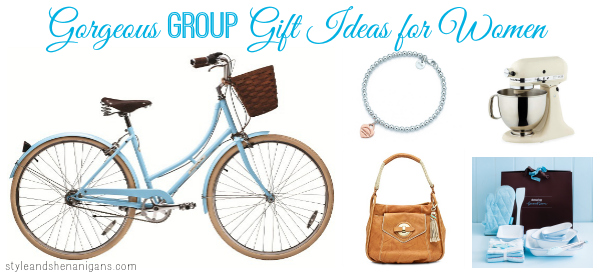 CLOCKWISE FROM LEFT: Sommer bicycle (prices vary depending on customisation), from Papillionaire; Bead Bracelet, $315 from Tiffany & Co; Kitchen Aid Artisan Mixer, $699 from Kitchenware Direct; Enamel Roasting Kit, $99.95 (on sale) from Donna Hay; Copacabana Hobo, $499 from Mimco.
A special/personalised piece of jewellery has also been a popular gift amongst my girlfriends for milestone birthdays.
A beautiful, classic style bag is also a great option providing you know her taste. A voucher for a store like Oroton or Mimco would be another way to go.
For a small group of people, check out the hampers/kits over at the Donna Hay online store. I think this enamel roasting kit (above) is a gorgeous gift for an entertainer/keen cook.
As for this fabulous bicycle, it's a bit outside the square and all sorts of fabulous. I can so see myself riding one of these around my local 'burb with a baguette in the basket and the wind in my hair … can't you?
What have you given or received lately? Is there anything above that you'd like to add to your birthday list? What have you given or received for a milestone birthday?