Let's see a virtual hands up for who's sorted for Father's Day.
Well done to those who are but have no fear if you are not.
You've come to the right place.
In today's post, I've done the research and come up with truck loads of ideas for all the Rad Dads – whether they're your Dad, Step Dad, Father in Law, Husbo, Partner, Dad To Be, Grandpa, Awesome Uncle or other Father Figure.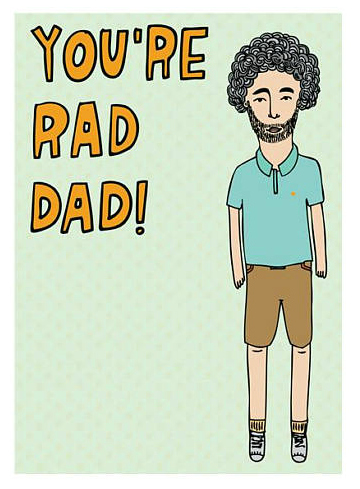 Now before I launch in, I should tell you that my approach to gift giving for blokes is pretty straight forward.
I start by asking for any specific requests (even better if they're happy to share a link) but if nothing is forthcoming – which is not unusual – I aim to put together a few bits and bobs.
And by a few bits and bobs, I usually aim to cover the following:
The Fun
The Practical
The Luxe
That said, it's not necessarily about splashing lots of cash. It's about being thoughtful and finding little ways to make all the Dads feel loved and special.
So if you're looking for some ideas for the Dad/s in your life, you'll find plenty of inspo below. I've also tried to cover off a range of interests and come up with ideas to suit a range of budgets.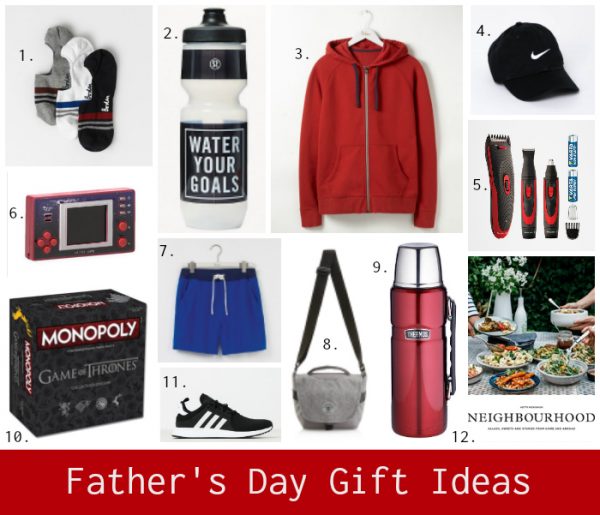 ABOVE: 1. Three Pack of No Show Socks, $50 from Boden; 2. Cycling Waterbottle, $19 from Lululemon; 3. Zip Through Hoody, $110 from Boden; 4. Nike cap, $20 from Glue Store; 5. Remington Grooming Kit, $49 from Target; 6. Retro Pocket Game, $27.99 from Typo; 7. Swimshorts, $85 from Boden; 8. Camera Bag, $149 from Crumpler;  9. Thermos, $49 from Target;  10. Game of Thrones Monopoly, $69.99 from Typo;  11. Adidas Trainers, $112 from Glue Store; 12. Community by Hetty McKinnon, $34.95 from Dymocks.
1. Fun Times
If there was ever a time for novelty socks, stationery and mugs, Father's Day would have to be it. I love popping in to my local Typo to see their funny cards and gifts and I usually add a couple of inexpensive things to my basket. We've about reached our novelty mug threshold around here but if we hadn't, I'd be adding this Novelty Mug, $12.99 from Typo to cart.
I also love the hilarious range of cards at Melbourne's Abel and Game. See their Father's Day range here.
If relaxing is a priority, boxsets, a new digital TV streaming subscription or a magazine subscription are entertaining gifts that last all year and can be shared.
Or, if the Dad in your life loves a coffee table book, I'm loving this amusing Dads Are the Original Hipsters book, $24.99 from The Notemaker.
Some Dads are big kids too, so things that appeal to teenage boys might also be a winner. I'm talking tech gadgets, phone accessories, drones, games, sports equipment and so on. Typo have some fun retro gifts too, such as the Retro Pocket Game above.
Experiences can also be well received too – think memberships (soccer and footy clubs, local cinema, galleries and museums), tickets to see their favourite band/artist/comedian, a sporting event or a bucket list experience – sky diving, bungey jumping, hot air balloon rides, or a helicopter ride.
Foodie Dads might appreciate a gift voucher to his favourite restaurant, wine store or a cooking school.
2. Practical Perfection
I don't know many guys who would knock back some new socks and jocks, a new tie, trainers or clothes, especially if you've done your research and know his favourite retailers and size. If you're not sure what he actually wants or needs, a voucher to his favourite retailer is usually well received too.
I've included some great options above – a hoody, trainers, cap and swim shorts if you're heading away on vacay anytime soon.
Depending on his interests, there might be other things that make his everyday life a bit more enjoyable – perhaps a sports bag, water bottle, towel, gym clothes or equipment, a new cook book, appliance or a set of knives for serious foodie types or a voucher for Bunnings or the local nursery if he's interested in DIY/home improvement.
Dads who love to read might like a new book – you'll find loads of suggestions here – or a book voucher. Kindles and e-readers make lovely gifts too.
3. Everyday Luxe
If you're looking to spoil your Dad, a bit of pre Father's Day reconnaissance might be in order. He might not want lots of little bits and pieces – he may have all the novelty socks and desk games he can use – and rather have one, bigger and more expensive thing that he really wants instead.
If you've got the budget, some bigger ticket items could include a record player and some old school vinyl; aftershave; a watch; a camera or lens or other gear; sunglasses; a print or original artwork; cufflinks or even a new suit. If you can track down his first vinyl record too or personalise cufflinks, that's a nice sentimental touch too.
More budget friendly ideas include a six pack of his favourite brew, his favourite chocolate, lollies or other foodie indulgence, personal care (body wash, balms and shaving cream) and stationery (from Kikki K right through to leather bound journals, Mont Blanc pens). 
For more ideas, check out Lululemon's Man Pleasing Gift Guide,  The Notemaker's Father's Day Gift Guide and the fun range of Father's Day novelty gifts at Typo.
This post contains some affiliate links. You don't pay any extra and I earn a small commission. Read more in my Disclosure Policy here.
How many Dads are you shopping for this Father's Day? Have you worked out what to give him? We'd love to hear any ideas!