With all this #ISO biz going on, it's no surprise we're all a bit distracted and that Mother's Day has crept up on many of us.
In fact, until I saw a couple of memes on Instagram over the weekend, I had no idea Mo Day was less than a fortnight away. Without the usual build up and excitement of the school Mother's Day stall, I almost missed it.
I then began my research for this post, the mothers in my life and ahem, my personal wish list, stat.
Knowing these strange times call for a different approach, the focus of this year's Mother's Day Gift Guide is on luxurious, practical and/or beautiful gifts that will make #ISO life (and beyond), that little bit more pleasurable, or at the very least, more bearable.
For some, this may involve a gift to keep warm, entertained and toasty inside while we #STAYHOME.
For others, this may be a gift that keeps us covered, dry and comfortable when we're out exercising on our daily #ISO walk or setting up an at home yoga studio.
You'll also find some beautiful pieces to wear for your next Zoom meeting, Friday night drinks or date night, as well as a few luxuries to use and inspire.
So, without further ado, here's my Mother's Day wrap …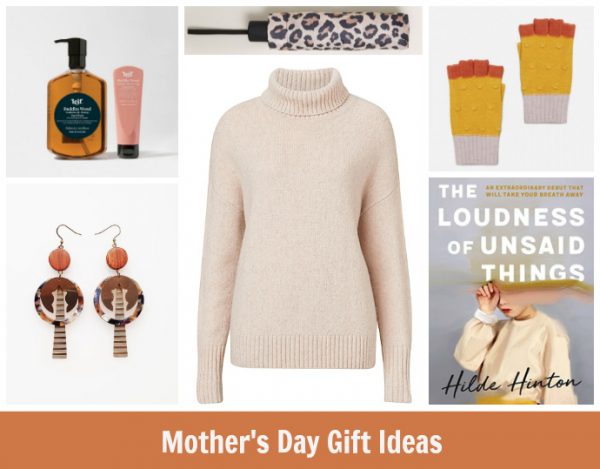 ABOVE, CLOCKWISE FROM TOP LEFT:
Buddha Wood Hands Set, $56 from AURA Home; 
Compact Umbrella, $29.95 from Seed Heritage;
Pom Pom Gloves, $59 from Gorman;  
The Loudness of Unsaid Things by Hilde Hinton, $29.99 from Dymocks;
Knit, $149.95 from Witchery;  
Cadet Earrings, $45.00 from Middle Child.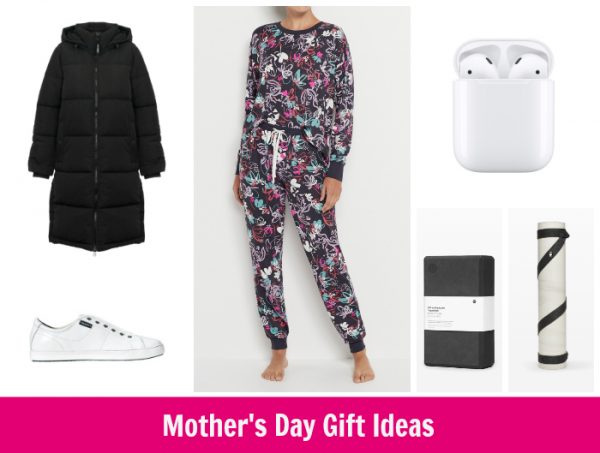 ABOVE, CLOCKWISE FROM TOP LEFT:
Longline puffer coat, $169.95 from Decjuba;
PJ set, $69.95 from Sussan;
Airpods with charging case, $249 from Apple.
Yoga Block, $19 from Lululemon;
Yoga Mat Strap, $25 from Lululemon;  
NAT sneakers, $234.95 from FRANKiE4 Footwear.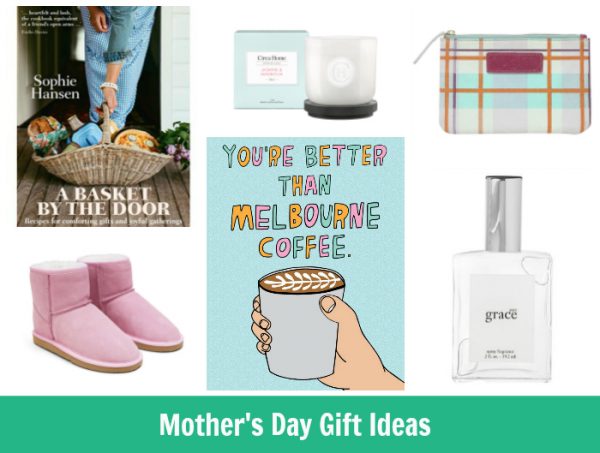 ABOVE, CLOCKWISE FROM TOP LEFT:
A Basket by the Door, $39.99 from Dymocks;
Jasmine & Magnolia Candle, $32.95 from Circa Home;
Cosmetics Purse, $39 from Kip & Co.;
Pure Grace Philosophy fragrance, $65 from MECCA;
Art Print, $20 from Able & Game;
Homeboots, $120 from Peter Alexander.
Here are some more hot tips for these "unprecedented times":
With the kids not preparing their usual Mother's Day gifts and cards at kinder/school, partners will need to suggest and supervise this with the kids at home instead so us Mums don't miss out on our favourite gifts – the homemade cards and notes from the kids that we love so much;
Online memberships could be a winner during #ISO – just do your homework before you sign her up for 28 with Sam Wood or similar;
Take the kids out for a walk and give her some time at home alone in peace and quiet;
Go to some effort for Mother's Day lunch – whether it's a home cooked meal or ordering in;
Hampers and flowers are a great idea but get organised now to make sure they arrive in time. Bonus points if you can order from a local small business;
If you miss a delivery cutoff and/or your gift doesn't arrive before Mother's Day, make sure you have something to give her on the actual day – a card, flowers, an online voucher, a magazine subscription, bottle of champagne to name but a few options. You can also pick up gift vouchers from the local supermarket.
This post contains some affiliate links. You don't pay any extra and I earn a small commission. Read more in my Disclosure Policy here.
So over to you – what are your plans for #ISO Mother's Day? Got your gifts sorted?