After the very recent ten day Festival of Public Holidays – with the school holidays thrown in for good measure – it's not surprising that many of us have been caught out and perhaps not read the mail – Mother's Day is fast approaching.
If, you, like me, need reminding, Mother's Day is on Sunday 12th May this year.
If you're sorted already in the lunch/present/card departments, well done and that's awesome. Go you! Oh and can you please DM me next year so I'm as organised as you are this year?
Don't fret though if you're only getting on to all things Mother's Day now.
For those of us caught on the fly, I've done some last minute reconnaissance and smashed out this comprehensive gift ideas blog post which is choccas full of lovely goodies for all the wonderful Mums and mother figures in our lives.
Of course if she – or you – have already dropped some hints, go with that, but if not, I hope you find some much deserved loveliness inspo below.
As you can see, I've taken the luxe approach this year, opting to include beautiful things us Mums don't often buy for ourselves.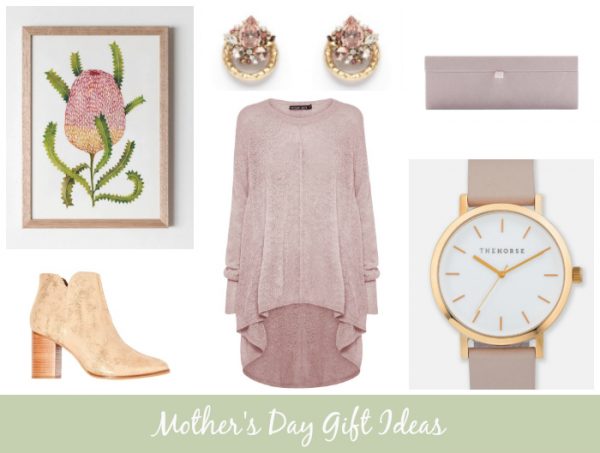 ABOVE, CLOCKWISE FROM TOP LEFT:
Art Print, $49.95 from Hard to Find;
Earrings, $89.95 from Mimco;
Velvet Jewellery Box, $10 from Kmart;
Watch, $149 from The Iconic;
Knit, $120 from Mister Zimi;
Ruth boots, $299 from Frankie4 Footwear.
That's not to say it's an Exy Fest though – you'll find lots of budget friendly options and ideas here, as well as some mid to higher ticket items and plenty of other creative suggestions.
Kmart is always on the money when it comes to bang for your buck and if your budget extends, definitely check out the fab new home and living range at Gorman here.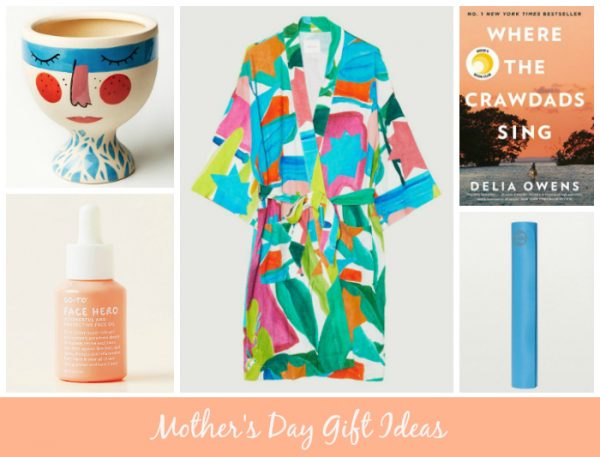 ABOVE, CLOCKWISE FROM TOP LEFT:
Anais Face Vase, $69.99 from Artisan Home;
Bathrobe, $149 from Gorman;
Where The Crawdads Sing, $29.99 from Dymocks;
Yoga Mat, $89 from Lululemon; 
Face Hero, $45 from Go To Skincare.
While I'm in suggestion mode, I'd also add that a thoughtfully written and chosen card is a gift in and of itself and the importance of the sentiments in the card itself should never be underestimated.
I know for me, along with the thoughtful/wacky/random/edible gifts my guys buy me at the school Mother's Day stall, it's special to be reminded that you have made and are continuing to make a positive difference to someone's life.
Especially when the usual shenanigans resume immediately once said card is read!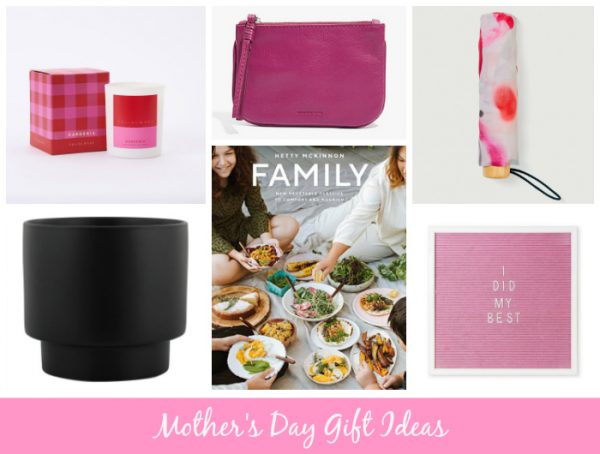 ABOVE, CLOCKWISE FROM TOP LEFT:
Candle, $24.95 from Celia Loves;
Large Leather pouch, $79.95 from Country Road;
Umbrella, $49 from Gorman;
Felt Memo Board, $8 from Kmart;
Family Cookbook by Hetty McKinnon, $39.99 from Dymocks;
Raised Planter, $7 from Kmart.
After more gift ideas?
As a mother of a baby/toddler/preschooler or all three at one stage, I really appreciated – and needed – a sleep in, a day to myself or the house to myself (i.e. take the kids out so I can rest). They don't cost anything but are highly valued;
Would she like a new perfume or a new bottle of her signature scent? Do some crafty reconnaissance to find out. I'm loving Gucci Bloom, $195 from Sephora.
How about a subscription to her favourite mag or a beautiful recipe or coffee table book?
I've included a couple of books above, but if you'd like to check out a wider selection, you can see my latest reviews here. Kindle or book voucher are other options;
An indoor plant for one of the planters included above might save her a trip to Bunnings or her local nursery;
A membership to her local gallery or museum or tickets to an upcoming exhibition;
A voucher for her favourite retailer – bookshop, garden centre, fashion, department store or other;
Tickets to a concert, theatre or sporting event;
A photo book, framed photograph or photo collage might be the perfect gift for you or the Mum in your life. I give my Mum/MIL a copy of our family school photo each year;
If you've got some lead time, personalised jewellery is a thoughtful and sentimental gift for your special someone.
An experience to share together – high tea, a weekend away, fitness/language/cooking/craft/floristry/dance classes, dinner out together;
A spa voucher or a beauty treatment;
Bigger ticket gift ideas include a leather jacket or handbag, a big ticket tech gadget, a new bike or Winter coat;
PJs, bathrobes and slippers might not be the most imaginative gifts going around but I do love a fresh pair of PJs for Mother's Day or a new pair of slippers. Peter Alexander, Cotton On Body and Sussan are all worth a look.
Approach gym memberships, sports equipment and appliances with caution and do your research i.e. you want to be really sure these gifts will be welcomed.
A beautiful bunch of flowers and or/a bottle of champagne/bubbles are always popular gifts around here.
This post contains some affiliate links. You don't pay any extra and I earn a small commission. Read more in my Disclosure Policy here.
What gift will you be buying or hoping to receive this Mother's Day? What's the best thing you've received from the Mother's Day stall?