I'm not trying to pull a supermarket style marketing trick here by mentioning, just after the Easter Eggs have been relegated to the clearance bins, that Mother's Day is around the corner.
In fact, its just shy of four weeks away.
I know, I know, you probably have way more pressing things on your mind this week, such as another week of school holidays to contend with or perhaps you are busy packing the kids off to school for term 2.
That's fair enough.
It's just that Mother's Day tends to come upon us quickly in the new term busy-ness, doesn't it? You settle the kids in, get back on the routine treadmill and bang, it's here.
Personally, I like to be a bit organised for Mother's Day, mostly because in my extended family, we like to head out for brunch instead of our usual hosting at each other's homes. Given a lot of other families have a similar approach, it can be hard to secure a booking at your favourite place unless you book early. So if you are planning to head out somewhere for Mother's Day this year, it's a good idea to get your booking sorted ASAP. Sorted? Great.
Admin aside, I actually look forward to Mother's Day. It's a rare kind of festival given that for me, it doesn't involve grocery shopping and house cleaning, and for that, I am grateful. I love the presents my boys lovingly choose for me at their school Mother's Day stall (I'm still using that cat ring holder from last year and loving it), and the handmade gifts and artwork that comes home from kinder. It's heart warming, tender and teary stuff and I just love it.
This year I've well and truly sorted my own Mother's Day gift from Mr SnS – three hours spent at the Coach and Kate Spade outlets will do that. However, I appreciate others may be looking for some gift ideas and inspiration, so I've happily sourced some gorgeous gift ideas incorporating two of this season's most popular trends – soft tones of pink and metallic accents.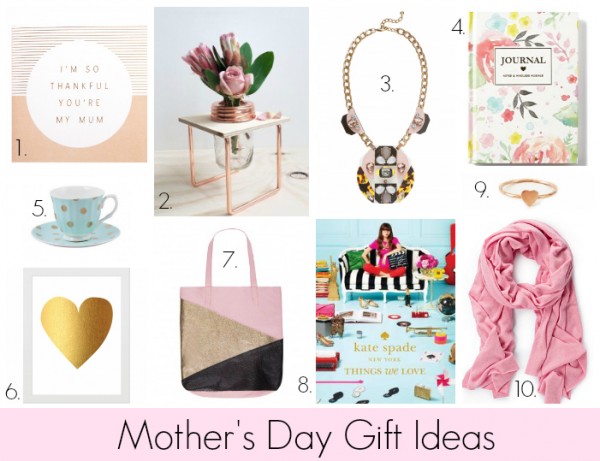 1. Card, $4.95 from Kikki K; 2. Copper Flower Frame with Jar, $59.95 from Rainy Sunday; 3. Metal Statement Necklace, $39.95 from Sussan; 4. Jotter Journal, $12.90 from Typo; 5. Gold Spot Tea Cup, $24.95 from Lark Store; 6. Gold Foil Heart Print, $25 from Hard to Find; 7. Casato Splice Tote, $189 from Gorman; 8. Things We Love, $41.39 from Book World; 9. Rose Gold Love Heart Ring, $39 from Hard to Find; 10. Jersey Knit Scarf, $59.95 from Country Road.
Both of these trends complement neutral interiors or wardrobes adding warmth, texture, colour and interest.
All of these items mix and match together too and cover a range of price points.
The metallic touches also add a sense of luxury to every day items, such as the pretty tea cup (5) and Gorman tote (7).
Some of the ideas above may also suit the mothers in your life. If not, other gift ideas for your Mum, Mother in Law, Step Mum or Grandma might include:
– their favourite flowers;
– their favourite perfume;
– a magazine subscription;
– an invitation/voucher to a High Tea or afternoon tea with you;
– an indoor plant such as an orchid;
– a novel (if you're looking for ideas, check out my suggestions here);
– a ticket to an upcoming show or production.
However you spend it, I hope you and your loved ones have a Happy Mother's Day.
How will you be spending Mother's Day this year? What's has been your favourite gift?