Mother's Day is less than two weeks away, can you believe it?
Instead of digressing here into an existential conversation about how it could be possible that we're approaching the halfway mark of the year – GULP – I'm gonna side step that one and focus on Mother's Day instead.
But before I do that, I want to acknowledge that like many occasions during the year, Mother's Day is not the same for everyone. For some it's a special day, while for others it's a day of sadness and grief, or perhaps a combination of all of the above and more.
Whatever Mother's Day means for you, let's be sisters on this day – and all days – and acknowledge that Mother's Day means different things for different people. And that's OK.
Mother's Day Gift Ideas
We all have different traditions, expectations and budgets when it comes to buying gifts for Mother's Day.  To reflect this, I've put together a range of gift ideas for Mums of various interests and at various price points.
I know that for many Mums with young kids – this is where I'm at presently – those handmade gifts, cards and artwork and the "treasures" thoughtfully selected at the Mother's Day stall are the highlight of Mother's day.  They certainly are for me. (I will share this hot tip though – I gently suggest that my kids head to the baked goods section of the school Mother's Day stall. I'm already covered in the cat ring holder department so I'm happy to be sorted for arvo tea and lunch boxes instead!)
However, if someone should ask you what you might like or you're wondering what to buy your Mum, Partner, MIL, Step Mum, Grandma or other special someone, I hope you find some inspo below …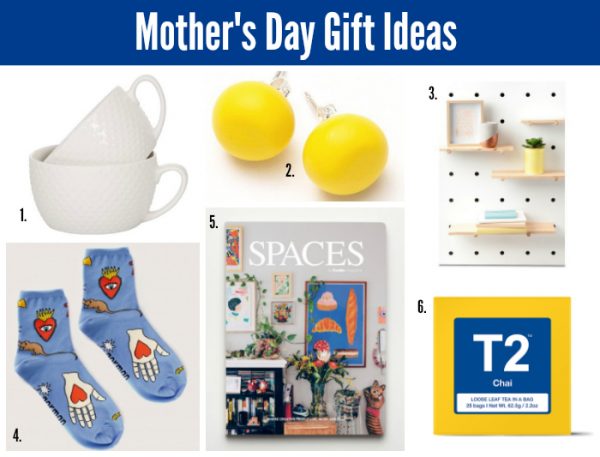 ABOVE: 1.Edie Soup Mugs (2), $14.95 from Freedom; 2.Yellow studs, $25 from Emily Green; 3. Pegboard, $29.95 from Kmart; 4. Fable Socks, $16 from Gorman; 5. 'Spaces' by Frankie Magazine, Volume 4, $24.95 from Frankie Press; 6.Chai Teabags, $14 from T2.
All of the gift ideas above are fun, practical and budget friendly ideas for Mums PLUS they all come in under $30. That's winning right there.
For other budget friendly ideas, check out the fun range of Mother's Day gifts at Typo. They also have an awesome range of cards.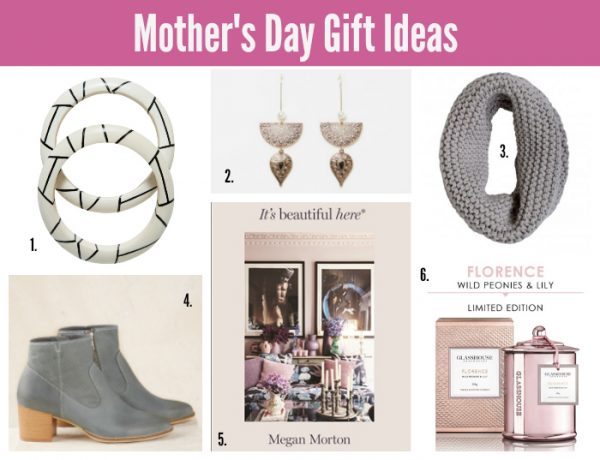 ABOVE: 1. Geometric Bracelet (set of 2), $35 from Elk Accessories; 2. Samantha Wills earrings, $119 from The Iconic; 3. Loose Weave Knit Snood, $49.95 from Decjuba; 4.  Django & Juliette ankle boots, $229.95 from Birdsnest; 5. It's Beautiful Here by Megan Morton, $59.99 from Dymocks; 6. Limited Edition Glasshouse Candle, $44.95 from Peter Alexander.
The gift ideas above would suit someone who loves a bit of luxe in their everyday – a statement pair of earrings or bangles, a beautiful coffee table book or candle. (For a less expensive option in the beautiful jewellery department, check out these Nicole Fendel Studs, $39.95 from Birdsnest).
If your gift recipient appreciates the practical – go for something that's practical but also a bit special – like the stunning ankle boots or cosy snood. A new Winter coat is another bigger ticket item that's a great gift at this time of year too.
This final selection, pictured below, is for the Mum who might be tricky to buy for.
What you do know though, is that she's stylish, fabulous and loves a bit of well placed bling. Um, how fabulous are these blinged up slippers and BOSS clutch?!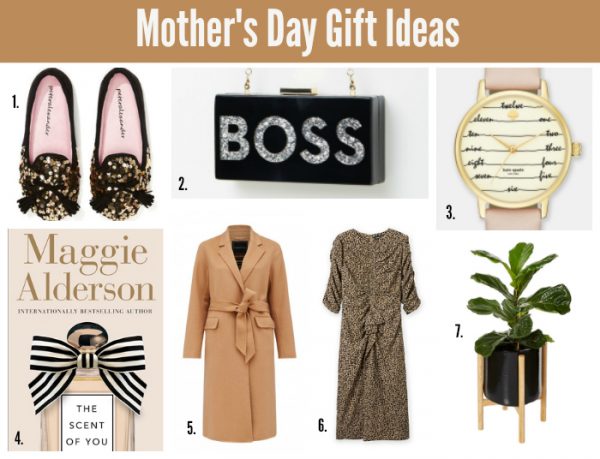 ABOVE: 1. Twinkle Toes Slippers, $39.99 from Peter Alexander; 2. Olga Berg 'Boss' Clutch, $149 from The Iconic;  3. Kate Spade Watch, $299 from The Iconic; 4. The Scent of You by Maggie Alderson, $22.99 from Dymocks; 5. Roberta Coat, $229.99 from The Iconic; 6. Print Body Con Gathered Dress, $179 from Country Road;  7. Ceramic Pot with Stand, $39 from Target.
An indoor plant or planter (or if your budget extends, both) is a lovely idea too.
If you're not confident buying clothes, a watch or a piece of jewellery for your special someone, a voucher to her favourite store is likely to be well received too. Or, just do your best, take a risk and keep the receipt.
More Gift Ideas
An Experience – Tickets to a show, exhibition or High Tea are something you can do together and are always a fun idea. If you live in Melbourne, the newly opened Winter Masterpieces at the NGV – Van Gogh And The Seasons – is a must see. An adult ticket will set you back $28.
Getaway – How about a day trip, girls weekend or a holiday somewhere exotic? Check out my Guide for a Girls Weekend in Bali here.
Photo book – A photo book, framed photograph or photo collage might be the perfect gift for you or the Mum in your life.
Personalised jewellery – there's a lead time on this of course, but this is a thoughtful and sentimental gift for your special someone. Check out the extensive range at UberKate.
Books – I've included a couple of non fiction books and a fiction book above, but if you'd like to check out a wider selection, you can see my latest reviews here. For an all round, excellent crime/fiction, I'd recommend The Dry, $16.99 at Dymocks. Kindle or book voucher are other options.
PJs, bathrobes and slippers -they might not be the most imaginative gifts going around but I do love a fresh pair of PJs for Mother's Day or a new pair of slippers. Peter Alexander, Cotton On Body and Sussan are all worth a look.
Fresh flowers & French champagne – I would never say no to either! Add a beautiful card or handwritten note for a personal touch.
Approach gym memberships and appliances with caution – and do your research. You want to be really sure these gifts will be welcomed!
This post contains some affiliate links. You don't pay any extra and I earn a small commission. Read more in my Disclosure Policy here.
Do you have any Mother's Day traditions? What gift will you be buying or hoping to receive this Mother's Day?