Mother's Day is less than two weeks away.
Can you believe it?
If you're feeling a bit behind the eight ball, it's not you – Mother's Day falls the earliest it can this year, on Sunday 8th May.
I really love Mother's Day, particularly now I'm a Mum and find myself the lucky recipient of hand made treasures, cards and a bounty of random gifts from the school Mother's Day stall. And yes, the silver cat ring holder Mr 7 gave me two years ago is still going strong!
But I know it can also be a stressful or sad day. So, whatever your circumstances, I hope you have some space and time to yourself this Mother's Day. We're thinking of you sisters.
If part of the stress is buying for someone who has everything, is tricky to please or you're just looking for some new ideas, I'm here to help. I've got you, your Mum, Mother in Law and Step Mum covered in my bumper Mother's Day gift guide.
As well as the usual pjs, slippers and mugs (who doesn't love an update every now and then), I've curated a range of beautiful accessories, home wares and clothes to suit a variety of budgets and styles.
Let's begin with these beauties which are all under $25.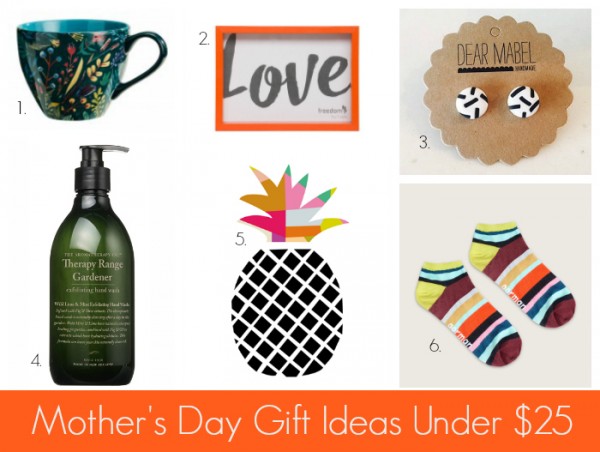 ABOVE: 1.Soup Mug, $19.95 from MOZI; 2. Knox photo frame, $12.95 from Freedom; 3. Funfetti Earrings by Dear Mabel, $20 from Etsy; 4. Gardener Exfoliating Hand Wash, $24.95 from Birdsnest; 5. Pineapple Print by Red Essy, $20 from Made It; 6. Spectrum ankle socks, $9 from Gorman.
Kikki K and Typo also have lots of fun, novelty gifts, mugs and journals under $25 too.
Below are a range of gift ideas under $50, picking up on two of my favourite autumn trends: navy and metallic accents.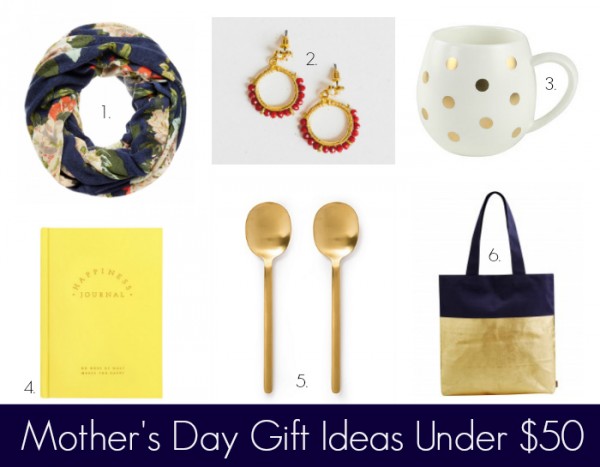 ABOVE: 1. Floral Knit Hoop, $49.95 from Sussan; 2. Earrings, $49 from Bohemian Traders; 3. Set of 4 Hug Mugs, $37.45 from Myer; 4. Happiness Journal, $34.95 from Kikki K; 5. Torri Gold Salad Servers, $44.95 from Country Road; 6. Tote, $49.95 from MOZI.
Below I've included a range of gifts that inject a bit of luxury into the everyday – cosy sleep wear, a chic wallet, a beautiful cuff and luxe lounge wear. I'm a bit obsessed with candles at the moment too and this gorgeous rose gold Coco Lux candle is on my wish list.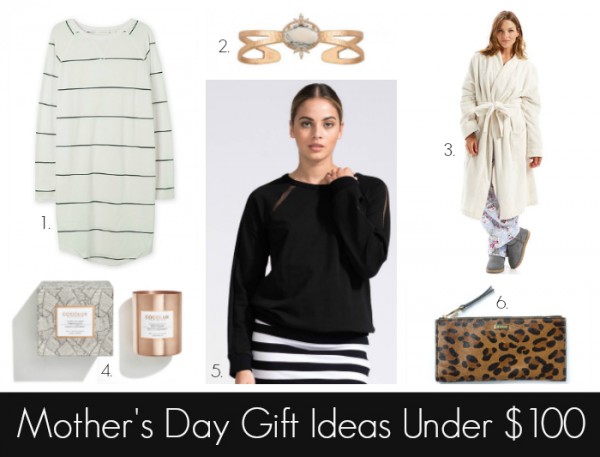 ABOVE: 1. Stripe Nightie, $59.95 from Country Road; 2. Gold Cuff, $99 from Samantha Wills; 3. Jacquard Fleece Gown, $89.99 from Peter Alexander; 4. Coco Lux Candle, $65 from Marcs; 5. Racer Lounge Jumper, $89 from Bohemian Traders; 6. Zip Top Leo Wallet, $99.95 from Trenery.
The following gift ideas are definitely on the luxury end of the gift giving spectrum, so if you're pitching in with other family members or have a more generous budget, any of these would make a beautiful, thoughtful gift …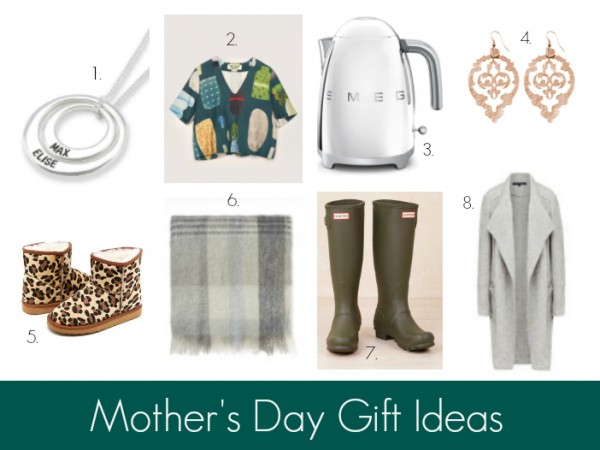 ABOVE:  1. Ubercircles Necklace, $375 from Uberkate; 2. Vessels Top, $199 from Gorman; 3. Smeg Kettle, $199 from David Jones; 4. Nicole Fendel Earrings, $149 from Birdsnest; 5. Limited Edition Homeboots, $140 from Peter Alexander; 6. Mohair Throw, $199 from Adairs; 7. Hunter Gumboots, $189 from Birdsnest; 8. Boiled Wool Coat, $229 from French Connection.
Other Gift Ideas
A voucher for her favourite store, spa, book store, winery or restaurant;
Arrange a family photo shoot – check out this post for tips and Melbourne based photographers;
A subscription – for a magazine, wine or flowers;
Her favourite perfume, plant or a beautiful bunch of flowers;
If she loves reading, a new book – you'll find plenty of ideas here;
Tickets for the movies, a show, concert or sporting event;
A beautiful gift hamper – check out these divine gift bundles from Style Bundle, all of which include free delivery. Style Bundle is offering SnS readers $10 off their order using the code "mum10". I'm loving this Mother's Day Bundle, below.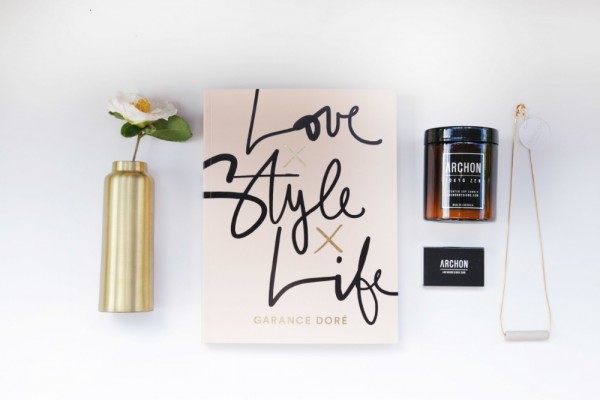 Some mums don't necessarily want to receive a gift but they'd love to spend some time doing something together. Often I buy a small gift to give on the day and arrange something to do together later. This could include a day trip, high tea, a weekend away, doing a class together (cooking, craft, learning a language).
This post contains some affiliate links. You don't pay any extra and I earn a small commission. Read more in my Disclosure Policy here.
What's on your Mother's Day wish list this year?