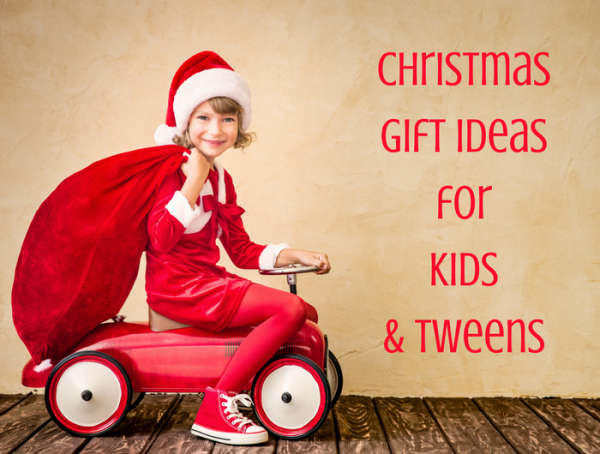 For the last few years, I've been using this guide for some inspo when it comes to Christmas gift giving for my three boys.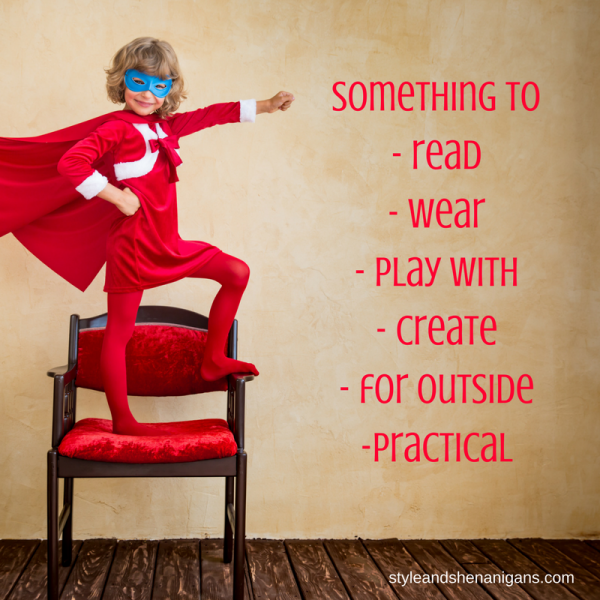 Now that they are that little bit older – 11, 9 and 6 years old respectively – and despite their different ages and interests, I still find the guide above a useful place to start.
I don't follow it slavishly though and I do tend to buy gifts that cover or overlap categories.
I also aim to give them a mix of gifts – at a range of price points too – but I like to give them as many practical or educational gifts as possible. The ideal gift around here is a gift the kids actually request that either gets them outside, thinking, creating or reading.
Especially with the summer school holidays approaching.
Of course I still do the toys and fun gifts thing but, now they're getting older, besides Lego, they tend to be the smaller, less expensive stocking fillers such as slime, pranks, magic kits, Ooshies, beyblades, whoopee cushions and so on. My kids' favourite stocking fillers of all time are the variety packs of cereal too – go figure!
So what's on the list for 2017?
Well I asked them to each compile a list and this is what Mr 6 (Louis) and Mr 11 (Xavier) and came up with. (Mr 9 is still pondering his options).
Thankfully, Mr 11 helped translate Mr 6's list.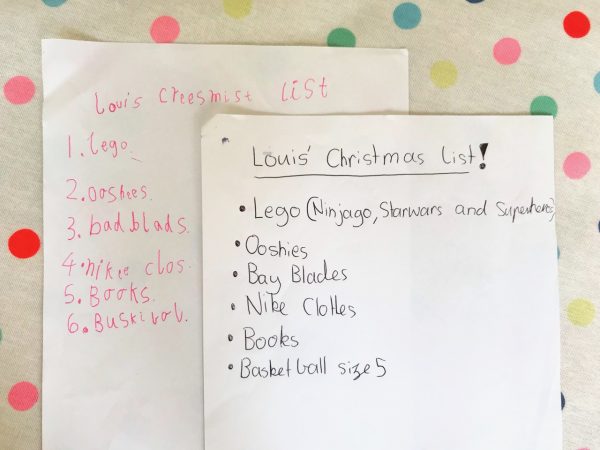 And here's Mr 11's wish list. He is definitely heading into Tween Territory.
He knows he won't get everything on his list but it's a helpful resource when the extended family ring for ideas. For example, my Mum is giving him a Rebel voucher which he can put towards either a new cricket bat or some of the cricket accessories – it's up to him – or he can combine it with other Christmas money or vouchers.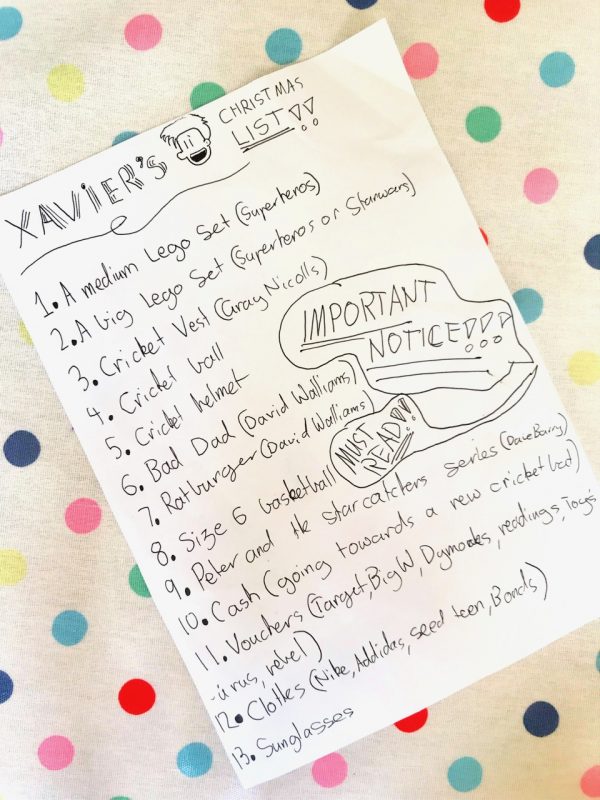 Once again Lego is in the mix, but I'm happy to see books and sports equipment requested too. I'm trying really hard to avoid giving the kids a whole lot of stuff they don't really want or need which leads to mess, clutter and overwhelm.  It does my head in!
So, if you too are looking for some fresh ideas for Christmas this year, I hope this post provides a good place to start.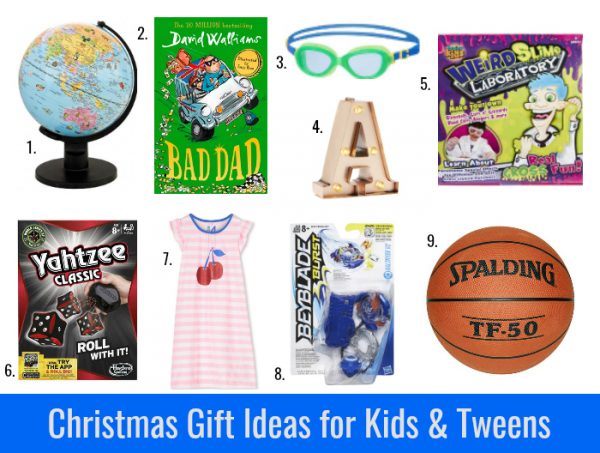 ABOVE: 1. Animal Political Globe, $49.95 from The Australian Geographic Shop; 2. Bad Dad, $14.99 from Dymocks; 3. Junior Goggles, $20 from Speedo; 4. Mini Marquee Letters, $12.99 from TYPO; 5. Weird Slime Laboratory, $12 from Kmart; 6. Yahtzee, $20 from Kmart; 7. Girls Nightdress, $24.95 from Cotton On; 8. Beyblades Starter Pack, $15 from Kmart; 9. Basketball, $14.99 from Rebel.
Something to Read
I can't get enough of books myself and I love LOVE giving them as gifts to the kids. Not only do they keep them occupied over the holidays, they provide some much needed downtime for my otherwise active boys. I also love that books don't date and can be passed along to siblings, cousins and friends.
This year I'm giving Mr 6 the picture books Iggy Peck Architect, Don't Open This Book Again and In My Heart which is all about identifying our different feelings. Last year I gave him Piranhas Don't Eat Bananas.
He has also requested some Hey Jack chapter books.
For Mr 9, who is a big fan of the Goosebumps series, The Bad Guys series and Harry Potter, I've bought him the latest book in the Bad Guys series – he is a huge fan of animated fiction and especially Aaron Blabey – and David Baddiel's most recent book, Birthday Boy. Last year I bought him The Horrible Histories series and the new Richard Roxburgh book, Artie and The Grime Wave, both of which he enjoyed.
As he is also very interested in art and science, I've also bought him some non fiction books on these themes too.
Mr 11 is a voracious reader and has already read all the Harry Potter books. He really enjoyed Wonder last year, and the sequel, Augie and Me: Three Wonder Stories. This year I'm giving him the three books he's requested including the new David Walliams book, Bad Dad.
We've also previously given our boys the latest Guinness Book of Records.
For younger children, board books and lift the flap books are great for babies and toddlers and I'd recommend anything by Oliver Jeffers (my boys loved Stuck) or Julia Donaldson (Gruffalo, Room on the Broom) for preschoolers.
Once they hit the chapter book stage, my boys have enjoyed Enid Blyton, Road Dahl, The Hey Jack series, The Treehouse Series, Tom Gates series, The Map Maker Chronicles series, Ahn Do's Wierdo series and The Kaboom Kid series. My eldest son has also devoured all the David Walliams books.
In addition to some of the above, girls of a similar age might enjoy Ivy & Bean, Alice Miranda, Clementine Rose or Billie B Brown books. I absolutely adored The Babysitter's Club and Enid Blyton's Mallory Towers and St Clare's series at this age. Other classics such as Anne of Green Gables, Mary Poppins and some Judy Blume books might be worth considering too.
As well as the usual fiction offerings, it's worth remembering that Atlases, Adam Spencer's Big Book of Numbers and science, animal or fact books can also be a hit with some kids. Check out the awesome range of science books at Australian Geographic Shop here.
Something To Wear
I generally give my boys some fresh summer PJs and some new summer clothes for Christmas.
This year they're also getting a new pair of thongs and bathers and I'm led to believe Santa is throwing some undies and socks into their Santa sacks too.
This year all three of my boys have requested Nike socks- the branded clothing situation begins – but younger boys might like Superman socks from H&M. Cotton On Kids also has a great range of colourful accessories too.
Other options could include hats, sunnies, goggles, runners, wetsuits, hair accessories, dresses, costumes or sports uniforms.
Something to Play With
For toddlers, it's pretty simple. They often enjoy home corner toys such as saucepans, tongs and whisks. They don't care or know how much things cost and are easy to please.
I've generally opted for Duplo, trains, bubble bath, bath toys, Little People, toy food and domestic items (kitchens, tea sets, vacuum cleaners), musical instruments, cars, dolls and basic puzzles and games (Snap, memory games) for my toddlers. My youngest also went through a long Peppa Pig and then an Octonauts stage around this time.
For my preschoolers, I'd usually opt for games, puzzles, Duplo or Lego Juniors and trains. Little People and other figurines and costumes always go down well too.
Last year I bought my 3 year old nephew some Fireman Sam figurines and a helicopter following some requested guidance. This year he is into all things Paw Patrol (think beyond figurines and sets to sticker and colouring books, water toys) and emergency vehicles.Themed play dough, craft sets and sticker books can go down a treat too if it features their favourite show/movie.
Mr Potato Head, Buzz Lightyear, Woody, anything Octonauts and The Shopping List Game game were all popular with our preschoolers too.
This was also about the age my kids started playing UNO, Trouble, Snakes and Ladders and Connect Four too, albeit creatively!
For my boys this year, Lego definitely stars in our household although this year Mr 6 has asked for beyblades – which is a whole new world – and some more Ooshies. Last year he asked for a remote control car.
I also usually buy them a board game each year although this year, their grandparents are covering this.
Previously we've given them The Family Feud board game as they are officially obsessed with Grant Denyer; The Game of Life which they've enjoyed playing along with Junior Trivial Pursuit. Less expensive options like UNO and Pass the Pigs have been popular at our place too. Their current favourites are Junior Monopoly and Yahtzee.
I managed to find this Trivial Pursuit game about Harry Potter for Mr 11 too which I know he'll love.
Rory's Story Cubes, Rubix cubes, yoyos, whoopee cushions or toys that are pranks or joke related are always well received around here too.
Generally, my boys have also loved anything from The Australian Geographic shop, especially anything involving volcanoes, space, explosions, rockets, crystals or rocks.
Spy, detective and magic kits always go down a treat at our place and a new pair of binoculars or a magnifying glass are fun too and good for a range of ages. They also can make good stocking fillers.
Something Creative
I'm up for anything which stirs the kids' imaginations and keeps them occupied during the holidays and away from screens.
Creative gifts aren't just for super crafty kids either.
There are loads of inexpensive options here from crayons, colouring books, stickers, fuzzy felt, play doh, kinetic sand, chalk and paints for toddlers and preschoolers through to pencils, pens, pencil cases, diaries, calendars, journals, sketch books, highlighters, easels and paint sets, modelling clay and even slime for older kids.
Our older boys, who love drawing and animation, have been given Derwent pencils which they've loved. Other bigger ticket items include model and science kits, beading and card making kits.
This year, Mr 9 is into origami, so I've been checking out the kits at The Australian Geographic Shop. Previously, he and Mr 6 have enjoyed playing with Quixels too, and Santa has been known to include some refills in their Santa sacks.
For more ideas, Kikki K, Typo, Riot Art & Craft, Kmart, Target, Lincraft, Spotlight and Smiggle all have great kids ranges and and are well worth checking out.
Something for Outside
I love that there are so many great outside toys at a range of price points.
In terms of what to buy, I reckon this depends on how you spend your summer holidays.
If you have access to a pool, pool toys and inflatables, goggles, kick boards and scuba gear can be a fun way to go.
If you're spending the summer beach side, beach toys like a bucket and spade, beach cricket set, boogey boards, surf boards, kayaks, beach/volley ball, scuba gear and snorkelling sets can be gifts that keep on giving all summer long.
If you spend a lot of time at home or at the park over summer, things like frisbees, water bombs, tennis and cricket balls, skipping ropes and hula hoops are all fun but inexpensive options.
Mid price range options could include slip n slides, basketballs, netballs, footballs, cricket stumps, wickets, pads and helmets.
At the higher end are bikes, scooters, trampolines, skate boards, boogie boards, surf boards, inflatable pools, soccer nets, basketball and netball rings. On the techy side, tweens might also be into drones and GoPros.
Stocking filler ideas could include tennis balls, arm/head bands, cricket grips and sports socks.
Some kids have an interest in gardening and plants too, so a DIY seed kit or garden tools can be a nice way to foster this interest.
Something Practical
Mr 6 surprised me last year when he asked me for knee and wrist pads for his scooter after admiring his kinder friend's gear. Being prone to a stack here and there, this was a gift idea that made sense to me too!
Likewise, last year my 8 year old requested a more grown up clock radio (he's prepared to relinquish his Woody clock radio to Mr 5) and a watch. They are two gifts he not only wants but are actually useful.
This year my 11 year old has requested some cricket gear and accessories which are mostly practical gifts too. I've also bought him a bigger backpack from Kathmandu for school camps and travelling.
Other techy but useful ideas for older kids may include a Garmin or Fitbit, an underwater or Instamax camera, some other tech accessory like a phone/tablet cover, speakers or headphones.
Overnight bags, sleeping bags, torches and other camp/sleepover gear may also go down well with older kids.
Beach towels, sunglasses and beach bags/totes are practical but fun gifts too for both younger and older children.
New things for their bedroom as they get older too – like new bedding, a lamp, light box, a bookshelf or storage, posters and art work, desks and desk accessories – can also be practical gifts that the kids actually like, especially as they move in to the tween zone.
Vouchers
Until the last couple of years, I wasn't really a huge fan of the voucher, preferring to give them – and other friends and family – actual gifts they could unwrap on the day.
As they've gotten older though, I've seen the brilliance in them, particularly for our extended family and family friends who are buying for our kids. Vouchers for Dymocks or Readings for books; Rebel for sports equipment or clothing; The Australian Geographic Shop for special interests or games; Typo, Smiggle or Kikki K for stationary or the catch all vouchers for discount department stores are very well received around here.
Interestingly, Mr 11 has actually requested them this year too.
I like the fact that the kids have to work within their budget and get a better sense of how much things cost. Their dollars also go a bit further in the post Christmas sales.
Looking for More Ideas?
Sometimes we like to give our boys a gift to open together and share.
This has been anything from a board game, new release or classic DVD through to a cubby house or a trampoline.
Other years, we've given them an experience such as tickets to see a show. Movie tickets, a day out at a zoo or some other attraction are other options.
You might also like to check out the following posts:
This post contains some affiliate links. You don't pay any extra and I earn a small commission. Read more in my Disclosure Policy here.
What's your approach gift buying for children? What are you planning to buy/have you bought this Christmas?