I think I've finally recovered from our recent birthday festival.
With all three of our sons born within three weeks of each other, including two birthdays within 4 days  – Hashtag What Was I Thinking – it's Birthday Town around these parts from mid June to early July.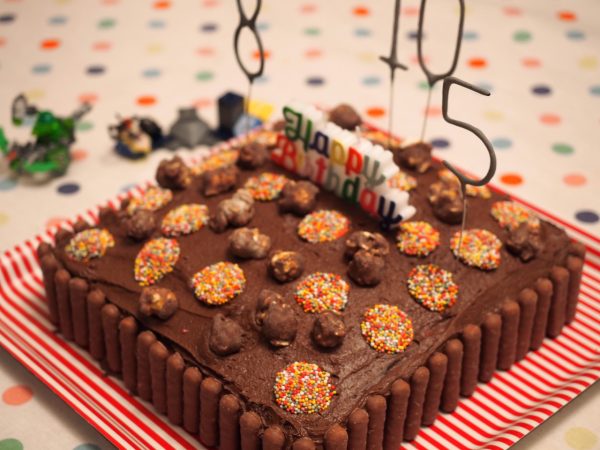 I counted that now my boys have turned 10, 8 and 5, I've got 23 boys' birthdays under my belt. Not to mention all their little school, kinder and family friend buddies and my two nephews.
So when a friend recently messaged me to ask for gift ideas for an eight year old boy (she has two sons herself but they are younger), I was more than happy to oblige.
After all, I'd just bought gifts for mine and I was All Over It.
In the same spirit, I often ask friends with girls for gift ideas when my boys are invited to their parties. I've always found it easy and fun to buy for preschool girls but once they hit primary school, particularly for mid primary school girls and above, I'm more than happy to receive a little heads up from someone in the know.
So in this post, I'm sharing all my Boy Intel so next time you're standing in the toy aisle scratching your head, you've got something to refer to. (I'm working on my friends with girls to share their Girl Intel in a future post too, so stay tuned).
I've written this post with buying gifts for our kids' school and kinder friends but this might also be a good starting point for your own kids and for all occasions from birthdays, Christmas and other significant religious and cultural occasions.
As everyone has a different budget for gift buying, I've made sure that all of the suggestions below are available at a range of price points.
If you have a busy birthday year coming up too (we've generally found the kids have lots of parties in 4 year old kinder and Prep), it's worth stocking up in toy sales to save time and money too.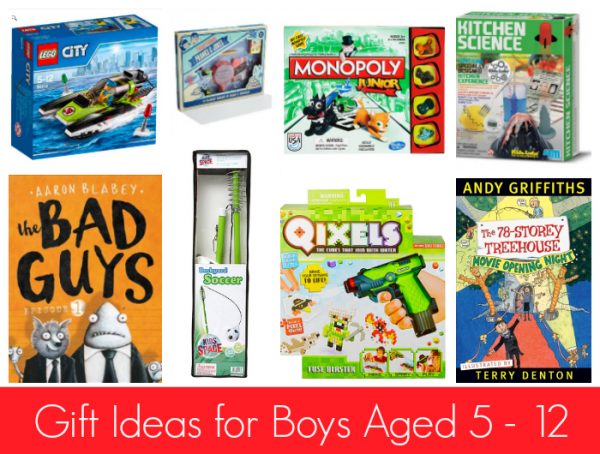 ABOVE, CLOCKWISE FROM TOP LEFT: Lego City Race Boat, $10 from Big W; Pranks and Jokes Kit, $6 from Kmart; Monopoly Junior, $25 from Target; Kitchen Science Kit, $24.95 from Australian Geographic; The Bad Guys by Aaron Blabley, $9.99 from Dymocks; Backyard Soccer Kit, $14 from Target; Qixels Fuse Blaster, $19 from Target; The 78 Storey Treehouse by Andy Griffiths, $9.99 from Dymocks.
1. Games
Who doesn't love a game?
From less expensive options like UNO, Bingo, Snakes and Ladders and Pass the Pigs through to Trivial Pursuit Junior, Junior Pictionary and Monopoly, there are loads of great options.
If there is ever a sale on board games, I reckon it definitely pays to stock up as these are a great gender neutral gift.
For younger boys, games like Chess and The Game of Life are fun and a bit different to the usual offerings and games that they can grow in to.
Once they are approaching middle primary school (i.e. 9 or 10), games like Scrabble and Trivial Pursuit Junior Edition are fun too.
Test Match is a good option for sporty kids too.
Our eldest (just turned ten) also loves the game Sequence, which his board game loving grandparents introduced us to. It's a great game for adults too (we play it at family do's sometimes).
Our youngest (just turned five) was also just given Kerplunk which they have all loved playing.
Our eldest was also given an IQ game which is something different and a good size for travelling too.
Even though I love playing it as a child, I can't stand the sound of Hungry Hippos, so think about the parents' tolerance before you add to cart.
2. Books
I always give my boys books for birthdays and Christmas.
To me they are the perfect gift: they don't require batteries, take up much room and increase literacy.
For younger readers, try the popular Little Lunch series, Zach Powers, Geronimo Stilton, the Treehouse books or old school comics like Tin Tin.
My middle son, just eight, has really loved the Bad Guys series, My Life As A Book by Janet Tashjian and is now onto the Goosebumps books.
Once they're reading chapter books confidently, try Roald Dahl, the hilarious David Walliams books, The Famous Five or Secret Seven by Enid Blyton, The Mapmaker series by A.L. Tait or the Tom Gates books.
My eldest also loved the Kaboom Kid series by David Warner during his summer of all things cricket.
He also loves Harry Potter and has read all 8 books (including the latest), but it's not everyone's cup of tea so I'd check with the parents beforehand. I'd say the same about Nerf Guns – not every household is up for them!
Some of my friends' boys have enjoyed the Horrible Histories series too.
Don't forget non fiction too – an Atlas, the Guinness Book of Records or a sports almanac might be a great gift for the boy in question.
You can shop an extensive range of children's books at Dymocks here.
3. Lego
I'm waiting for my kids to grow out of Lego but the love affair is showing no signs of abating.
From their fifth birthdays onwards, all of my boys have loved Lego and, along with books, they request Lego every birthday and Christmas.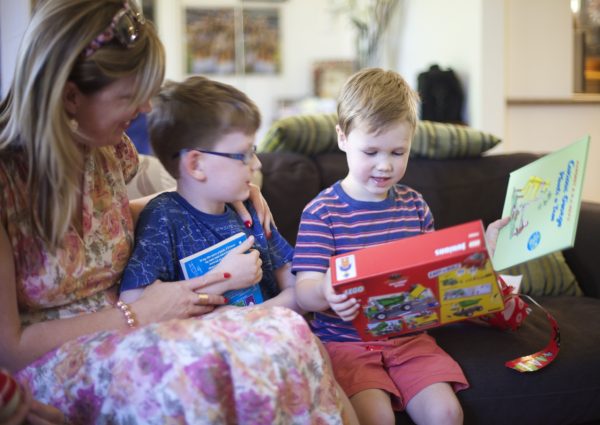 My youngest two boys (aged 5 and 8) love the Ninjago and Superhero series but gifts from the Creator or City series, have been very well received and a welcome change.
Meanwhile my eldest, oscillates between Star Wars, Ninjago and lately, the new series Nexo Knights.
In terms of a safe bet, I'd go the City or Creator series for younger boys and the Technic series for older boys.
Anything Lego related – books, stationary, key rings – is also a winner around these parts too.
4. Craft/Stationery/Kits
My boys love anything from Smiggle or Typo, whether it's a new notebook, calendar, drink bottle or pencil case.
We also went through a paper plane phase, so paper plane kits can be a fun idea too.
Both my elder boys were given their first set of Derwent pencils and an A3 sketch pad for their most recent birthdays which they have been enjoying too.
Both my younger sons are right into Quixels too, both having received sets this past year.
5. Science and Magic
You can't go wrong with a science or magic kit or pretty much anything from The Australian Geographic Shop.
My middle son in particular loves anything involving rocks and space, but all three love a DIY volcano, slime, rocket launcher or Kitchen Science Kit.
There are loads of well priced gift options here and they have great sales too.
You can check out their gift guide here.
6. Sports Equipment
If you're buying for a sports lover, you probably can't go wrong with a new footy, basketball, soccer ball, cricket bat or even a frisbee. These are also gifts that parents love as they are such practical gifts.
Sports accessories like a drink bottle, pjs, bag or cap in their favourite team are another option too.
7. Anything Joke/Prank Related
We popped in to Lombards this weekend just gone and my boys asked me if I'd buy them a Fart Bomb Kit. I'll let you speculate on my reply.
From whoppee cushions to joke books and prank sets, my boys love a cheap laugh much like their father and uncles before them.
8. Voucher
I know it's not for everyone and as a rule, I prefer to buy a physical gift than hand over a gift card but there's no denying that the kids really do love a voucher.
And, as the boys and their friends and cousins get older, I can see how they make a lot of sense for everyone.
To date, my boys have received Target and Australian Geographic Shop vouchers and they've loved going to the shops with money to spend, especially in the sales after Christmas.
It's also been a good lesson in learning what things actually cost.
More recently, my eldest son received a Dymocks gift voucher (you can do it at home and print it off like an e-voucher) which was perfect as he has loads of books already and he saved it to buy the newly released Harry Potter book.
This post contains an affiliate link. You don't pay any extra and I earn a small commission. Read more in my Disclosure Policy here.
What have your boys' loved? Or when have you struck gift gold?