What do I love about Gorman? I love Gorman for its quirky, distinctive Australian look.
Gorman is comfortable and doesn't take itself too seriously.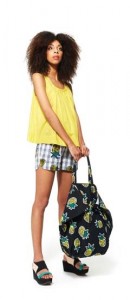 My take on Gorman is that it is pitched to the arty hipster types who like retro shapes, statement prints and an overall kind of modern kitsch aesthetic. A modern take on the 1970s and 1980s if you like.
Typically, you will find Gorman full of high waisted dresses, pants and skirts, drop waisted short dresses, boxy tanks, tunics and knits, short shorts and chunky statement shoes.
It has taken me a while to find my Gorman groove. For a while there, I would go in and although I loved the prints and colours, none of the clothes suited my shape. They were shapeless or too short on me. Gorman seemed to be suited to women with more "apple" type body shapes.
Over the last 6 months, however, I have bought some great pieces, from an elasticised waisted cami style dress with an 80s graphic print, the black and white check dress which I wore here, through to the Pineapple picnic skirt (below) and the gorgeous Brooklyn skirt more recently. I have had the most success with their waisted skirts and dresses.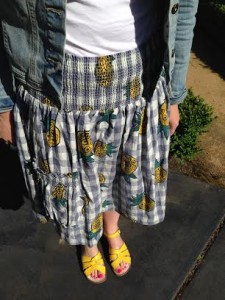 Gorman is one of the more expensive shops in your local shopping centre but they have regular promotions (20 – 30% off) and great sales. As a result, I have never bought anything from Gorman at full price.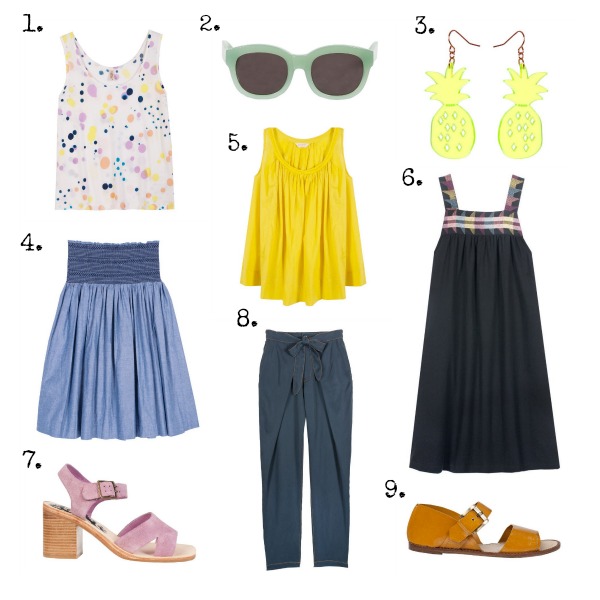 1. Splatter Tank, $69; 2. Blink Sunglasses, $199; 3. Pineapple earrings, $39;  4. Roundabout Skirt, $169; 5. Tuk Tuk Tank, $129; 6. Lagoon dress, $249; 7. Real hero sandal, $249;  8. Rapture Pant, $149; 9. Raquel sandal $199.
Above are some of my favourite pieces from Gorman's current summer range. These pieces can be mixed and matched to create some great summer outfits. Everything co-ordinates.
I love Gorman's denim basics (4 & 8) which always have a great shape or point of difference.
Each Gorman range always has its signature prints (1), bright block colours (5) and fabulous, quirky accessories (2 & 3).
Gorman shoes always look great too and complement the rest of the range colour and style wise. I haven't had much luck with their fit but I keep trying as they look so good.
I find Gorman dresses to be comfortable and versatile, easily going from day to night, depending on footwear and accessories. For example, this dress (6) could be worn with flats (9) during the day or patent clogs by night.
In other exciting news, Gorman has just released their first Home Wares range. There are some lovely pieces such as this child's dinner set at some less expensive price points but the bedding is up there.
Do you wear Gorman? Do you think Gorman represents value for money? Why or why not? What do you love about it? What is your pick from the above?
Thank you for your comments. I love to hear from you!