I recently asked readers over on the Style and Shenanigans Facebook page what they'd like to see more of on the blog.
One of the recurring themes was more home styling related posts, which I was pleased to hear. As you may know, I've always loved decorating, home wares in general and putting rooms together. It's kind of an ongoing hobby too as I treat each room in our home as an evolving space, layering and adding new bits and pieces from everywhere from op shops to IKEA to (hopefully) create interesting, personality filled spaces over time. I also want to avoid a generic, showroom circa 2014 look.
I have especially enjoyed decorating our three boys' bedrooms. Despite there being common themes and furniture, each room is quite different and distinctive, reflecting their individual personalities and interests.
Here is a peek into my eight year old son's bedroom: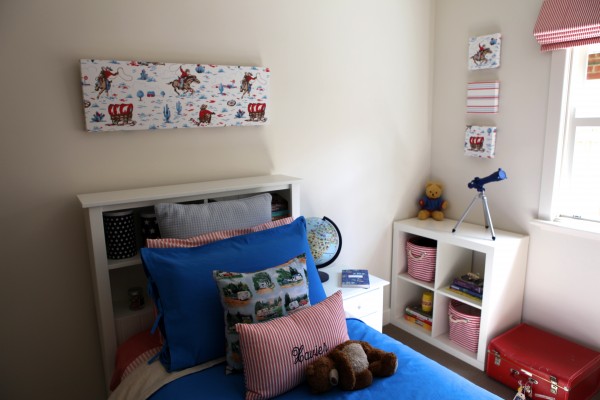 On his bed is an Aura Home quilt cover, sheets and pillow cases – see (5) below.  His room will need a little tweenifying soon and is my next home project.
And my six year old son's bedroom: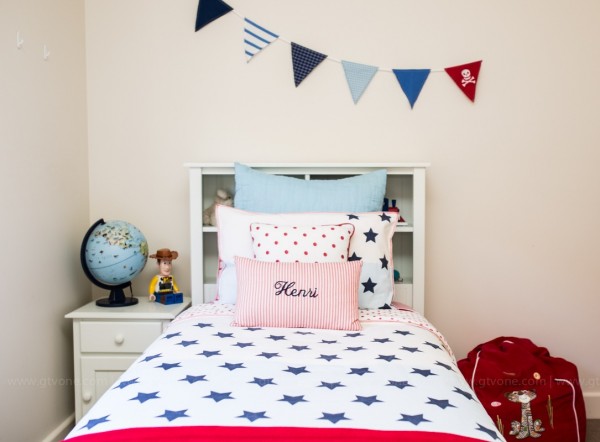 And my three year old's bedroom: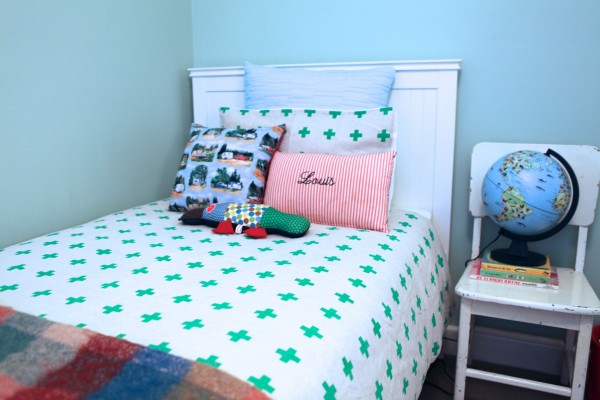 The new blue version of this Country Road set is (1) below.
As my boys get older, I'm mindful of choosing classic bed linen that won't date but is also fun, versatile and on trend. Even with my youngest son, I've opted for bedlinen in his room that can easily be used in either of his brothers' room to maximise the options to mix and match for everyone.
Now, more than ever, it seems to me that there are more options than ever to choose from in boys' bedlinen.
When they were younger, I tended to opt for printed duvet/quilt cover sets (vehicles, flags of the world, cowboys) from Sheridan and Cath Kidston and a smattering of stripes. Now, with tween territory on the horizon, I find myself gravitating to more simple, pared back, geometric styles, like those in my edit of new season bedlinen below.
I think the key with this "tween" stage is to create a relatively neutral backdrop with the bedlinen against which your growing lad can add his own touches. At our place, this includes artwork, sentimental treasures, class prizes, gifts from friends, copious amounts of Lego, sporting medals and trophies, footy jumpers and other sports memorabilia. Block colours, stripes and simple graphics can work with lots of different looks as his interests and style develops.
I can see these any of the styles below taking my boys through to the end of primary school and beyond.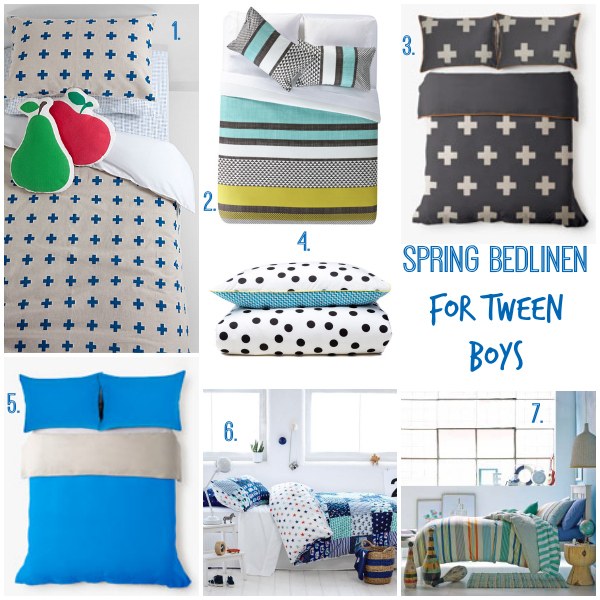 1. Fynn quilt cover from Country Road, from $149; 2. Zac double quilt cover set, from Freedom, from $199; 3. Crosses Quilt Cover in Charcoal from AURA Home from $139; 4. Moonrise quilt cover from Cotton On Kids, from $49.95; 5. Mason Quilt Cover from AURA Home, from $149; 6. Adventurer Quilt Cover set from Adairs Kids, from $99.95; Festival Blue Strip Quilt Cover Set, $65.97 (on sale) from Linen House.
If you (or your son) prefer more graphic prints, there are plenty of great options around. Check out Adairs Kids's great range – they have lots of fun prints at the moment including dinosaurs, safari and the wild west.
For slightly more "mature" prints that are fun, affordable and bang on trend, you can't go past IKEA. These are my faves from the new catalogue, available in store now. I reckon these are great options for tween boys as they sit nicely between the younger style prints they may have grown up with/out of and adult styles (and price tags).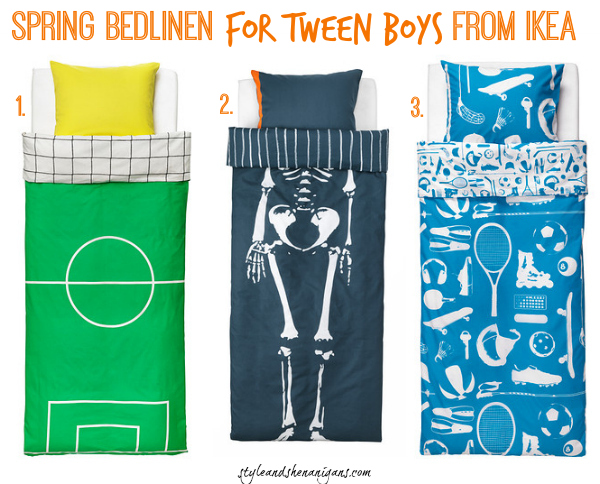 1. Spelplan Quilt Cover set, $29.99 from IKEA; 2. Benrangel Quilt Cover Set, $24.99 from IKEA; 3. Talangfull Quilt Cover Set, $24.99 from IKEA.
Don't worry, I haven't forgotten the girls! Next week, I'll be covering Spring bedlinen for tween girls.
In the meantime, you might like to read my post on last Spring's girls and boys' bedlinen here.
If you'd like to see more of my style at home and how I styled it for a magazine shoot, check out this post. To see my favourite IKEA pieces and how I've styled them at our place, click here.
Is there a tween in your life whose bedroom you'd like to makeover? Do any of the above reflect his style or yours? How will you or have you approached the tweenie decor phase or tweens in general?