So I think I may have outed myself in terms of my bedlinen obsession love.
I think this post on How to Style Your Bed may have done it.
Luckily, there are plenty of others out there who love to pretty up their nest too, so as promised, today I'm sharing my favourite places to buy bedlinen.
All twenty plus of them.
I've covered budget options; shops at your local major shopping centre; some smaller Australian boutique brands that sell online and some of my favourite international retailers, some of whom have opened their doors on Australian shores, while others ship to Australia.
Below, I've curated a small selection of what you'll find in some of the stores listed below.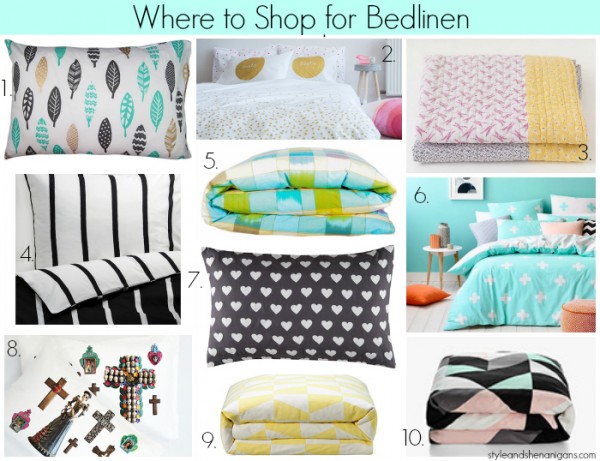 1. Scandi Leaves in Charcoal, Mint and Gold pillowcase, $24.95 from I Love Linen; 2. Sprinkle Sprinkle duvet cover, from $180 from Feliz; 3. Thrift Kantha from $239 from Lazybones; 4. Tuvbracka Quilt Cover Set, $29.99 from Ikea; 5. Indian Summer Quilt Cover from $219 from Kip & Co; 6. Dansk bedlinen, from $129.95 from Adairs; 7. Charcoal Heart Linen Pillowcase, $79 from Castle and Things; 8. Mexican Pillowcase Set, $70 from The Club of Old Volumes; 9. Aimi Queen Quilt Cover, from $229 from Country Road; 10. Cinq Quilt Cover from $149 from AURA Home by Tracey Ellis.
Budget Friendly
If you are on a budget, a good place to start is your local Target and Kmart. Their home wares have stepped up a serious notch or twelve of late and their bed linen and accessories ranges are well worth a look.
Also, make a bee-line to IKEA although their stock turnover is high, so if you see something you like in store, don't leave it!
If you love a fun pillowcase, Make Me Iconic is currently selling their iconic Hello Possum and Stadium pillowcases for $10 each.
In Shopping Centres
Within Australia, you can turn up at your local major shopping centre and be spoilt for loads of choice. Some of my favourite places to buy bedlinen here include:
Adairs and Country Road also have regular sales promotions so it's worth holding out for one of these if you can. They all have online stores too if you can't make it in store or would like to do some reconnaissance beforehand.
It's also always worth checking out the major departments stores, David Jones and Myer. I usually pick up a set of Sheridan sheets in the stocktake sales from either of these stores, when they are routinely 40% off. Both Myer and DJs stock the Sheridan range of quilt covers and accessories too.
They also stock some other great brands. Myer, for example, stock Karen Walker Home, Orla Kiely House and the Australian House & Garden range.
I've also seen some nice bedlinen at Freedom where you can pick up some well priced sets, particularly in their end of season sales.
Gorman also has a small but fun range of bedding (their summer stock is currently on sale too) in their exclusive prints. As there are only a few Gorman stores that stock the home range (including bedlinen), it's easier to shop online.
Smaller Australian Brands
If you're after something a little more bespoke, head online to some of these smaller, boutique brands. I have found many of these either at markets (Finders Keepers, The Big Design Market) and Instagram. My favourites include:
Also check out the great range over at Arro Home.
Finally, for the finishing touches such as decorative cushions and throws, it's hard to go past the beautiful range at Lumiere Art + Co.
You might pay a bit more for some of these brands, but you are paying for something different and not mass produced. Still, some of these brands have amazing end of season sales. I picked up the Kip & Co set, (pictured below and (5) above), in a recent 50% off for four hours storewide sale. Sign up to their newsletter or follow your favourite brands on social media so you are kept in the loop.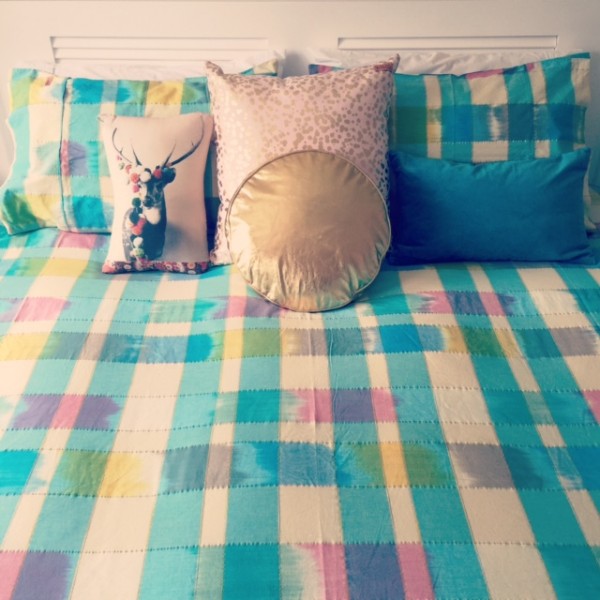 International Brands
If you love a classic American aesthetic, you can find a great range of classic bedlinen in store or online at Pottery Barn and it's slightly boho sister West Elm.
Internationally, I love the eclectic range of bedding at Anthropologie (US – they also stock our Lazybones) and the modern prints at Citta Design (NZ).
P.S. I'll be covering Where to Buy Bedlinen for Children in a later post.
Where have you found great bedlinen? Do you usually shop online or in store?