I'm always crushing on homewares and checking to see what's new around the traps.
Now I have a blog, I like to call it "research".
Truth be told, I've always done this as I love day dreaming about decorating new nooks or thinking about how I can simply update or complete my existing spaces with that One Perfect Thing.
And while Mr 3 might have the posse of imaginary friends, I reckon I've fitted out several imaginary homes this week, including my imaginary holiday house which is full of vintage charm and unlocked potential of course!
Dreams aside, my little meanderings around the shops lately, (both online and IRL)*, have revealed some fab new homewares which I know you'll love as much as I do.
And interestingly, they don't have a particularly Winter flavour about them, so if you're looking for ideas to update a living space across the seasons, you've come to the right place.
This post comes with a disclaimer too – I've indulged my cushion addiction with plenty of new season beauties.
You've been warned.
So without further ado, here's what I'm loving in the home wares department right now.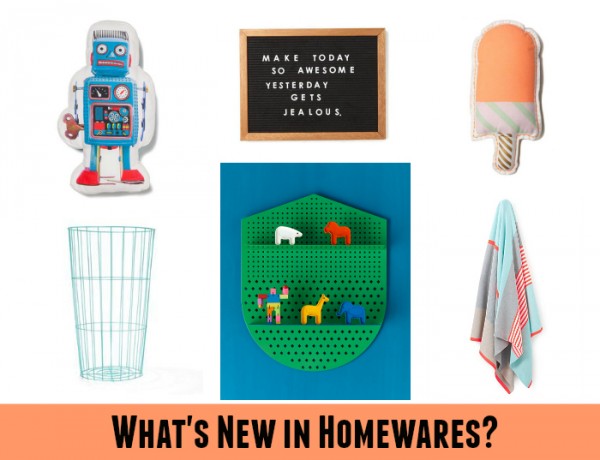 Top row, left to right:Robot cushion, $7 from Kmart; A3 Felt Board, $59.95 from Typo Shop; Ice Pop Cushion, $19.95 from Cotton On Kids.
Bottom row, left to right: Wire Storage Hamper, $10 from Kmart; Shield Shelf in green, $250 from Bride & Wolfe; Ikke Throw Rug, $179.95 from Country Road.
1. Felt Boards at Typo
Frankly, if you can't spell out a message to your family, your guests or the world, what's the point?
Just kidding but how fun are these cool felt boxes? They come in three sizes and start at $39.99 for the A4 size.
They are great for parties, market stalls, special occasions or just for play. I'd love to get one for the kids' rooms.
2. The Mesh Series at Bride and Wolfe
I'm a huge fan of Bride and Wolfe and adore the heart shelf we bought from there a couple of years ago (which you can check out in this post). Their latest designs form the very cool mesh series. I love them as they create an interesting focal point in a room, a pop of colour and the chance to display some treasures.
My pick? I love the orange or green shield shelf ($250) for a pop of colour in a boy's room or playroom (with Lego figurines, wooden figures or dinosaurs) or the pink circle shelf for a living area or bathroom. Simple style done beautifully.
3. New Cushions at Cotton On Kids
I do love a cushion here and there (no, really) and I'm rather partial to the fun new range at Cotton On Kids – ice creams, lemon slice, rockets – what's not to love and for under $20, they're a great price and a fun addition to a child's room.
4. New Bedlinen at Country Road
I was in Country Road last week while they were re-merchandising their home wares section and I was Loving with a Capital L their new cushions and throw rugs (like this Ikke throw, $179.95). Did someone say bright pops of neon against white and black? Yes please.
There's also the gorgeous new lemon spot bed linen for girls (the Martine range), below, which is fresh, fun and classic all at once.
I'm also crushing on this stunning copper basket (below, 5) too and who can say no to a squirrel on a cushion?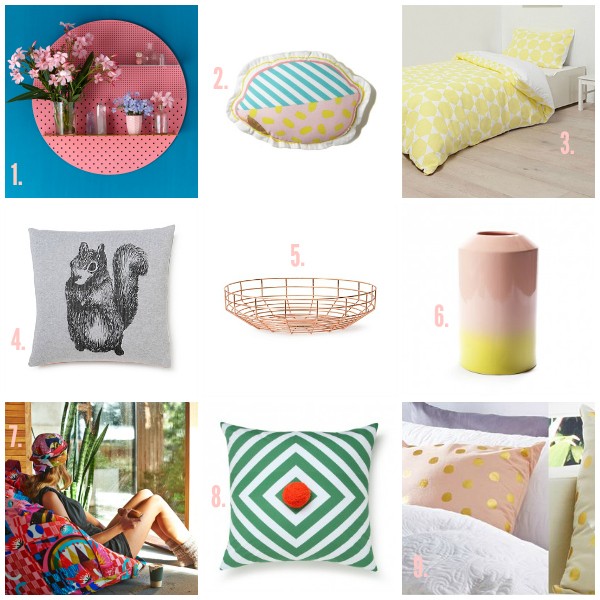 1.Mesh Series Circle in Pink, $320 from Bride & Wolfe; 2. Lemon Slice cushion, $19.95 from Cotton On Kids; 3. Martine Single Quilt Cover, $199 from Country Road; 4. Elliot Cushion, $59.95 from Country Road; 5. Wells wide basket, $69.95 from Country Road; 6. Sunrise vase, $24.95 on sale from Arro Home; 7. Art series Letitia Green Canvas Bean Bag, $139 from Kip + Co; 8. Green Stripe Pom Pom Cushion, $49 from Arro Home; 9. Foil Spot cushions, $10 at Kmart.
5. Arro Home
Co founded by Melbourne artist and illustrator Becci Orpin, Arro Home is a new, fun home wares and lifestyle label which will appeal to people who are not afraid of colour and prints in their home.  There's a fab range of products including bed linen, cushions, ceramics, rugs and kitchenware.
While reasonably priced to begin with, some has already gone on sale too, so if you haven't check it out, it's worth heading there pronto.
I've already picked up a couple of gorgeous pom pom cushions (including 8, above) and some glasses.
If it looks familiar, it's also stocked through Lark Store, but make sure you compare prices.
6. Kmart
I've waxed lyrical about Kmart's impressive upping of their homewares game of late here before (in my Where to Buy Affordable Homewares post) and their latest drop is bang on trend once more for a fraction of what you'd pay elsewhere.
I'm loving their laundry wire ware (like this hamper for $10) and coloured clothes horses – they're necessary so how fab is it that they can look this cool – and their foil spot cushions for $10 a pop. I'm also crushing on this cool robot cushion, above, which is a fun addition to a little boy's bedroom.
7. New Art Series Beanbag from Kip + Co
I picked up a stunning emerald green velvet beanbag from Kip + Co on sale last summer and the kids are obsessed by it. It fits two of them (the youngest two anyway) and they love the softness and how comfortable it is.
I've been hoping to pick up another this season (most of the other block colours have sold out however) and then I saw this fab new print – the Art series Letitia Green Canvas Bean Bag. I love it and I know the kids will too.
*in real life
Have you found something new and fabulous in the homewares department lately? What are you loving of the above?